4 Min Read
Controlling Custom Home Project Costs During the Design Phase
Going into a custom home building project in Alachua County, you likely have the expectation that the complexity of your unique project warrants a more substantial investment of time and money than building a production home.
However, utilizing a Design-Build process for building a custom home also provides opportunities for you and your team to control costs and keep your project on track in terms of time and money. Cost control methods are not reserved for the construction phase but can actually be implemented during the design phase and maintained throughout the entire process to maximize efficiency and increase value.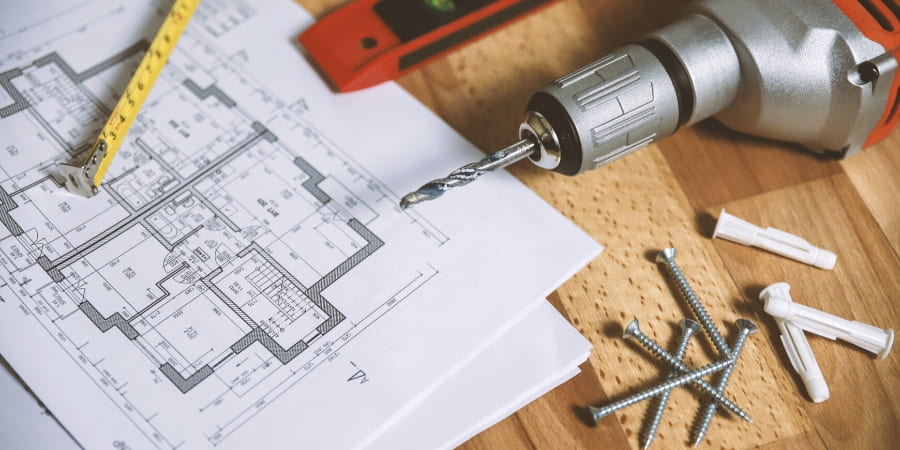 What Is Cost Control?
When building a custom single-family home, cost control is the practice of identifying and reducing related expenses to stay within your established budget and increase the return on your investment. While managing budgeted costs sounds easy enough, many people go into the planning and design phase with a certain budget range only to come out the other side with an inflated budget because of the materials, features, not asking nearly enough questions, and finishes they selected.
While scope creep is easy to fall into, it's not inevitable, especially if you are working with an experienced Design-Build team in Alachua County. With the help of architectural drafters and your custom home builder, you can develop a better understanding upfront of what things cost and whether your vision is feasible within your budget.
Using Cost Control Methods During Design
When it comes to cost control for your custom project, both you and your home builder can help. One of the best measures you can take is to go into the project with a clear idea of what you want in terms of general layout, architectural style, and other features. The more research you can do, the better. From there, your Design-Build team helps you refine your vision and nail down the specifics. If you come in with an unachievable concept, your home builder can point out and explain the challenges, as well as how they affect the cost of your new home.
As you prepare to select materials, products, and appliances for your home, keep in mind that unless you already specified exactly what you want, your home builder is presenting you with a relatively cost-conscientious selection. If you decide on different options, they will likely be higher-end selections that proportionally affect your budget. Also, choosing selections because they're trendy can increase your budget, as the market prices for popular materials and products are often inflated.
How Does Your Home Builder Control Costs?
Your Design-Build team also takes steps during the design phase to implement value engineering and help control costs, both during your meetings with them and behind the scenes. As the Design-Build process gets all your key players involved early on, they have a chance to contribute valuable feedback about feasibility and cost before materials are purchased and well before construction is underway. The more educated you become about the home building process, the more empowered you are to make good decisions that balance expectations with reality.
Once you've signed the design agreement, your architectural drafters will review your design options and product offerings and point out areas where you could get more bang for your buck. For example, although energy efficiency is a popular trend in construction, among other industries, not all energy-saving measures make sense for every individual. Your design team discusses what features, appliances, and systems come in an energy-efficient model and whether it's worth it for you based on the projected time it will take to recoup the cost and other benefits. The deadlines for you to make selections are clearly communicated with you so the project can progress in a timely manner.
Robinson Renovation and Custom Homes also has a pool of trade partners they work with regularly to handle specialized aspects of each home building project, such as plumbing, electric, framing, and installing heating, ventilation, and air conditioning (HVAC) systems. These certified professionals often provide input during the design phase to ensure each component of the project can be executed during construction as it is designed on paper, eliminating the need for re-work later down the road.
Adjusting Budgeted Costs for Custom Home
During the final bidding process with subcontractors and trade partners, they will look for additional cost-saving measures and advise you on certain selections that are cheaper than what you originally wanted but create a similar look.
We love it when you know what you want! For example, during a recent kitchen renovation the owners had an image of what they were looking for:
What the client wanted: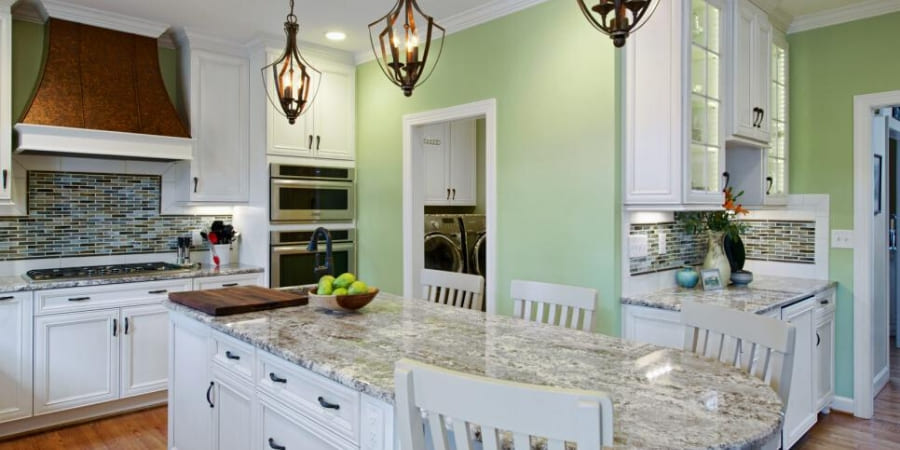 The team at RRCH knew they could achieve a similar look with slightly different finishes to better accommodate our client's budget. So when all was said and done the client was still happy and so was their wallet!
What the client got: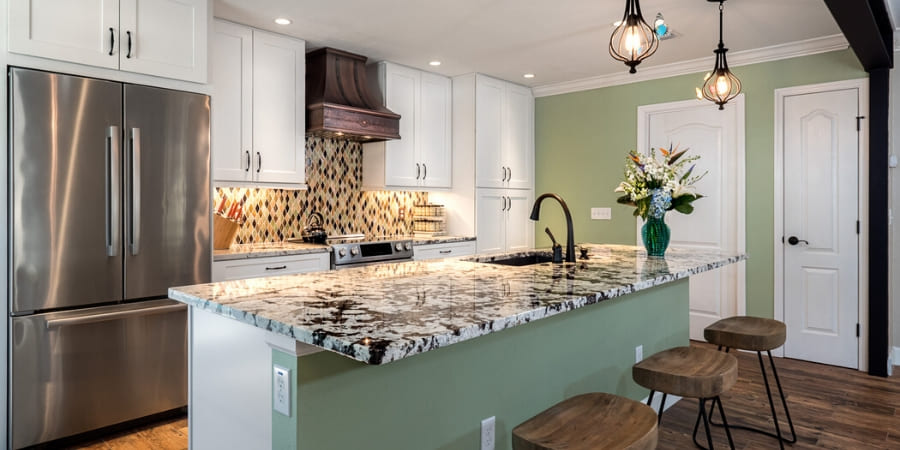 We do our best to point out areas where you will be able to get the most bang for your buck. That includes explaining the differences between material costs and their values as well as explaining if energy efficiency measures make sense or not based on recouped cost over time. Additionally, Robinson Renovation and Custom Homes have established a network of providers from which they source materials and products. We use several local vendors and trusted sources, which translates into an added home value with additional cost savings for you.
By seeking input from nearly everyone who will eventually be working on your custom home project, you and your home builder can confirm all the details by the time they develop the final proposal. You can go into the construction phase with little uncertainty or concern about some aspect of the project being significantly more expensive to complete than you expected.
That being said, once construction is underway, it's important to avoid making any changes to the plans as agreed upon. Requesting change orders at this point in the project is costly and could cause delays.
Preparing to Design and Build a Home in Florida
Robinson Renovation and Custom Homes use the Design-Build process for custom homes in Florida because it leverages the expertise of the numerous professionals involved, in addition to empowering you to be a more informed decision-maker throughout the project. We understand your new custom home in Gainesville is a major investment and commit to implementing several tried-and-true cost control methods to provide the quality of project you expect on time and on budget.