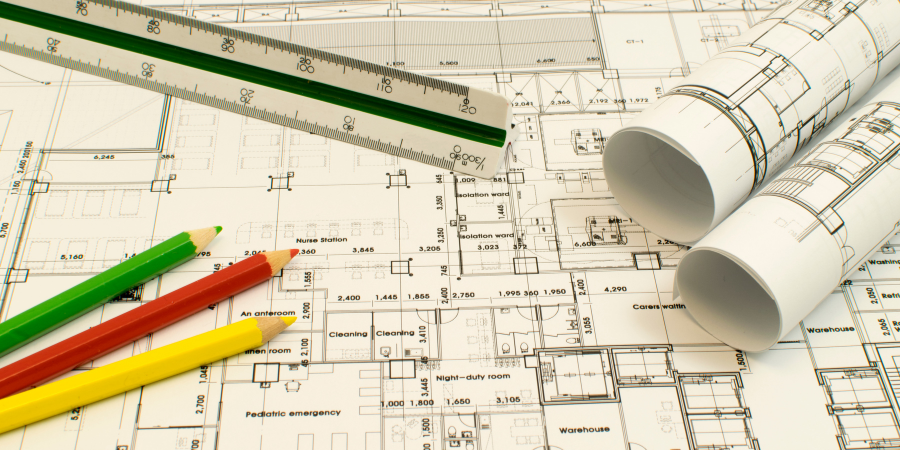 You've decided you're ready for a custom home built to your exact preferences and needs. Now what? Well, once you find the perfect Florida design-build firm for your project, you'll be guided through the standard timeline for building a custom house. What are the steps for building a custom house from start to finish in Florida? Also, how long does each step in building a house take?
1. Design Phase (1-6 months)
Before designing actually takes place, you'll likely be asked to sign a contract that states you are hiring this home builder and that you will be responsible for payment of the design, even if you decide to hire someone else to build your home.
Once you and your builder and designer sit down and talk about layouts and design, you may not sign off on a design for months. Once you do, the architectural drafter can produce your engineering and structural plans. Next comes the interior design phase, where you will wonder if the decision-making process will ever end.
One to six months is an awfully large window, but how quickly or slowly the design process moves along depends on several factors that could be logistical issues, design discrepancies, and more. The important thing to remember is this: Do not rush the design phase.
It's during this time that every little decision is made, every kink is worked out, and every part of your custom home is thought about so that the proper scheduling, material purchases, etc. can be accounted for properly. Rushing your designer or the process, in general, will undoubtedly result in miscommunication and added costs down the line.
2. Pre-Construction (30-45 days)
At this point, your drawings have been finalized, you have a budget with a built-in allowance, and it's time to secure a construction loan. While your financing is being finalized, other pre-construction activities are happening. Permits, HOA approvals, site prep, and anything project-specific that will need to be in place before the next step. Materials are being procured, trade partners are being scheduled, and preconstruction meetings with your team - a lot will be happening behind the scenes to ensure a smooth construction process.
3. Site Excavation & Foundation (2-4 weeks)
Finally, it's time to really get things moving!
An excavation crew will prepare the building pad for foundation work. The electrician and plumber will begin the rough-in portion of their work prior to the concrete slab being poured.
4. Framing (6-8 weeks)
Framing is often a really exciting step for homeowners because you can start to see the home you've been working toward for months become reality. During this stage, you will not only see the studs go up, but also the windows, doors, and roof will be added.
Now that the house is being enclosed and the inside is protected from the elements, the mechanical elements can begin being installed.
5. Mechanical, Insulation, & Drywall (2-3 weeks)
Plumbing, electrical, gas and the HVAC system can now be installed. Much of what's happening in your new home at this point can happen parallel to each other. You'll have different specialties working in your home at one time, getting everything in its place.
The placement of interior and exterior outlets, light switches, and lights will be finalized and installed. At this time, you will want to conduct a walk-through to make sure there are enough and the placement is optimal, don't wait until the final walk-through.
Next up are the insulation and drywall. The walls and ceiling will make your construction project really start looking like a house at this point and things will begin getting more finely tuned.
6. Interior & Exterior Finishes (4 weeks)
Teams will be installing and outfitting the interior and exterior finishes at the same time. Cabinetry, millwork, tiling, fireplace facing, trim, countertops, and everything you chose in the design phase will all be coming together. Last, but not least, will be the flooring.
Exterior finishes, railings, gutters, stonework, exterior paint, and other custom touches, like shutters or brackets, will be applied.
When the interior finishes are being installed, the order does matter. For logistical purposes, some things are left for the end because they could more easily get damaged while installing other elements. So, lighting fixtures, mirrors, carpet, appliances, a final coat of paint, and window screens will finish out this step.
7. Clean-Up (1 week)
Construction dust is so fine in texture that it will stick to anything and can be stubborn to remove. The clean-up step is for construction dust, fingerprints, shoe prints, and anything else.
After-site clean-up is when you'll get to walk through your Florida home to do last checks and put a second (or tenth) pair of eyes on possible mistakes or damages. You and your contractor might make a final punch list to make sure everything is perfect on move-in day.
What Could Delay Construction?
Of course, even if everything is perfectly planned, delays can happen. A weather event could delay and even damage your construction project. Due to tricky ordinances and HOA regulations, there could have been permitting issues right out of the gate. Perhaps a highly specialized custom job in the home requires a professional who's overbooked. No matter what the hiccup may be, know that your home builder is likely as frustrated as you are and they're doing what they can to keep your project moving forward.
The Real First Step: Hiring the Right Design-Build Team
Knowing what to expect during a custom home construction project in Florida is a great confidence booster, but the best thing you can do for your budget and timeline is to hire the right professional for the job. The right design-build team will be great communicators, be transparent about their process, and be on board to work alongside you from start to finish.

Robinson Renovation & Custom Homes is a Gainesville, Florida-based design-build firm that has worked to deliver construction excellence to trusting clients for decades. The team's expertise, and our commitment to being transparent and earning your trust through open and consistent communication, are what make us a great fit for your custom home project. Contact Robinson Renovation & Custom Homes today to start you on your custom home journey, one step at a time.