When you're building a new custom home in Alachua County, a lot of attention is understandably given to the interior, including the number and configuration of rooms, architectural features and design elements.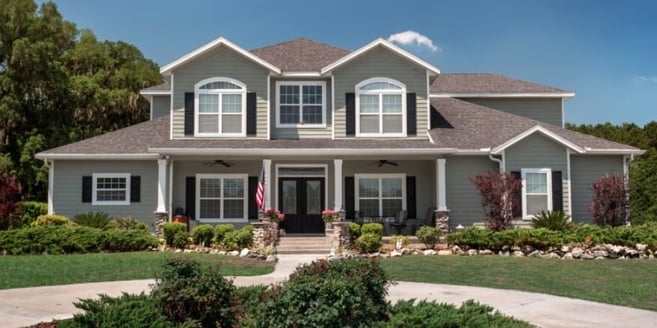 However, the exterior of your house is also important, not only for creating visual appeal but also enhancing your overall property value. As you're designing a new custom home build in Gainesville, you should carefully consider the exterior and what sort of distinctive look you want to create for your front elevation.
What is the Front Elevation of a House?
In the building industry, plans often include four or five elevations, including a front, rear and end elevation, as well as depictions of the attic and/or basement levels. Front elevation refers to how the exterior of your house will look when you're standing in the middle of your front yard or the sidewalk. The front elevation includes the side of your home with the entrance door, front-facing windows and your porch, sidewalk or other outdoor spaces and landscaping. Typically, it is the side of your house that is facing the road, although that's not exclusively the case.
As a new homeowner, you may choose to invest in designing a grand or attractive front exterior both for your own enjoyment while residing on the property and to establish curb appeal for the future sell. Even if you plan to live in your new Gainesville home for the foreseeable future, the style of your front elevation gives your home its unique personality and can even affect your quality of life through the inclusion of outdoor living spaces and inviting landscaping.
Classic and Contemporary Elevation Designs
Just as with the interior, you can customize the design of your front elevation however you want. Your only limitations are the size of your house and the entire lot. In certain neighborhood, homeowners' associations may also place restrictions and guidelines on residential exteriors.
As you work with your design-build contractor on drawing plans for your new custom home, here are a few front elevation ideas to consider incorporating into your design for a distinctive look:
1. Chic Luxury
For a sophisticated vibe, focus on balance and symmetry by lining up windows and balconies to create harmony throughout your front elevation design. Combining wood and white can elevate the overall chic appeal of your look, although grey and stone also add a dash of serenity to urban environments. Install sanded wood stairs and a comfortable seating area for a front elevation that combines modern and traditional elements.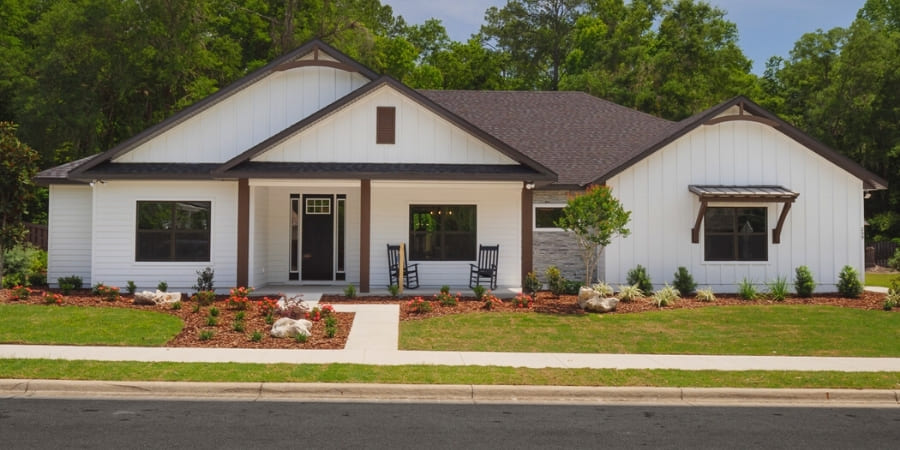 2. Embracing Vertical Design
If your home style is decidedly tall and vertical, it is often better to embrace the look with simplistic styling, rather than trying to work around it. Integrating vertical lines into your balcony and tall columns also highlight the height of the building for a unique and attractive look.
3. Modern Minimalism
Modern house elevations often incorporate a sense of minimalism that looks clean and inviting. For this design style, you could include a simple yet stylish balcony or use concrete, slatted wood and glass to create a cascade of layers. Additionally, LED spot and track lighting for potted plants, walls and ceilings provides an extra touch of innovation and modernity.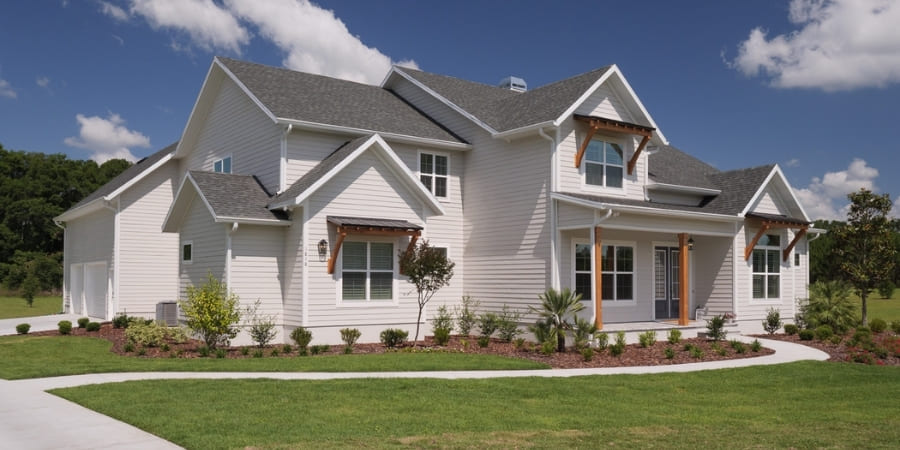 4. Geometric Emphasis
If you want to create cohesion in your design, it can help to select a specific geometric element to integrate, such as elegant straight lines, circles or squares. Using square columns to frame an open balcony or circular windows and sphere-shaped sculptures adorns your home's façade in an exquisitely simple way.
5. A Taste of the English Countryside
If you prefer a home with a more classic appeal, consider creating a front elevation design reminiscent of an English countryside manor. Capture historic charm for your transitional split-level home with a centralized front entryway, manicured lawn, French windows and rustic walkway lined with flowers.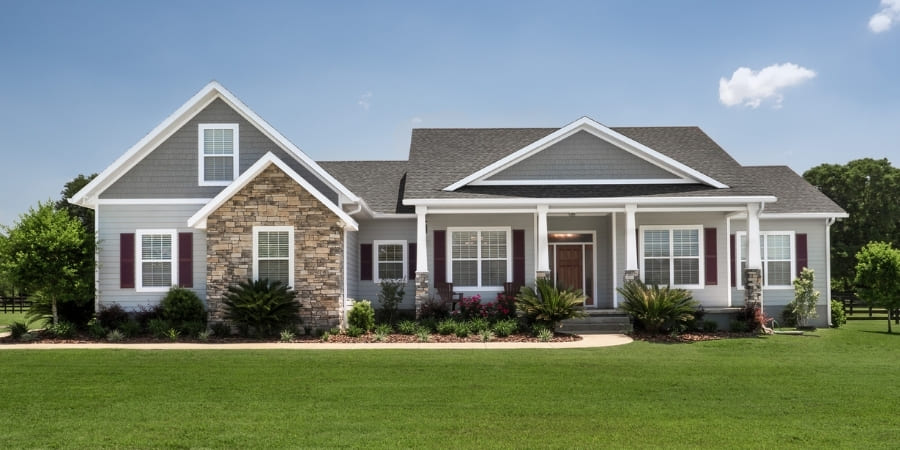 6. Cape Cod Style
The Cape Cod style is another classic look for a new home build. Consider designing your front elevation with blue painted brick and white dormer windows. Other timeless, Cape Cod-influenced elements include mixed siding, a gable roof and shutters painted white or with a blue hue.
7. Modern Log Cabin
If you have a bit of rustic property on which to build your new custom home, you may be drawn toward the creation of a modern log cabin. These structures tend to be sleek while still retaining a slightly rugged flair through the use of native and natural materials, such as wood logs or panels, stone siding and/or a twig railing. A log farmhouse with gables and a wraparound deck is also an iconic residential façade.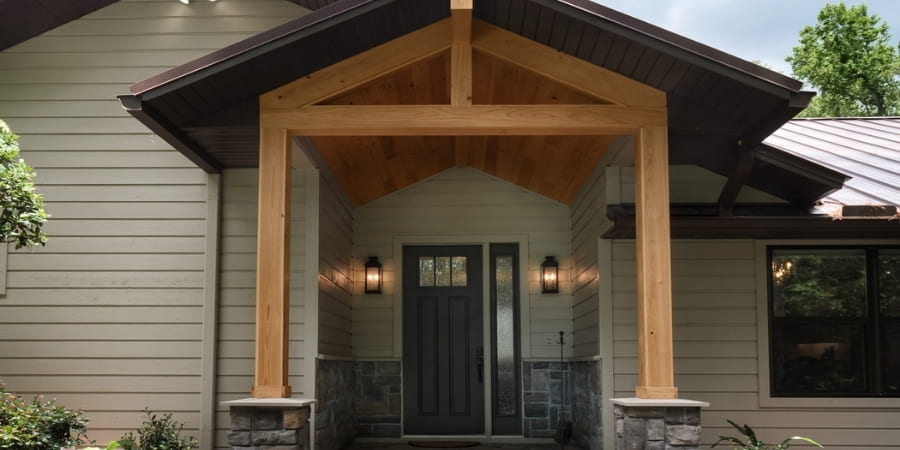 8. Going Green
Adding greenery can elevate the front façade of any style of home. You simply must determine what will best complement the rest of the design. On a modern home, integrate a line of green shrubs and plants on top of the building to contrast white and tan colors in the exterior. Take the greenery concept to the next level with a full rooftop garden. Hanging planters, flower boxes and creeping ferns are other ways to incorporate all-natural verdant accents into your front elevation. For a tropical oasis in an urban environment, utilize wooden pool decking, bamboo shutters, wild tussocks and palm trees.
9. Highlight Outdoor Living
An integral part of designing a cohesive, attractive front elevation at your new home in Alachua County is figuring out how outdoor living spaces fit visually into the picture. If you have different levels of patios, add lighting to make them interesting and consider accessorizing each area with different types of outdoor furnishings and décor to delineate their distinct functions. Large, open-framed windows and glass railings are attractive options for a contemporary house elevation, especially if you've got a good view.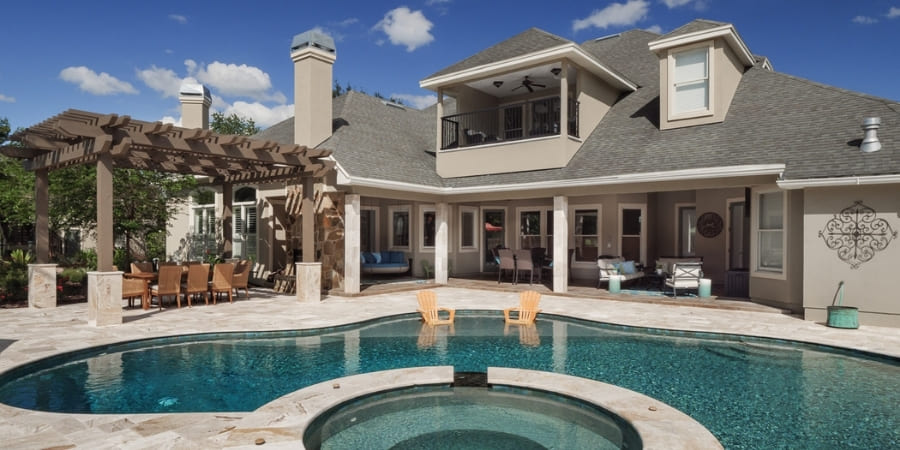 10. Segue with the Slope
Even if you're building your new Gainesville home on a sloped site, you can it work it to your advantage. For landscaping, consider installing a wooden and stone gate that opens onto platforms paved in pebbles and lined with plants that lead up to the front entrance of your home over a slope. A waterfall-style home can also complement a sloped property and look quite stunning.
Newly Constructed Homes in Gainesville Offer Elevation Choices
When you're building a new home in Alachua County, you have the opportunity to personalize both the interior and exterior of the property to suit your tastes. At Robinson Renovation and Custom Homes, our design team can help you explore various front elevation styles that match your personality but also complement the surrounding neighborhood where you're building your new custom home.