4 Min Read
What is the Cost to Build a Custom Home in Alachua County in 2024?
Alachua County is home to the University of Florida, abundant natural attractions, and a diverse collection of thriving industries. These, and many other reasons, are what make new home construction in Gainesville, Florida, such a great choice. How much does it cost to build a house in Alachua County, Florida? We'll explain the costs, what affects the cost to build a custom home, how to choose your custom home builder, and how you can control the costs.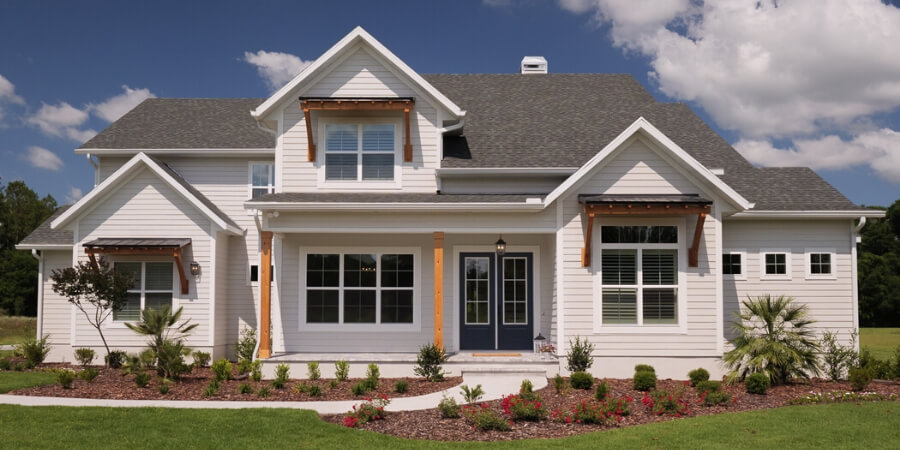 COST TO BUILD A CUSTOM HOME IN ALACHUA COUNTY, FLORIDA
After you've daydreamed about building your perfect custom home, your next thought will likely be, "How much does it cost to build a house in Florida?"
Estimating the cost of a custom home will depend on your unique home design, the finishes you choose, and the condition of the land. However, you can expect the cost per square foot to build a house in Alachua County, Florida to be between $160 and $220. Luxury-grade finishes, undeveloped land, the size of your home, and the complexity of your design can nudge your cost per square foot higher.
What Are the Benefits of Building a House in Alachua County, Florida?
While Gainesville, Florida, and the greater Alachua County area have plenty of great homes on the market, there are several reasons to build your own custom home in Florida.
Check off All Your Boxes
Your custom home will be perfectly tailored to suit your family's needs, lifestyle, and future goals. Building a custom home allows you to address all of the challenges your current home has, checking off all the needs and wants from your must-have list. You can increase your convenience and comfort, with the perfect number of bedrooms, a large kitchen, a home office, and an outdoor living area for spending time with friends and family.
Increase Your Quality of Life
When you invest your time and money into a custom home, the payoff is both in value and quality of life. It's unlikely that you'll find a home on the market that checks every item off your wish list and must-haves. Imagine a home with enough space for everyone to have the comfort and privacy they need, the newest features that make your home feel like a staycation every day, and gorgeous new finishes that bring you joy.
No Remodel Required
Considering the average age of resale homes in Gainesville is 33 years, you can expect your Realtor to walk you through options that will require a remodel. A home that you purchase may need repairs, updates, and additions, driving the cost up of a home that, on the face of it, seems to have a lower cost than a custom home. By building a new custom home, you get it done right the first time, which may end up being more cost-effective for you in the long run.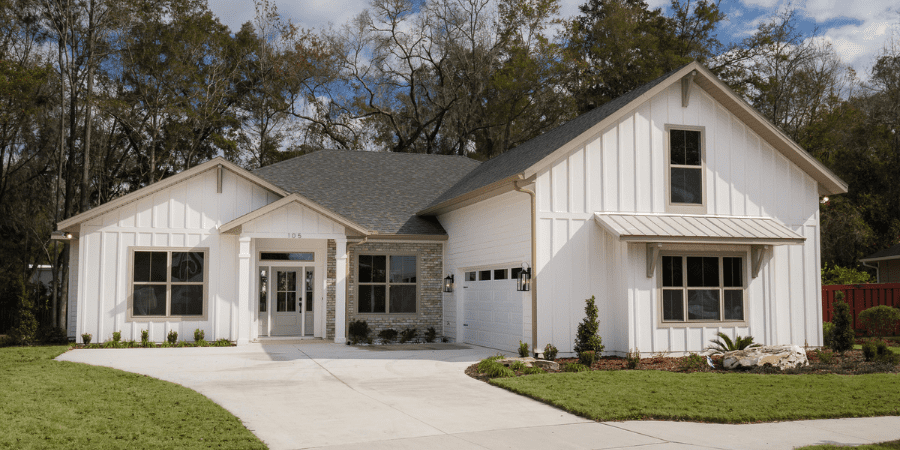 Should You Use the Design-Build Method to Build Your Custom Home?
Yet another factor that can affect your custom home cost is the delivery system you choose to have your custom home designed and built. Hiring a design-build team to provide every service from design to construction will cost less, and create less stress, than using the traditional design-bid-build method.
Shortcomings of Design-Bid-Build
The traditional method requires you to bid out your project with the hope of being able to choose the lowest bid to complete the project and potentially save money.
However, cost and value often go hand-in-hand; which means going with the lowest bidder rarely leads to quality. That's why competitive bidding often comes with its own set of issues and concerns. Because the bid process is all about cost, it can influence builders to cut corners, look for shortcuts, and choose low-quality materials, undermining the quality of your project and the value of your investment.
It's important for you to consider credentials, experience, and reputation when choosing your custom home builder in Alachua County. This is directly related to your final costs and the quality of your home.
Better Experience, Better Outcome
Another important aspect is whether your designer and builder will have efficient lines of communication, complementary professional styles, and the ability to work together to ensure accurate pricing and a feasible design. By working with a design-build team, you'll save money, time, and frustration.
Save Costs and Time with Design-Build
A design-build team will have every professional you'll need to build a custom home, all under one roof. Your designer, project manager, craftspeople, contractor, and administration will work together from the beginning to design, budget, and build your dream home. From the start, you'll work with the same team, making for a more seamless and predictable process.
Your construction team will provide input on the plans to ensure your design is feasible and within your budget. They'll do this by practicing value engineering to ensure your project is completed on time and within your budget.
You and your home builder will decide on details early in the process rather than having to make changes to plans once the builder is finally involved in your project. This will keep your custom home timeline intact.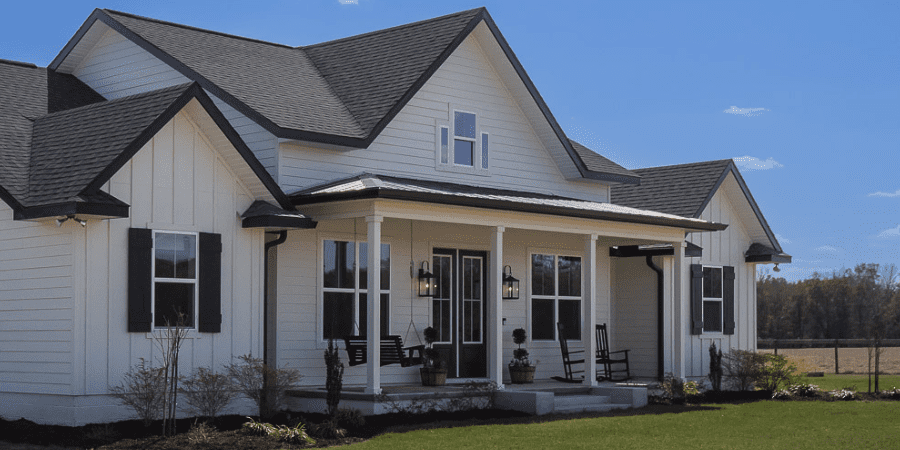 The Design-Build Process
The design-build process starts by meeting with your team to discuss your vision and goals, as well as an estimate for your design. From there, your team will develop a preliminary proposal and the design agreement, which outlines what you can expect throughout the process. They will meet with you to go over the proposal and answer your questions.
Once that's approved, you'll enter the design process, which involves reviewing your options and selecting various specifications, features, and finishes. Based on your input, your design-build team can refine the design and budget, leading to the creation of a final proposal. With both the designers and the builder collaborating with you throughout the entire process, you can develop a plan that satisfies your needs and won't need to be revised during construction, keeping your budget intact and your project on time.
Choosing Your Design-Build Firm in Alachua County
If you're ready to build a custom home in Alachua County, the next step is finding a design-build team to help you achieve your vision. Robinson Renovation & Custom Homes has an experienced team of professionals ready to collaborate with you to design, plan, and construct your new home in Gainesville or the surrounding area. Contact us for a consultation and we'll discuss your ideas for your perfect custom home in Alachua County.