If you want to design and build a custom home in Alachua County, the first step is deciding where to put it.
Searching for the right piece of land should be done in tandem with developing a vision for your new house as both of these could take a while. In short, you want the home you create to complement the surrounding environment, and vice versa.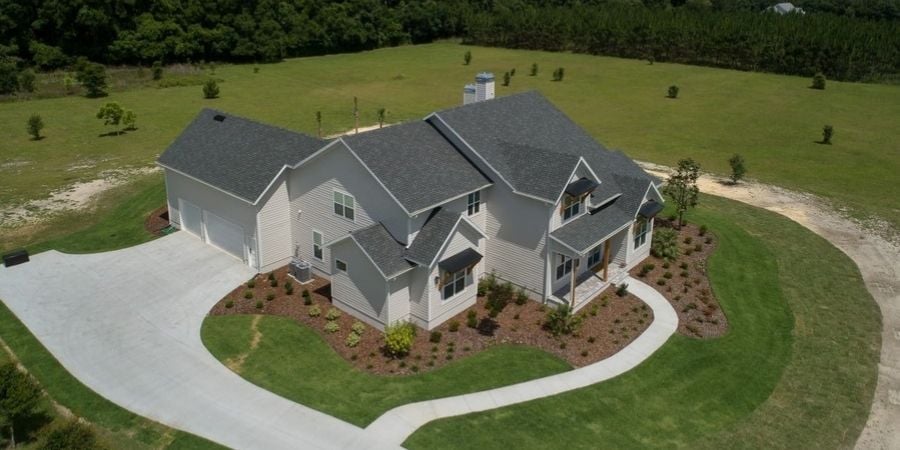 You may feel very strongly about the size and style of your new custom home and be willing to compromise on the precise address, or location may be the more important factor. Either way, you'll have to calculate the price of land into your overall budget for the project, and it can be a substantial, albeit worthwhile, investment.
Cost of Alachua County Land for Sale
Estimating how much you should set aside to purchase property for your new home build is complex. Several factors can impact the cost of an acre of land in Alachua County. Some of these include the location of the land and its proximity to urban areas; how accessible the property is; the current land-use designation; the presence of water; improvements, such as wells, roads, bridges, culverts, and irrigation; whether the land is forested; soil quality; and the presence of utilities.
According to the real estate website Zillow, there are about 240 lots of land available in Alachua County as of March 2021. The cost for these properties ranges from about $2,500 to $10,000 per acre, with most lots falling in the $4,500 to $6,000 per acre range. These figures are roughly on par with that statewide average, which is approximately $6,300 per gross acre. The price per net acre—which typically refers to the flat, usable portions of land—is generally higher in Florida. Depending on how big of a parcel you want, you should budget about $25,000 to $200,000 for your Alachua County property, on top of your budget for the house itself and other projects related to construction.
Is Buying Land in Alachua County a Good Investment?
Buying property in north-central Florida is a major investment, and generally considered a valuable one. It is a prerequisite to being able to build your custom home, but there are other factors to weigh while making your decision.
Currently, the housing market and economic stability of the state improve the outlook of real estate investments. There is plenty of opportunity for development and land is a tangible asset that can't disappear, unlike stocks and shares. However, Florida also possesses some unique characteristics that can impact the land-buying process.
As you are researching land for sale in Alachua County, here are a couple of things you need to know:
1. Natural Concerns
Every state, and even every specific region within a state, has its unique, nature-based issues, whether it be immense winter snowfall in the northeast or wildfires in the west. If you're looking to buy land on the Gulf Coast, which includes Florida, you need to be aware that hurricanes and flooding are possibilities. You can't control the weather and the risk of natural disasters is not a reason to avoid a particular state or region. But make sure you do due diligence and research on a plot of land before you purchase it for your new home build.
2. Wetlands and Floodplains
Some water features, such as lakes, creeks, and ponds, can potentially increase the value of a property in Alachua County, while others, such as wetlands and marshes, can potentially decrease the value. They also complicate the home-building process. As for floodplains, a majority of the state is considered a flood zone because it's so close to sea level. You can check the FEMA Flood Map or GIS map for Alachua County to determine the exact flood risk for the property you're considering. Another issue to figure out is who owns the mineral, timber, and/or water rights for the parcel of land.
3. Zoning and Land Use
Every piece of land in Alachua County is zoned for a particular use, whether it be commercial, residential, or agricultural. While researching property lots, look for those that already possess a residential designation or could easily be rezoned. You should also investigate other zoning codes and subdivision requirements that could influence or limit your new home build.
4. Homeowners Associations
For suburban land that is part of a development or established neighborhood, figure out if there is a homeowners association (HOA) or property owners association (POA). These bodies often have unique guidelines, restrictions, and property use rules that govern new construction or renovations. Make sure the size and style of house you envision are suitable for the surrounding neighborhood or community.
5. Utilities and Access
Additionally, you should investigate whether the property has utilities, which is unlikely for vacant and rural land in Florida. If the land you're eying is within a developed subdivision, you may have easy access to water and power, although you'll have to pay a connection fee to get them up and running at your new home. If you want to purchase rural farmland, getting hooked up to public utilities will be more time-consuming and costly. The same goes for access. Some rural properties don't have legal road access, which means you have to develop a private access road or negotiate with neighbors to cross through their property.
Building a Custom Home in Alachua County
There are several long-term benefits to purchasing land and building a new custom home in Alachua County. You get significant control over the location of your home, your proximity to work, specific schools and establishments you frequent, and you can design a home that is personalized to your precise specifications.
However, custom home building is also highly complex, and you want a team by your side that can help streamline and optimize the process. At Robinson Renovation & Custom Homes, we handle your whole project from start to finish by providing comprehensive design-build services. You have access to our full team's wide range of knowledge and skills to help you develop, design, and construct a new custom home on the land you've selected.