When you're ready for a new home in Gainesville, Florida—whether you're moving to town or simply ready for an upgrade — you have two primary options: Buy or build.
Building a home, particularly a custom home, does involve more decision making and time commitment than buying a resale home. If you're going to make such a significant investment, though, it's worth it to get exactly what you're looking for: A lasting home you can see yourself living in and enjoying for many years to come. Additionally, with new construction, you can be confident all systems and structures will be up to current standards and you won't have to spend time and money on repairs or renovations. As soon as the project is completed, you will have a home that is ready to support the future you envision.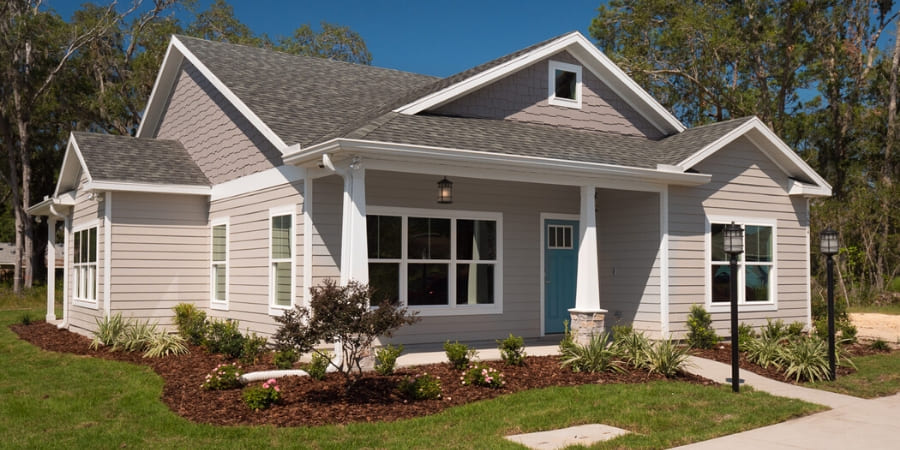 How Long Does it Take to Build a House?
The average completion time for a custom single-family home in Alachua County is about 16 months, but usually just shy of a year when completed by the RRCH team. The reason for such a wide range is because the timeline greatly depends on several factors, from the complexity of your project, to the number of changes you want to make to the scope during the design phase, to the weather, and availability of labor and materials.
For a custom home building project, complexity refers to the intricacy of your home's floor plan and design, the state of the land on which your home is being built, the stringency of local planning codes, and how quickly your Design-Build team can acquire the necessary permits. The summer months tend to be the busiest for home construction companies, which means there is usually greater bandwidth in winter months to complete home builds in more condensed time frames.
Related Reading: 2020 Kitchen Remodeling Trends in Gainesville
Additionally, while run-of-the-mill production homes can be completed in just a few months, custom homes take longer because they're one-of-a-kind. Each new home requires its own design process during which experts will help you identify and nail down all the details that make the space unique and perfect for your lifestyle. Here is a look at the typical stages of the Design-Build process for a new custom home in Gainesville and the average length of time each one takes:
1. Preliminary Design
Once you've decided on a Design-Build team to work with, the first step is the design phase. This can take anywhere from three to six months, depending on how prepared you are and how much time you are able to devote each week or month to the project. Our design team is able to partner with you to complete the design phase in two to three months. If you already have a clear vision and budget, you can expect a quicker, smoother process. If you're still compiling an idea book and trying to develop a vision or if you're extremely busy with work and personal commitments, the process will take longer.
During the design phase, you should expect to meet with your Design-Build team multiple times to discuss the scope of work. Plans for your home will go through a couple phases, from preliminary plans for structural elements to developed plans that address interior elements and finish selections. Not only will you make selections about the materials and colors you want, but each iteration of the plans will require your approval. Finally, your home builder will present you with the final proposal and contract package that includes the completed plans, budget, and timeline for the next stage of your project.
2. Pre-Construction
After the design phase, your project will move into pre-construction, which typically takes four to six weeks. During this stage, your Design-Build team will acquire the necessary permits and purchase materials for your project. They also will line up contractors, such as electricians, plumbers, and carpenters, to complete different systems and features on your new home. RRCH has established a trusted portfolio of reputable trade partners who know the RRCH process and have committed to delivering to our high expectations for every project.
Depending on the land you are using for the project, your team also may need to do site prep during the pre-construction phase. This may include clearing the land of rocks, trees, and other obstructions, as well as leveling and grading the lot so they have a solid foundation on which to build.
Your work is fairly minimal during this phase, as you will already have made selections and confirmed details during the design stage. However, it is typical to have a pre-construction meeting with your home builder before the project breaks ground. During this meeting, you will meet your Project Superintendent and Production Manager.
3. Construction
Once pre-construction tasks are complete, your project moves to the final phase: construction. From signing the contract and breaking ground to your final walk-through, construction of your custom home will take about a year. The construction phase encompasses exactly what you expect: Laying the foundation; framing the structure; building the roof; adding siding, installing wiring, plumbing and insulation; and completing interior and exterior details.
One issue that can significantly impede progress on a custom home building project is if you request changes to the design once the project has started. Fortunately, the Design-Build process is structured to prevent this common problem from occurring. Your home builder will provide input on your project during the design phase, including information on the cost of materials and the feasibility of certain design elements. Since you and your team will be on the same page heading into construction, change orders that extend the build time are less likely to occur compared to other custom home building processes.
Building a Custom Home in Alachua County
Another factor that impacts how efficiently your custom home in Alachua County is completed is the team you choose. By selecting an experienced, reputable home building company that has already completed numerous similar projects in the Alachua County area, you can be confident they have the knowledge and skills to handle your project in a timely manner. After decades of serving the local community, Robinson Renovation and Custom Homes has developed a reputation for completing projects on time and on budget without sacrificing the quality of your future home.