Renovating your current home or building a custom home is an exciting process. Now that you've made the decision to start fresh, you might be thinking about your home's potential and all the options you have. Your home's layout is one of those big decisions that will influence every decision that follows. What is the best house layout for you and your family? We've gathered a few of the most popular home styles in Florida and their layouts.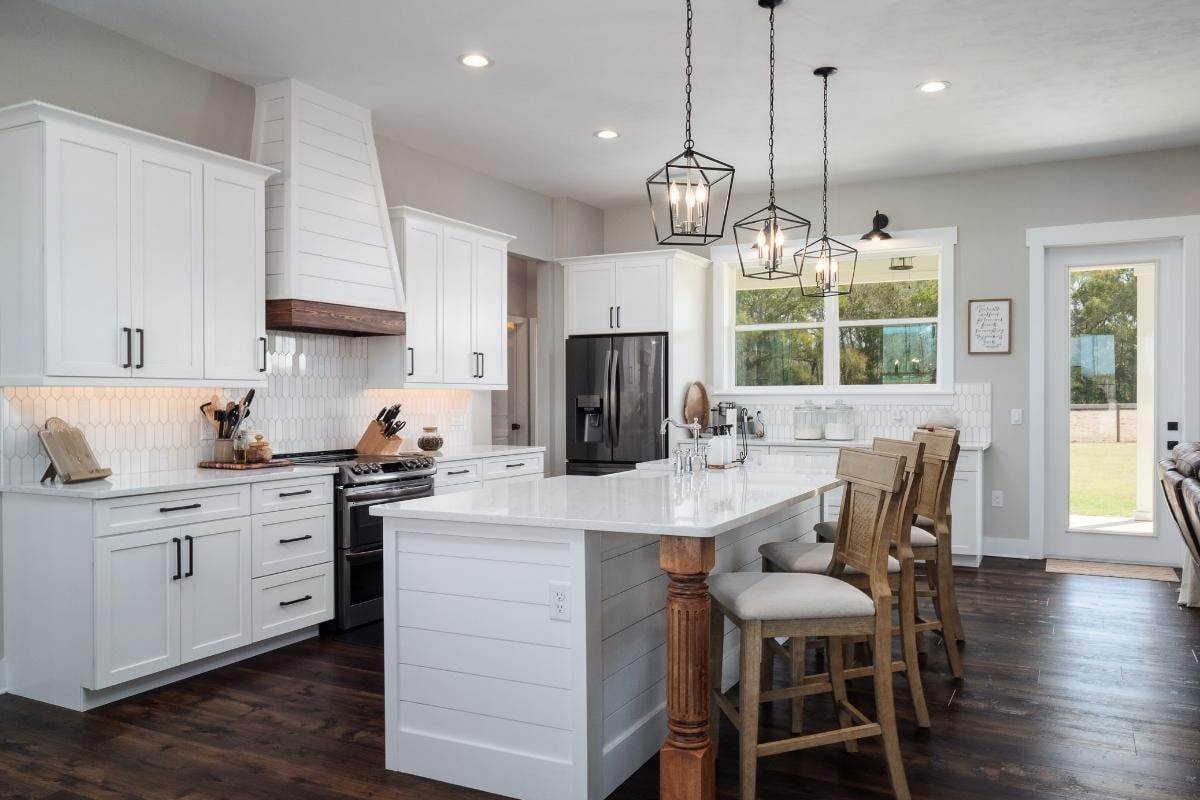 Traditional Home Layout
Many of us can picture traditional home accents, like crown molding, wainscoting, dark wood finishes, fireplace mantels, and thick window and door casings. As for the layout of a traditional home, think of symmetry and order.
Traditional home layouts include symmetry in almost every room. The living room will be anchored by a fireplace, flanked by floor-to-ceiling built-ins, and windows centered on the adjacent walls. In the kitchen, you'll have the range and a large hood centered on the main wall and a large island centered in front of it. Bedrooms will typically have windows that are symmetrically placed, even if the door is off to one side of the room. The bathrooms in a traditional home are some of the only rooms that don't focus on symmetry.
Even though older traditional homes may have a closed floor plan, today's traditional floor plans will have an open concept that's accented by a pair of columns to distinguish the living room area. Traditional homes may have more than one floor, a garage behind the home, or even a carriage house.
Spanish Style Layout
The Spanish-style floor plan is one that exudes a laid-back lifestyle where each common room flows seamlessly into the next. The layout will typically include a long, wide corridor that runs along the backside of the home, opening into the kitchen, dining, then living room, and is lined in tall windows or doors that lead out to a patio, porch, or veranda. You won't find each room with separate doors, but arched openings that still offer some separation.
An important feature of the Spanish-style layout is a focus on the outdoors, so several exit points will lead to a large common veranda or multiple outdoor areas. Bedrooms, the kitchen, dining room, and living room all offer opportunities to have exit points that lead out to private or shared outdoor spaces.
In the living room, focus on large exposed beams, white stucco walls, tile floors in warm tones, and a full wall of doors or floor-to-ceiling windows to tie the inside and outdoor spaces together. You may also see a series of two or three steps that lead down from the end of the corridor into the living space, which makes the large open area feel cozy. Spanish layouts focus on the outdoor area for entertaining or a luxe, relaxed lifestyle.
Spanish-style house plans will also include a large primary bathroom that feels open and airy. With this space, you'll have room for a large soaking tub, a curbless glass-enclosed shower, and double vanity.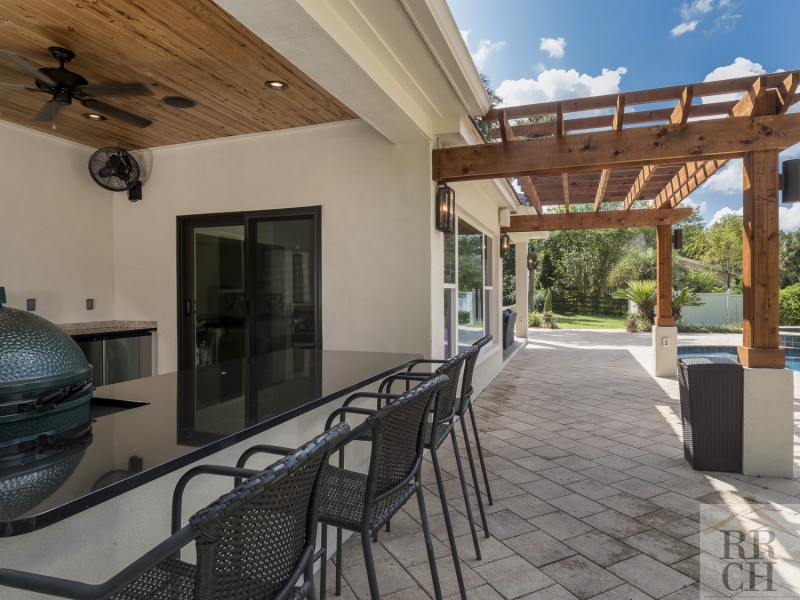 Mediterranean Style Layout
A Mediterranean home is a type of coastal style with some elements that overlap with Spanish style, but less ornate. It will include exposed wooden beams and stone floors, and larger rooms with tall arched windows to let in more of the outdoors. There is a focus on incorporating nature, so the layout will also include plenty of space for indoor plants, access to outdoor spaces, and natural light.
For a Mediterranean floor plan that feels authentic, consider a layout that wraps around a patio with a large pergola for outdoor entertaining and dining. The Mediterranean layout focuses on hospitality and gatherings, so large common areas lead to an outdoor kitchen and living space with multiple points of access from inside. To enjoy the outdoors year-round, incorporate a three-season sunroom and floor-to-ceiling windows.
Inside, the Mediterranean home will have natural stone, exposed beams, hardwood floors, and black wrought iron banisters. The layout should incorporate an open floor plan with large, sprawling archways that distinguish each space. Because this style of home prioritizes hospitality, a large open kitchen with an island for seating is a natural fit.
Ranch Style Layout
Ranch-style homes are single-story homes that are typically much wider than they are deep and will include a patio or porch in the back. The sprawling nature of the layout lends very well to an open floor plan, wide expansive windows, several private bedrooms, a primary suite, and a garage. Ranch-style layouts will commonly have a wide fireplace in the living room that anchors the space.
A variation of the ranch-style home is the split-level home. A split-level home will have a set of stairs that leads a half floor up to the bedrooms, and a half floor down to the garage or another shared space, like a den or living room. In areas where basements aren't typical, like Florida, a split-level home can be made possible by building up the land on one side first, then creating a split-level foundation. This breaks up the spaces more than a traditional ranch style, so it's not quite as popular.
Because ranch-style homes are typically single-level, they are ideal for aging in place and families with small children. They are also great for creating different areas off of the main area, like an office, a reading area, or a breakfast nook.
Modern Home Layout
Modern homes became popular in the early 1900s and faded in the 60s, but have become very popular again. The classic modern style layout focuses on simplicity and function, is an open concept that lends to a free-flowing layout, and has an asymmetric façade. Modern style floor plans usually feature sharp, clean lines and feature materials that lend the same feel.
In modern home layouts, you'll also see large expanses of picture windows that don't obstruct your views and let in a lot of natural light. Open floor plans that include minimal interruption between the kitchen, dining, and living spaces are common in modern layouts. In today's homes, it's common to see a large island as the only dividing factor in a modern floor plan.
As for the materials to include in your modern home layout, concrete, glass, and marble are common, but you'll also see brick and stone used as accents. In modern floor plans today, retractable glass door walls connect the indoors to your outdoor entertainment areas.
Family Home Layout
When you're choosing the right layout for your Alachua County home, you'll want to think about who will be using the space, such as children or an aging relative. A family-friendly home layout will likely include an open floor plan so you can keep an eye on the children in the living room while you're in the kitchen. Include a breakfast nook nearby as well as a laundry room and a mudroom near the kitchen for added convenience.
For a four-bedroom layout, you may want to split the bedrooms up, with the primary suite and one bedroom on the lower level and two more bedrooms on the upper level. If you intend to have an open floor plan, with an office and a closed-off den, it could make more sense to house all of the bedrooms upstairs.
Choosing the Best Layout for You
With so many home styles and decisions that would make the most sense for you and your family, having an experienced designer and builder to guide the process would be very helpful. Choose a design-build team that's familiar with multiple styles and who is focused on what you need and want in a home.
Robinson Renovation and Custom Homes has decades of experience helping future and current Alachua County homeowners decide the best styles and layouts that will suit their needs and their budgets. Contact Robinson Renovation and Custom Homes to schedule a consultation today.