A lot of life happens in the kitchen. Cooking as a family, late-night chats, important conversations, trying your grandmother's recipe for the very first time. How you will use your kitchen will determine the layout of your kitchen. Whether you're an avid baker who likes to entertain dinner guests or enjoy creating fine-dining-worthy dishes with the best appliances, take time to consider what the most ideal kitchen layout would be for your custom Florida home.
The 5 Main Types of Kitchen Layouts
At the end of the day, your custom home kitchen layout should reflect how you use the space, but will also be determined by other elements in your kitchen like windows, doors, and adjoining rooms. To have a few ideas to start with, here are the five most common kitchen layouts and how they can fit with your lifestyle.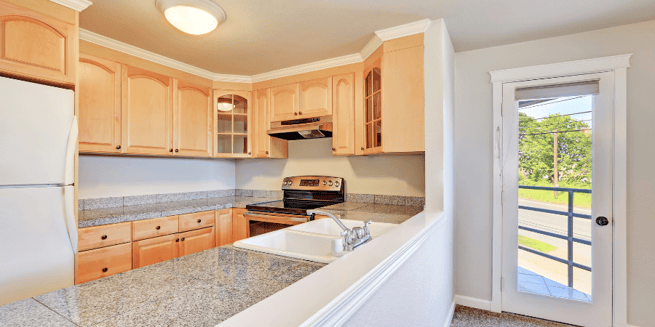 The U-Shaped
The U-shaped kitchen has three walls that accommodate all the upper and lower cabinetry and your appliances. U-shaped kitchens will also typically incorporate an island. This kitchen layout includes loads of counter space and storage. If you have the square footage to spare, this is a great floor plan.
If you and your family enjoy cooking together, this layout can accommodate multiple people very easily. This is also great if you entertain. The island can serve as the central food location and you can set up a bar on the counter on one side of the kitchen. There's plenty of space for it all. If the island tends to be homework central, you aren't sacrificing the prep area with a U-shaped kitchen, because you'll have countertop space to spare.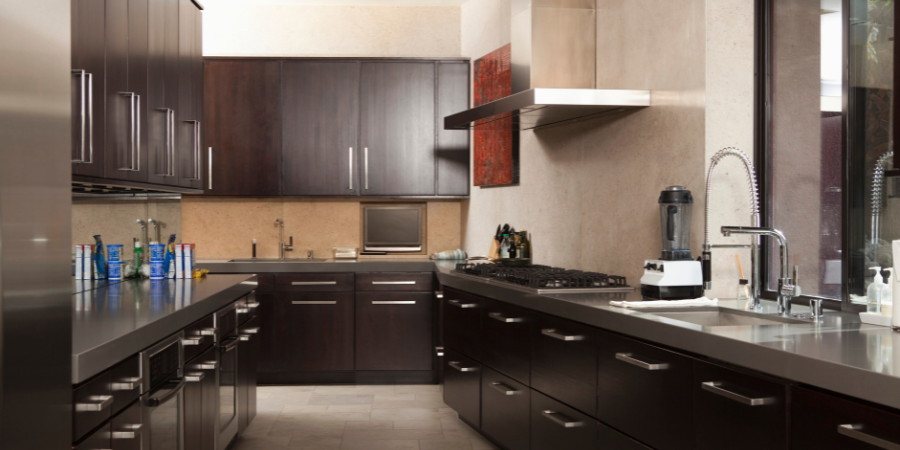 The Galley
A galley kitchen is almost like a wide corridor outfitted as a kitchen, where cabinetry and appliances line both sides. Galley kitchens don't usually include an island because there simply isn't enough space. This layout design is usually not a go-to style unless the space simply can't accommodate a more open plan. On one end of the galley, there is typically either a dining space, doors leading out to an outdoor living space, or possibly both.
If your family tends to use the kitchen as a social space, the galley layout isn't for you because the pass-through design doesn't lend well to lingering. It's great for smaller homes or spaces where this isn't the main kitchen, like an in-law suite or pool house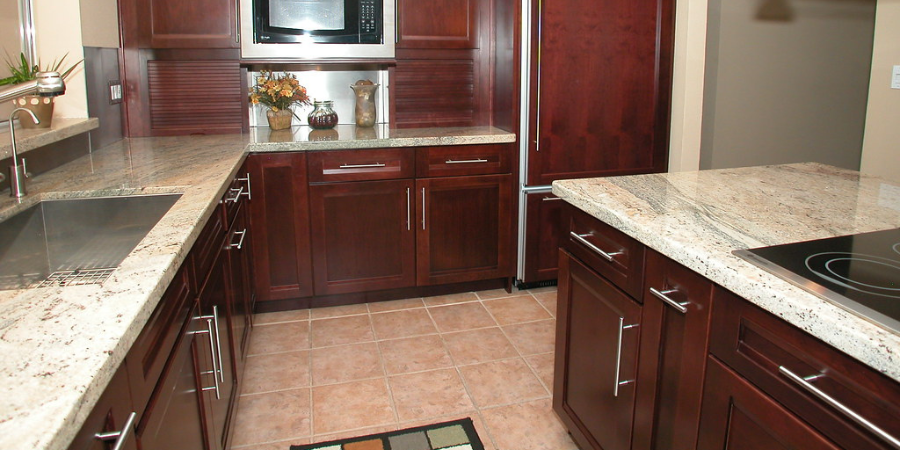 The L-Shaped
The L-shaped kitchen consists of two walls that form a 90-degree angle and also includes an island more often than not. The upper and lower cabinets as well as most or all of the appliances will be housed on these two walls. Because this layout offers a bit less room than the U-shaped layout, you might opt for the sink to be on the island.
If you prefer a truly open floor plan, the L-shaped layout will work very well. This floor plan is limited in storage, in comparison to the U-shaped kitchen, but your designer should be able to maximize storage where possible. The island as well as a walk-in pantry should add plenty of extra storage.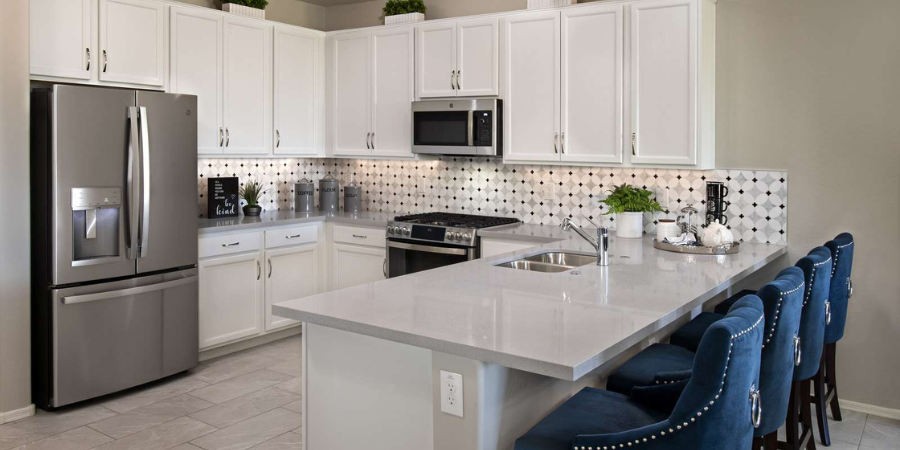 The Peninsula
This kitchen layout includes three sides of lower cabinet space like the U-shape, but one of the three sides doesn't have a wall or upper cabinets. Instead, the extended counter space is similar to an island, with the option for seating on one, but is connected to the wall as opposed to standing alone.
The peninsula layout makes it possible to benefit from an island when you don't quite have enough square footage for one. Use the peninsula for food prep, laying out a buffet-style meal for dinner guests, or helping the little ones with homework while you cook.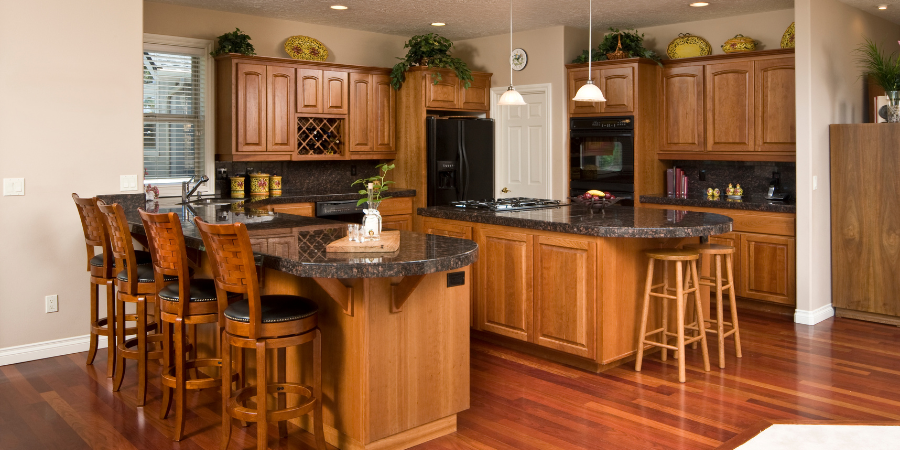 The Double Island
This kitchen layout is becoming more popular, especially with custom homes and large kitchen additions. The two islands can be encased in a very large U-shaped kitchen or a more open L-shaped layout.
If you love the latest kitchen gadget innovation, love to whip up large meals, have more than one person in the house that's enthusiastic about cooking, or regularly entertain many guests then having the extra island space will feel like a dream. You'll have more storage, more workspace, and can include more appliances, like a warming drawer, a wine refrigerator, or an ice-maker. Many times, the additional island will also hold an additional sink, adding to the convenience of being able to handle more than one home chef at a time.
How Do You Choose The Best Kitchen Layout For Your Home?
The best kitchen layout for your home will depend on how much space you have and how you intend to use your kitchen. Do you cook most meals at home, or do you tend to order out? Do you entertain guests, or are you usually the guest? Besides cooking, what other activities usually happen in your kitchen, like homework or cocktail hour?
Also, think about how many people will use the kitchen at one time and how you will use your appliances. This is something your designer will be able to help you problem-solve. Typically, the range and the refrigerator will be nearby for ease of creating a meal. If you have specific interests, you might also have an additional beverage refrigerator to keep your workspace clear of other foot traffic.
Consult a Professional To Plan Your Ideal Kitchen Layout
Your kitchen will likely be the most complex room to plan. Depend on an experienced design team that is receptive to what you and your family needs. Remodeling a kitchen is a big undertaking. So, with the right design-build team to guide you through the process, when it's all said and done, you'll have a kitchen that exceeds your expectations and brings joy to your everyday routines.
Robinson Renovation & Custom Homes is the design-build team who will do just that. Your kitchen is an important piece of your home, and we know how to make it the most functional and beautiful piece possible, custom-built just for you. Contact us today to schedule a consultation. Let's plan your kitchen to suit your needs.