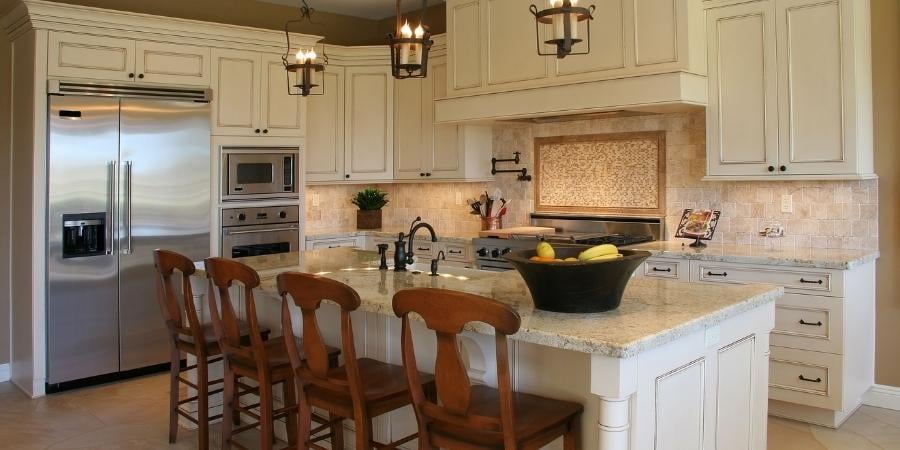 Kitchen remodels are very exciting because they can result in a much more functional and stunning space. On the other hand, if you're not careful, you could end up with regrets if you don't avoid a few common kitchen remodel mistakes. Most people are careful to avoid putting outdated trends in a brand new kitchen. However, there is so much more than the colors and finishes you choose for your kitchen that every homeowner should keep in mind.
1. Not Enough Storage
Many homeowners underestimate just how much storage they'll need in the kitchen. In addition to the amount of storage, you'll also want to consider the type of storage. There are so many custom storage options to choose from that can make cluttered cabinet space into a well-organized compartment that takes the stress out of keeping your kitchen in order. Custom options like pull-out shelves in the lower cabinets and drawer dividers for plastic containers are examples of the highly customizable options you should opt for in your Florida kitchen remodel.
2. An Inconvenient Layout
Make the layout work for you by thinking ahead about how you use your kitchen. The placement of each appliance and how much empty space is left to move around the space are very important. If you are an adventurous home chef, you'll want to have certain large and small appliances within reach to avoid running laps around the kitchen for every meal. Perhaps you're an avid baker and would like to have all of your tools, equipment, and ingredients in one place. If entertaining is a priority, perhaps a butler's pantry with a sink and separate storage for serving ware would be a worthwhile use of space. Even a coffee station or a wet bar is worth including in your layout design if it'll make your kitchen more enjoyable and functional.
3. Too Few Outlets
Placement and number of outlets in a kitchen are an unfortunate remodeling afterthought for many homeowners. As you're deciding the layout of your kitchen you'll also want to think ahead about where you are most likely to use smaller appliances that require an outlet. The coffee maker, a stand mixer, the toaster, and a blender all require access to electricity. Poorly placed outlets or too few outlets will become a daily inconvenience, to say the least.
4. No Seating
The kitchen is a major gathering space whether it's a quiet night in or a dinner party for a special occasion. People love to linger in the kitchen, especially around the island. Make sure your kitchen design includes space for talking over meal prep or just having morning coffee. Kitchen islands have proven their usefulness over the years and it's worth working an island into the design of your remodel. If possible, be sure to have enough of an overhang on the island to seat at least four.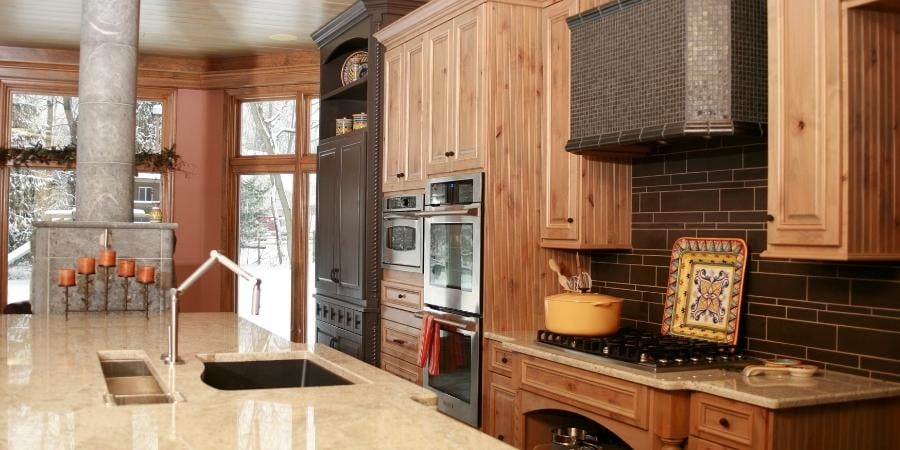 5. Poor Lighting
The kitchen is the hardest working room in the house. It's also the room where the most accidents can occur. Poor lighting can increase the odds of burns, cuts, and spills. Work with your designer to determine where and what kind of light is needed. There are common placements, like above the sink and island. Slightly less common but very useful is under-cabinet lighting that can help with countertop space that tends to be in shadows.
6. A Tight Squeeze
Know the limits of your footprint. If you're sacrificing precious storage space to fit a dishwasher, for example, maybe it's time to consider expanding the footprint of your kitchen. This might mean taking out a wall between the kitchen and the dining room or even building out an exterior wall. Finding extra space for your kitchen remodel could include creating an outdoor kitchen. An outdoor kitchen can offer an additional sink for food prep, a built-in grill and griddle, entertainment space, and, of course, an alternative dining space.
7. Not Doing Your Homework
Look around online and in the kitchens of friends and family. Make a folder on your phone or computer for photos and ideas to relay to your designer. It's better to have too many ideas that need to get whittled down rather than have too few and risk not knowing all of your options. One great starting place is pinning down a style first, then figuring out the details. Use an app like Pinterest or a search engine to discover upcoming or long-lasting trends. It's far less daunting of a task to search 'modern farmhouse kitchens' rather than 'drawer pulls' on Pinterest.
Getting Started on Your Florida Kitchen Remodel
Thinking of every aspect of what goes into your Florida kitchen remodel and where to start is easier with the right design-build partner. Robinson Renovation & Custom Homes, Inc. is an experienced residential remodeling and construction company that works with you to reach your remodeling goals. Start with downloading our free Kitchen Remodel guide and contact us for a consultation to discuss your vision for your dream kitchen.