3 Min Read
How to Choose Kitchen Cabinet Hardware for Your Gainesville Home
Whether you're remodeling your home in Alachua County or building a new one, you know the kitchen is a hive of decisions just waiting to be made. You have to select the layout, cabinets, countertops, flooring, appliances and light fixtures you want for the space.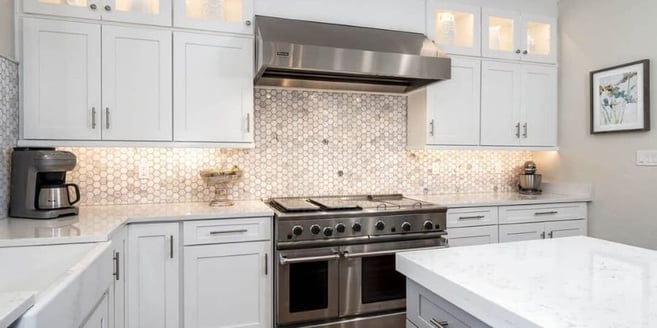 With so many large selections on your mind, you may not even be thinking about the small details—or believe they matter too much. However, it's the minutiae that give your kitchen its unique character and keep it functional and trendy. Take, for instance, the hardware for your cabinetry. Although it's a seemingly minor part of your kitchen, it has the potential to either contribute to or detract from your overall design aesthetic and shouldn't be considered a throw-away decision.
How Do I Choose Kitchen Cabinet Hardware?
Cabinet hardware is often considered the jewelry of your kitchen. It needs to coordinate with the rest of your look and the components that comprise it. There are also function-related issues to consider. Here's how to choose cabinet hardware for your kitchen remodel in Alachua County, step by step:
1. Identify Your Style
Whether your project involves new construction or is solely a kitchen upgrade, hardware will be one of the last design choices you make. By that time, you should have a concrete idea of your chosen design style. You'll use that as the starting point for selecting hardware. If you have a sleek, modern style, you might consider chrome handles with clean, hard lines that mirror those found elsewhere in your kitchen. You could even choose to incorporate handleless kitchen cabinetry for a distinctly modern vibe. For a traditional kitchen, ornate brass or copper handles are some viable options. There are numerous styles and finishes available, but going into the process with your kitchen style in mind will quickly narrow down your pool of suitable selections.
2. Think About Cost
As with every other item in your kitchen remodel, cabinetry hardware comes at a cost. It's a relatively low one: Most knobs range from about $5 to $10 while pulls are closer to $7 to $12 apiece. Some designer options can approach the $20 to $25 range, but they can elevate your luxury kitchen in Gainesville. Whatever you choose, you'll be purchasing several handles for all the doors and drawers in your kitchen, and that can add up. Consider where you're at with your budget at this point in the design-build remodeling process and what you want to allocate to the hardware for your kitchen cabinets. Also, plan to order a few extras to have on hand for replacements.
3. Choose Between Knobs or Pulls
The next big decision is whether you want to use knobs or pulls—or both. This is really a matter of preference, although there are some combinations that look and function particularly well. For example, for a large door—such as that of a pantry, larder, or trash compartment—you should lean toward a pull. Drawers full of heavy items like pots and pans will also be easier to operate with a pull, whereas smaller cabinet doors are easily manipulated with a knob. As part of this decision-making process, consider the primary users of the kitchen. Is that mostly one or two adults who tend to work in the kitchen? Are there certain cabinets that should be easier to operate for use by children? Are there older adults utilizing the kitchen who would benefit from having more surface area to grip? In general, pulls are more comfortable to operate, because your whole hand can grip on rather than just your fingertips.
4. Curved or Square-Shaped?
The next step is choosing hardware that's consistent with the type of lines found in your design via your lighting fixtures, countertop edges, cabinet style, and other architectural and decorative elements. Shaker and flat-panel cabinets possess a flatter, more squared look, while pillow-top doors, traditional raised-panel doors, and beadboard are examples of curved cabinet styles. To complement the hard lines and edges of a contemporary look, you'll want similarly squared hardware. For traditional and transitional kitchens, find curved hardware with softer edges and ornate detail. In a rustic or farmhouse-style kitchen, it's best to stick to something simple and unassuming.
5. Pick a Finish
Finally, you need to select the right finish for your cabinet hardware. Most people automatically think of chrome or brushed nickel to match the most kitchen faucet finishes, but there are numerous other options that can add visual interest to your kitchen. Once again, the right fit for your space depends on your style, color scheme, and the other finishes already selected for your design. If you want to use your kitchen faucet as the deciding factor, some finishes that complement brushed stainless steel or brushed nickel include antique pewter, satin brass, oil-rubbed bronze, black matte, or aluminum. Chrome faucets pair well with clear glass, white, black, pewter, or dark bronze handles. However, you can choose something more dramatic for your finishes—such as gold or antique bronze—but make sure it fits the rest of your décor.
Designing Your Alachua County Kitchen
When you're designing a kitchen at your home in Gainesville, there are several details that need attention, in addition to the big decisions. For our team at Robinson Renovation and Custom Homes, no feature is too big or too small to give its due consideration. We want to help you design and build a kitchen that is perfectly tailored to your needs and tastes, from top to bottom.