Kitchens tend to be among the most well-loved and well-used rooms in the house. Families spend hours each day cooking, cleaning, working, and gathering in their kitchens, which makes this space a prime candidate for an upgrade. The 2023 kitchen remodeling trends lean toward better organization, more color, and a more welcoming environment for hanging out in the kitchen. Your Florida kitchen is going to be your favorite room in the home with these 2023 trends!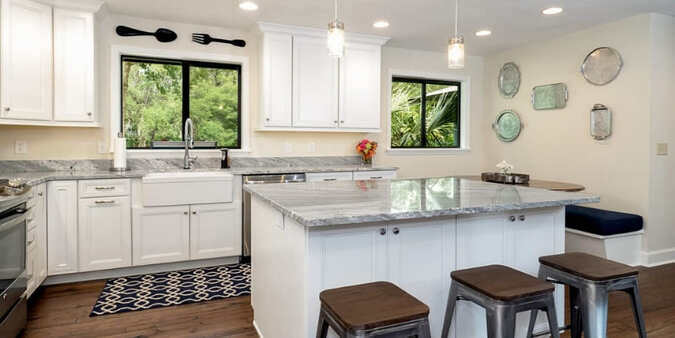 1. Truly Custom Storage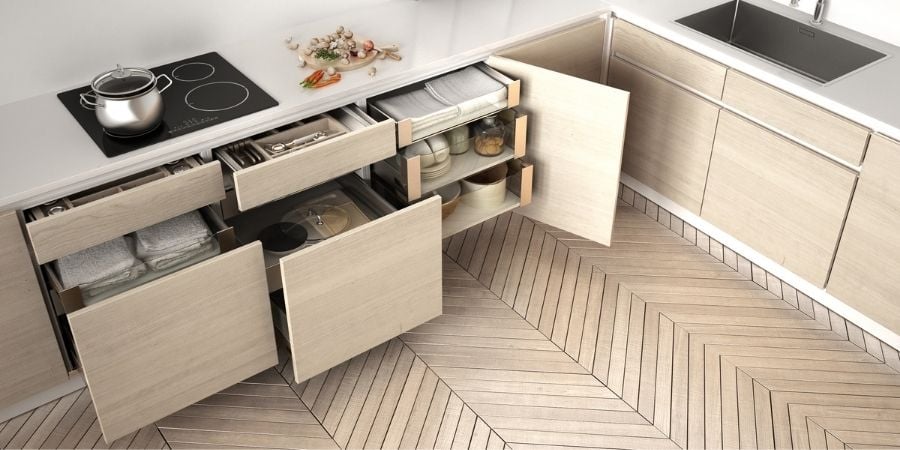 Gone are the days of settling for whatever cabinet boxes are available. Homeowners are taking advantage of custom storage solutions for their kitchens that will use the space they have wisely and make better use of the dead zones that usually occur in the island or cabinet corners. Pull-out shelves, deeper drawers with dividers, lift-up shelves, and appliance garages are popular options. For added convenience, hide charging stations and extra outlets in drawers, because, as most homeowners know, you can never have too many outlets.
2. Having Fun with Color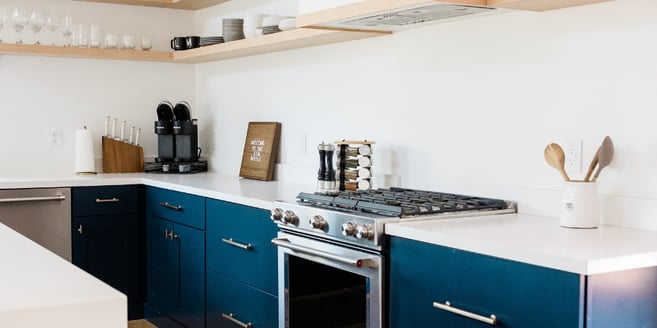 In 2023, all-white and all-gray kitchens are finally out and color is in. Two-toned cabinets, adding a pop of a trending color on the island, painting the inside of glass-front cabinets, or playing with color on your backsplash are all ways that designers and homeowners are injecting a bit of personality in once stark-white spaces.
Still love a bright white kitchen? Use white on your walls and upper cabinets while using a lighter shade of a trending color on the lowers. As for what exactly is trending, it's warm tones: like saffron, muted pinks, cream, deep orange, and ochre. Into cooler colors? We're still seeing a lot of the blues and greens that became very popular in 2022.
3.

The Kitchen as a Multi-Use Space
In 2023, the kitchen is becoming more dynamic, with different zones for different uses. Breakfast nooks, coffee stations, built-in bars, and even sitting areas near a large window are creating kitchens that are meant for more than just cooking and eating. Having different zones in the kitchen means more use of the space and more connection. Everyone loves to linger in the kitchen, so having multiple zones that makes space to do just that offers lingerers a more comfortable place to sit and stay a while.
4. Double Kitchen Islands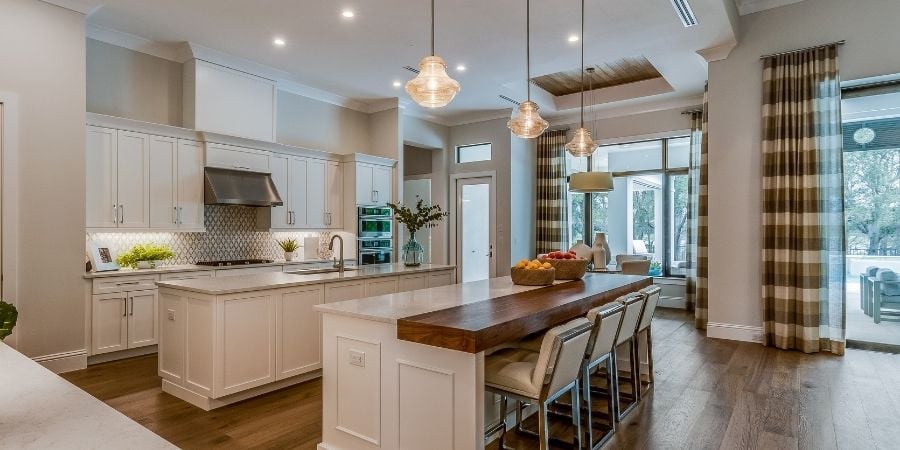 Double kitchen islands have become very popular over the last couple of years. In 2023, designers and homeowners are flocking even more toward the trend that's a perfect fit for an open floor plan. Adding a pair of islands means you won't have to sacrifice your prep and cook space when family or friends are hanging out at the kitchen island. The outer island can be used for setting out appetizers and serving ware for a dinner party, or for the kids to finish homework while you prepare a meal. Lean into the color trends with your islands painted in a popular color and keep your parameter cabinets in a neutral tone. An extra island also means more storage space.
5.

Statement Ceilings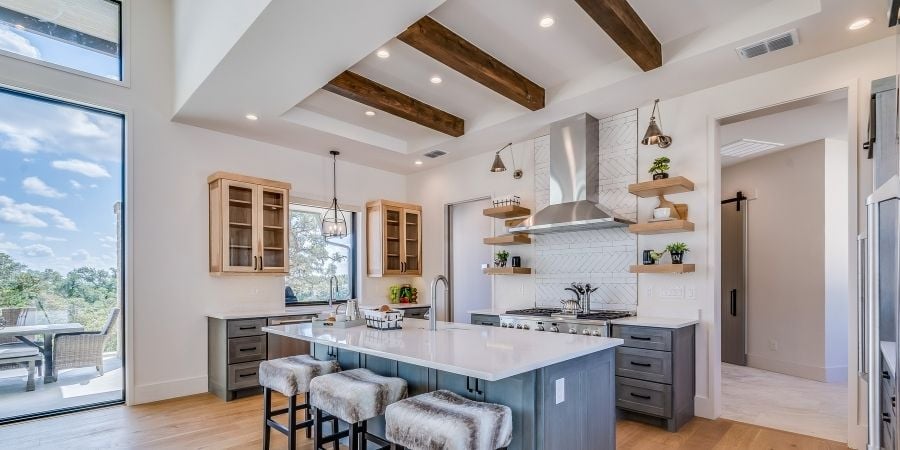 Ceilings often get overlooked, but they are the perfect spot for adding color or a dramatic flair to your kitchen. In the kitchen, a vaulted ceiling will make the space feel larger. Exposed beams or rafters offer warmth. A coffered ceiling is a classic choice that's sophisticated. There are plenty of different statement ceiling styles to explore. Work with your designer to discover which design works with your kitchen's style.
6.

Slab Backsplashes
The slab backsplash has held onto its popularity for a few years, and may soon be considered timeless. It's sophisticated, easy to clean, and offers a solid backdrop to the rest of your kitchen's design style. Use marble, quartz, or even terrazzo, depending on your aesthetic. In 2023, bold colors of marble are trending, like green, black, and even pink.
7.

Butler's Pantries
Butler's pantries have been around for centuries, but have come back in a big way in 2022. In 2023, there's no slowing down for this trend. Butler's pantries are a great space for smaller appliances, like the microwave, ice maker, wine fridge, and more. Use the same colors and materials as your kitchen or mix it up with a coordinating palette. It's also a useful place to hide dirty dishes while a dinner party is still going; and with an additional sink, makes clean-up easier, too.
8.

Add a Mudroom
The kitchen is already a busy space, so having an exterior entrance into the kitchen can make it even busier, and messier. With a mudroom between the kitchen and the entryway, you'll avoid having messes and belongings make their way into the kitchen and clutter the space. Work with your designer to incorporate custom cubbies for each member of the house, a place to wash the dog, and added storage for sports equipment, bags, leashes, and the rest.
9. Going Green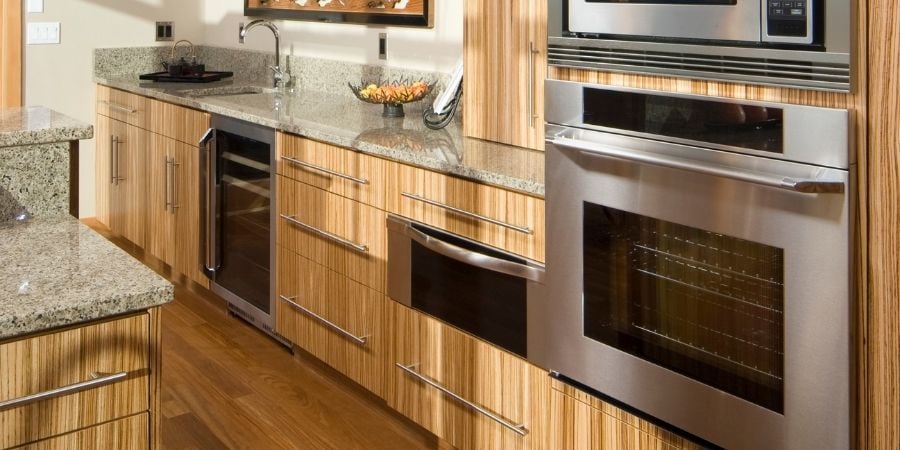 More and more appliances are available in energy-efficient versions, especially in 2023. Homeowners not only want to save on utilities but be eco-conscious. Dishwashers that use far less water, a refrigerator that will adjust their temperature based on its contents, lighting that automatically shuts off when no one is in the space, and an electric stove that makes the most of your solar power system are just a few of the ways you can go green in the kitchen.
Going green can also come by way of the materials you choose. Quartz has less of a carbon footprint than marble, and terrazzo even less so. Bamboo flooring has come a long way in terms of style. Choose paint and sealants that don't contain VOCs. Reclaimed beams add style, personality, and warmth. There are so many ways to go green in your Florida kitchen that are also very stylish and trendy.
10. Smart Technology
Nearly every appliance is available in a smart version; not to mention your sound system, lighting, and security. Smart appliances and more can be controlled from your smartphone, whether you're across the room or across town. Voice-activated or Wi-Fi-enabled appliances also offer more convenience than older appliances. Check your refrigerator's contents while you're at the store, preheat your oven from the living room, and get a notification when your dishwasher has completed its cycle. The availability of smart appliances in 2023 also means they are becoming much more affordable.
11.

Medium Wood Tones
Wood tones are getting warmer and richer than years prior. In 2023, medium tones, like walnut, tobacco, and provincial, are a nice pivot from the stark white and gray kitchens that were going strong for decades. Warmer wood tones on the kitchen cabinets are welcoming, and comfortable, and work well with some of 2023's trending paint colors. Want to make sure your kitchen stays light and bright while using medium wood tones? Use walnut on your lower cabinets and white on the uppers and walls. Introduce some color on the kitchen island and top the room off with exposed beams.
12. Bold Countertops
Your standard white marble or quartz on the countertops are making way for bold countertops. Dark leathered granite is a new countertop trend that we're seeing more of in 2023. If marble is still your favorite for countertops, consider marble in black, green, or pink. Choose a slab with heavy veining for a bold look and balance it with a neutral palette on the cabinets and walls.
Remodeling Your Gainesville Kitchen in 2023
Give your kitchen new life with a remodel using 2023 trends. Plenty of these trends are only growing more popular and help the kitchen become a more functional space. If you're ready to love your kitchen again, contact Robinson Renovation & Custom Homes, who has served Alachua County for years creating exceptional spaces that are well-crafted and beautiful. Robinson Renovation & Custom Homes will guide you through the process and design a kitchen remodeling project that improves functionality, convenience, and style–all within your budget.