Kitchens tend to be among the most well-loved and well-used rooms in the house, but now families in the Gainesville area have had to spend an inordinate amount of time at home, which includes cooking and gathering in their kitchens. That means it may be time for an upgrade.
If your kitchen has received extra use during the past couple months, no doubt you've recognized a variety of ways you could renovate the space to make it more functional, modern, and inviting. Maybe you love your kitchen as much as ever but simply want to spruce it up or increase your home's value. Whatever the motivation, remodeling your kitchen is a way to preserve and enhance the heart and soul of your home in Alachua County.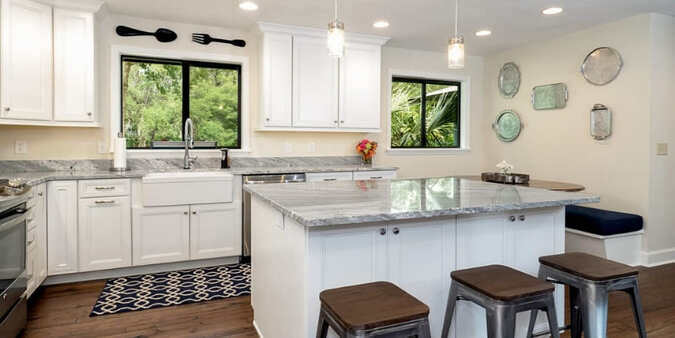 What Is Trending for Kitchens in 2020?
As you prepare to undertake a kitchen remodel with your design-build team, it can help to know what features, finishes, colors and styles are in fashion. To give you inspiration for designing your renovation project in Gainesville, whether major or minor, here is a look at several of the top kitchen trends for 2020:
1. A Touch of Color
All-white kitchens are going out of style, but the idea of adding a bunch of colors and textures to your kitchen may seem intimidating. Fortunately, kitchens are teeming with opportunities to add pops of color. You can steer clear of whites and stay on trend by weaving fashionable colors throughout your kitchen by way of bright appliances, window treatments, hoods, a vibrantly painted kitchen island, or glass-front cabinets to store your colorful pottery. If you're not ready to make a strong commitment to a particular color, painting a wall is a good place to start, as the decision is easily reversible.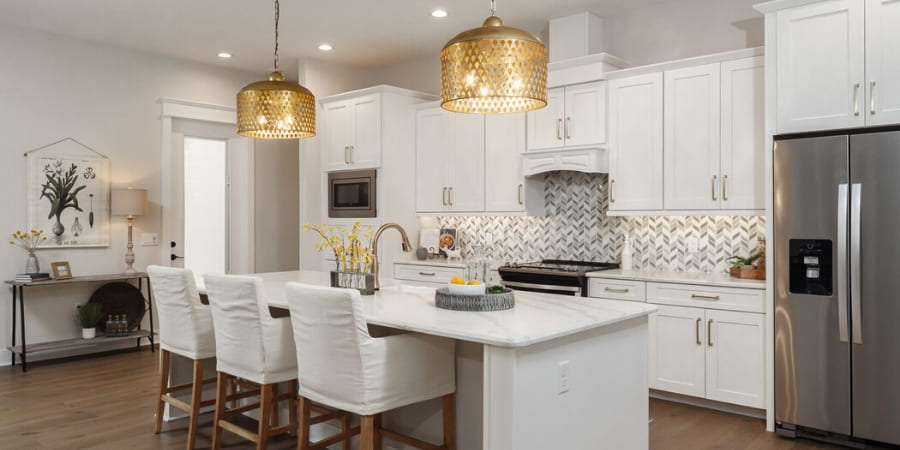 2. The Return of Marble
Marble is making a comeback in 2020, thanks to its blend of functionality and next-level style. When used for a counter top or back splash, strongly veined marble lends a touch of undeniable luxury and sophistication to your kitchen. If you're looking for a more affordable alternative, engineered quartz may be a good fit—plus, it's less prone to stains.
3. Incorporating Double Islands
In terms of structural elements, kitchen islands are a must-have to create necessary surface and storage space while also maintaining the flow of your kitchen. Dual islands are even better. If you are expanding or redesigning the layout of your kitchen, consider adding a pair of island units. They can help you divide your kitchen between a space designated for meal prep and a space for gathering or serving food.
4. Addressing the 'Fifth Wall'
Ceilings often get overlooked, but they are the perfect spot for adding color or a dramatic flair to your kitchen. If you want to mostly maintain neutrality in the space, the ceiling can be a perfect spot for adding a dash of vibrant color with paint or wallpaper. Crown molding may also be more suitable for your aesthetic. Available in a variety of colors and styles, from simple and sleek to enticingly intricate, crown molding adds the perfect touch of elegance to enhance your ceiling.
5. A Wood Revival
Wood is coming back in fashion in 2020—particularly reclaimed wood. Wood finishes contribute to a warm and inviting rustic chic interior. Walnut cabinetry is especially seeing a rise in popularity, thanks to its rich, dark color and fine grain. However, for a sense of cohesion in your kitchen, consider how the type of wood interacts with other design elements. For example, subtle-grained ash beautifully complements and highlights the warm tones in man-made stone.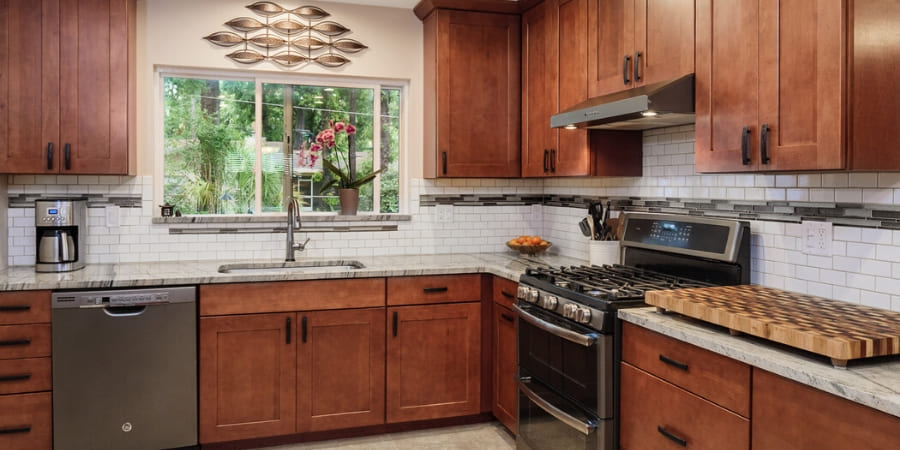 6. Forgo the Handles
"Handle-less" kitchen cabinets and cupboards are becoming increasingly popular for a sleek, streamlined look. As a result of technological advances, you can opt for push-open and close doors that eliminate the need for handles. Another option is recessed handles that can be lined with contrasting colors.
7. Adding Ancillary Spaces
Ancillary spaces, such as pantries, larder cupboards and utility rooms, are key features to complement an upscale kitchen situated within a custom home in Alachua County. They provide a dedicated storage area to stock everyday essentials away from your main kitchen so you can keep the space looking neat and uncluttered.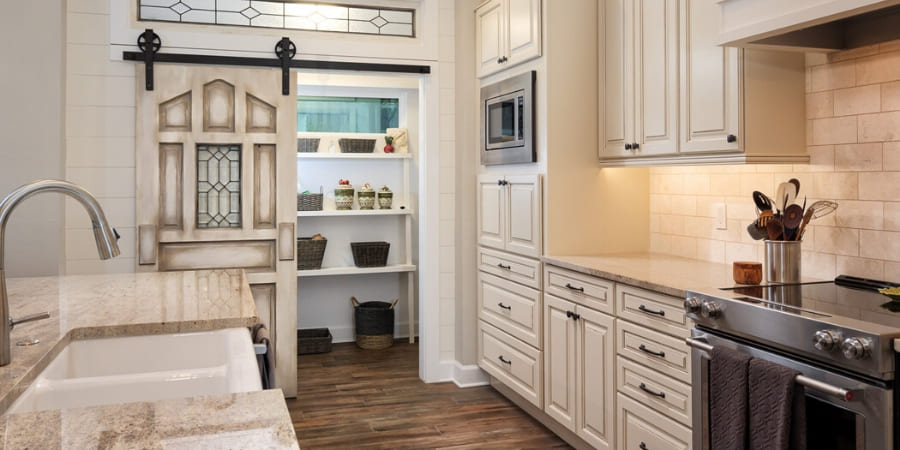 8. Green Solutions
Words like "sustainable" and "eco-friendly" are popping up more frequently in the kitchen design world. You have plenty of options for environmentally conscious solutions for shelving and cabinets that utilize not only reclaimed wood but also bamboo and recycled plastic bottles. Whether you decide on reclaimed wood cabinetry, handmade tiles, or re-purposed decorations, going green in the kitchen is highly in fashion.
9. Open Shelving
Open shelving is the ideal solution for storing your interesting and unique kitchenware, family heirlooms, gilded vintage glasses, copper pots, and other eye-catching items. Not only can you display your favorite pieces, but it's also easier to locate dishes, vases, or other items when you need them. If you choose to utilize open shelving, however, make sure you stay on top of regularly cleaning the exposed items.
10. Warm Finishes
Greys and whites are on the decline and warm finishes are taking their place in terms of kitchen trends. Copper, antiquated brass, and oil-rubbed bronze finishes are becoming the preference for cabinet hardware and faucets. They also pair well with the mid-toned wood features and warm hues—such as toasty neutrals, burnt oranges, sunny yellows, and fiery reds—that are currently trending.
Remodeling Your Kitchen in 2020
Periodic kitchen renovations and upgrades are necessary to keep all the systems and features functioning well. However, kitchen remodels also give you the opportunity to re-imagine the space to align with current trends or your changing tastes. Robinson Renovation & Custom Homes can help you design a kitchen remodeling project in Alachua County that improves on each aspect of the space, from functionality and convenience to the overall appearance.