No matter how much you love your home in Alachua County, there's nothing wrong with wanting to upgrade the space every now and then. If your kitchen has become outdated, is no longer functional for your family, or has simply lost its aesthetic appeal, it may be time for a renovation.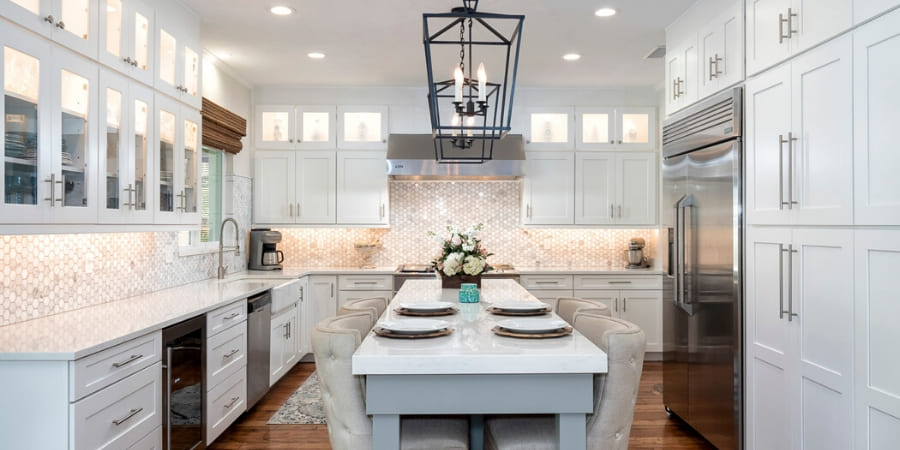 Remodeling your Florida kitchen has both tangible and intangible benefits: It will increase your home's overall value, in addition to supporting a healthier, happier lifestyle. Research shows individuals and families who have recently renovated their kitchen tend to spend more time hanging out as a family, preparing homemade meals, and hosting social events with friends and family at home. After all, there's something deeply satisfying about being in a kitchen with fresh finishes and fixtures, new appliances, and an overall modern feel.
How Long Does a Kitchen Remodel Take?
Whether the purpose of your kitchen renovation is to improve your life or to add value to your home, it still won't happen overnight. The average time for a kitchen remodel is about two months, with different projects ranging from four to 12 weeks depending on the size of your kitchen, as well as the complexity and scope of the project. If you're upgrading the existing footprint, the job will take substantially less time than if you're adding onto or completely reconfiguring the layout of your kitchen. Full kitchen renovations—which include changing the service locations of your plumbing and electrical wiring—typically take three months or so to complete.
Related Reading: How Long Does it Take to Build a Custom Home in Alachua County?
When it comes to kitchen renovations, there are several moving parts. Your contractor has to coordinate with plumbers, electricians, and other subcontractors who work together to complete your project. The availability of labor and materials can also impact your kitchen remodel timeline. In order to have the most efficient process possible, it's important to establish a clear budget and confirm all product specifications with your construction team before demolition starts. Here is a closer look at a typical kitchen remodel timeline and what you can expect at each stage:
1. Researching and Budgeting
All home renovation projects technically start before you bring your contractor on board. You first have to decide what you're looking for and differentiate between what you need versus what you want. In addition to identifying an end-goal, you have to determine what you're willing and able to spend on the project. During this phase, you also should do research on typical costs for materials and appliances so you can start developing a realistic budget.
Finally, you need to find a qualified contractor in Florida to handle your kitchen remodel. Some contractors may be booked out several months in advance, so it's important to be proactive researching and interviewing potential contractors and selecting one to work with.
2. Designing and Planning
Even in the process of searching for a remodeling team, you'll start working with design specialists to help plan the scope and estimate a budget for your project so you can make an informed decision of which company to move forward with. Before you've signed on with a particular team, a design specialist will consult with you and gather your goals and ideas to determine a preliminary budget and timeline. Before you contract with the remodeling company, you will have a chance to further nail down specifics and select various styles, features, colors, and materials to incorporate into your kitchen remodel design.
With a better understanding of your space, they can plan ahead to ensure the kitchen remodel goes smoothly. The design specialist will coordinate with the project superintendent who will then meet with you. It is their responsibility to line up trade partners to handle various aspects for the project to ensure it runs smoothly. Your superintendent acts as your agent to advocate for your family and ensure your home stays a home, not a job site.
Tips for Living in Your Home During a House Renovation in Florida
3. Kitchen Remodeling Begins
Now that planning is complete, it's time for your remodeling team to start working on site to remodel your kitchen. Again, the timeline for this portion of the project can vary significantly depending on the different tasks that are involved. In general, however, if you're doing a midrange renovation, you can expect it to take about five to eight weeks. During a majority of this time, you will have limited access to your kitchen, but don't worry, your superintendent will have already worked with you to make your home as live-able during the remodel as possible, in many cases having set up a temporary kitchen in the garage or other available space.
Step one is demolition, which typically takes three to four days. Your remodeling team will remove your old flooring, countertops, and counters, so you can expect a lot of noise and dust during this period. However, this is not your stereotypical DIY Network demolition where construction workers go in with sledgehammers swinging to indiscriminately demolish the space. RRCH's team takes a highly surgical approach to demolition, which starts with "dust proofing" the area. We bring in air scrubbers and setup temporary zip walls to minimize and contain dust. We also cover up vents in the renovation area to prevent dust and debris from clogging your HVAC system.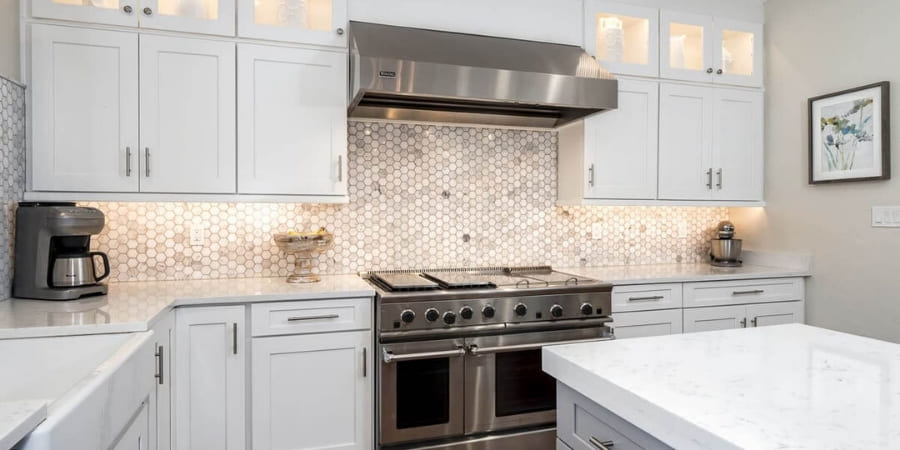 Next, our team will work on the electrical layout, which can take another few days. One of the most time-consuming parts of a kitchen remodel is the flooring, cabinet and countertop installation. These projects typically take about two to three weeks, depending on whether you've selected custom products and if there is any holdup on acquiring materials. If you're working with an experienced renovation company, the installation itself should go smoothly.
Then, your team will finalize electrical systems, connect plumbing, set up lighting, and install your appliances, which generally takes another week or so. Then it's time for the finishing touches, such as backsplash and tile work, painting, and other cosmetic design elements.
At this point, your contractor will schedule your final inspection and walk-through, which takes place after your remodeling team has cleaned up the space. If you notice any issues, they will do final touch-ups and detailing before you sign off on the project. All of this should be accomplished in about a week or less.
Remodeling Your Florida Kitchen
Kitchen remodels can be time-consuming, although the work itself pays off in the end. If you want to have confidence that your kitchen remodel will be accomplished on time and on budget, you need to carefully select the Florida contractor you choose to work with. Whether you're aiming for a small, mid-range, or upscale kitchen remodel in Alachua County, Robinson Renovation & Custom Homes will approach your project with precision, integrity, and attention to detail. Our design-build team can help you develop a realistic budget and timeline and stick to them on our way to delivering you the kitchen remodel you envision.