3 Min Read
How Long Does a Kitchen Remodel Take in Alachua County?
The kitchen is the heart of the home; but not when it's dark, dated, cramped, or has an unworkable layout. If your kitchen is overdue for a remodel, the best way to feel confident about taking the next step is to know how long a kitchen remodel could take.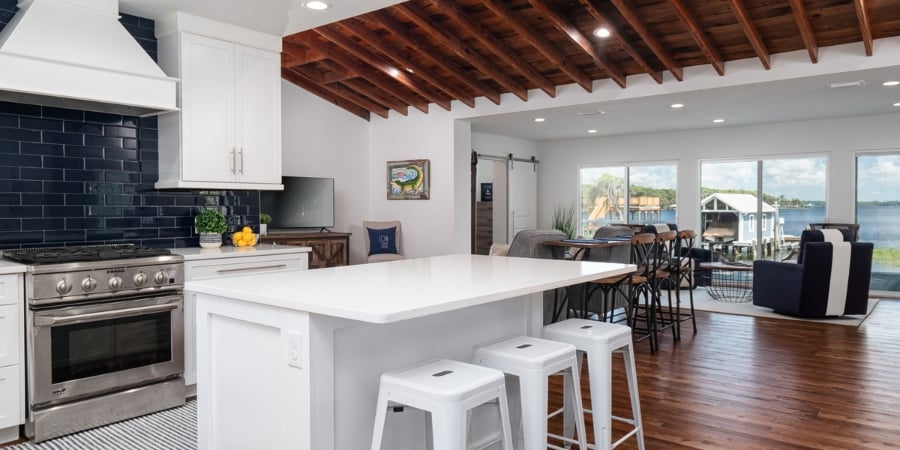 Remodeling your Florida kitchen will increase your home's overall value as well as help you find the joy of cooking once again. You will also spend more time together as a family, are more likely to eat healthier because you'll cook at home more often, and hosting friends and family will be more enjoyable. But how long will your Florida kitchen remodel take? We'll break down the entire process for you!
How Long Does a Kitchen Remodel Take?
From the moment you start exploring remodelers in the Alachua County area to the joyful day you step back into your newly transformed kitchen, the average kitchen remodel timeline in Gainesville, Florida, is 9 to 12 months.
It's important to note that each kitchen remodel is distinct. Your kitchen remodel timeline will be shorter if you are retaining the layout and only changing out all of the finishes and features. Your kitchen renovation timeline will be on the longer side if you are expanding the footprint, rearranging the layout, or creating an open floor plan.
Gain clarity on your estimated timeline by seeking guidance from a skilled design-build remodeling team. When it comes to kitchen renovations, there are several factors that impact the stages of the average kitchen remodel schedule:
1. Researching and Budgeting (1 to 2 months)
All kitchen renovation projects begin before you bring your contractor on board. You first have to decide what you are looking for, set your project priorities, and differentiate between what you need versus what you want. In addition to identifying an end goal, you have to determine your ideal budget.
This time is also used to research design-build teams in Alachua County. View their online portfolios, read a lot of reviews, and schedule consultations. Be sure to have a list of questions for your candidates to decide who will be the best fit.
2. In-Home Assessment (Up to 1 month)
Congratulations on choosing the perfect design-build team for your home remodel! Your design-builder will assess your home, inquire about your routines, current kitchen frustrations, desired changes, budget, and timeframe. This comprehensive discussion ensures that your design aligns with your budget and fulfills all your requirements.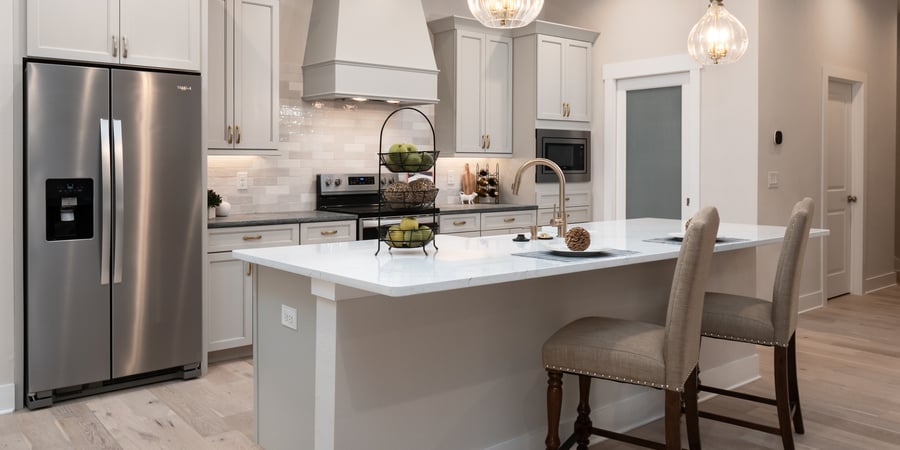 2. Designing and Planning (2 to 3 months)
During this phase of the renovation process, you will work with your designer to reimagine your kitchen. The layout, finishes, color palette, special amenities, appliances, and other aspects will be nailed down. Your designer will help to guide the selection process for your kitchen remodel design so you can avoid decision fatigue.
The design specialist will coordinate with the project manager who will meet with you. It is the project manager's responsibility to coordinate materials, pull the necessary permits, create a construction schedule, and line up trade partners to handle various aspects of the renovation once you've signed off on the design.
3. Ordering Materials and Demolition (2 months)
Flooring, cabinets, plumbing fixtures, hardware, and everything else will be ordered. Upon delivery, your design-build team will inspect the materials to ensure your materials are in excellent condition.
Demolition will begin with protecting the areas of the home that aren't going to be remodeled. Temporary walls, air filters, and other measures will be put in place. The demolition time will vary depending on the complexity of your design. Removing walls will require more time compared to only removing all of the finishes.
3. Kitchen Remodeling Construction (3 to 5 months)
The timeline for this portion of the project can vary significantly depending on the different tasks involved. If your kitchen remodel design contains structural changes, these will occur first. The following updates will typically happen in this order:
Electrical layout and plumbing updates
Drywall installation and painting
Flooring installation
Cabinets, countertops, and island
Tile or other backsplash material installation
Plumbing fixtures, hardware, lighting, appliances


At this point, your contractor will schedule a final inspection and walk-through of your Alachua County kitchen. If you notice any issues, they will do final touch-ups and detailing before you sign off on the project. All of this should be accomplished in approximately a week or less. Finally, your kitchen will be cleaned from top to bottom and is all yours to enjoy!
How to Keep Your Kitchen Remodel Timeline on Track
You may have noticed that we mention working with a design-build team rather than an architect and builder separately. This is because the design-build process is a timesaver in itself, by integrating both an architectural designer and builder right from the start. By bypassing the traditional bidding process, endless revisions, and potential miscommunications, you stand to save precious months on your project timeline.
You can also save time by doing research before you contact design builders and having your design meeting. Collect ideas via online design boards, magazine clippings, and pictures of kitchen designs you love. This will help to cut down on the time your designer will need to guide your product selection process. It will also get you and your designer on the same page sooner, create clarity, and reduce the need for initiating change orders after construction has already begun. Once construction begins, requesting change orders means having to order new materials and potentially reschedule trade partners.
Remodeling Your Florida Kitchen
No matter the size and scope of your kitchen remodel in Alachua County, Robinson Renovation & Custom Homes will approach your project with precision, integrity, and attention to detail. Our design-build team can help you develop a gorgeous design, precise budget, and timeline. Contact us to schedule a consultation today.