Cabinets comprise the bulk of your kitchen composition and set the tone for the rest of the design aesthetic and spatial arrangement. When you're remodeling your kitchen in Alachua County, it's worth taking time to nail down exactly how you want your cabinetry to look and function so it has the right impact and doesn't have anything outdated in it.
As a result of advanced technology and changing tastes in recent years, the variety of cabinet styles available on the market is larger than ever. In 2022, the overall trend is going to continue to focus on personalization and creating a space that's unique to your lifestyle.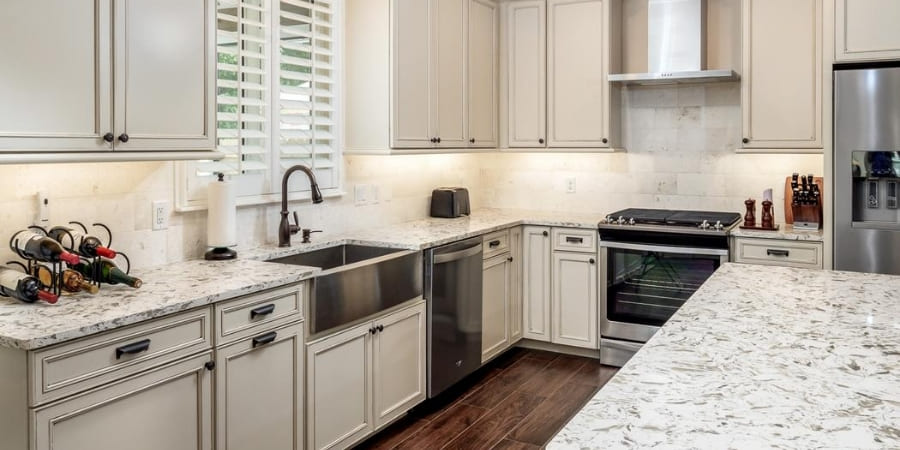 Kitchen Cabinet Ideas for 2022
If you're building a new custom home or remodeling your kitchen in Alachua County, it doesn't hurt to know what kitchen cabinet styles, colors, and functions are growing in demand. Incorporating a few of these kitchen cabinet ideas into your design enables you to create a fresh, trendy space that is both practical and attractive. Here are some popular kitchen cabinet trends to consider when renovating:
1. A New Neutral
It used to be that all-white kitchens were the rage. While that is still a safe design choice, other neutral palettes are beginning to compete with white. For a striking and modern look, all-black kitchens with matte cabinets are a new trend that promises to continue strong in the coming years. One tip when going in this bold direction: Keep the rest of the design simple and use limited finishes. You can even go handle-free on your cabinets. If you want a neutral space that's a little softer but still sophisticated, go with gray, which is also increasing in popularity.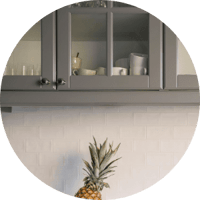 2. Metallic Tones
Wood is not the only consideration when designing new cabinets for your home this year. You're also going to want to look at accents and hardware, and in this aspect, metallic tones are prevalent. When it comes to material and surface trends for kitchen components in 2022, metallic shades—such as gold, copper, and stainless steel—are stylish choices for accents and hardware, including door handles on cabinets.
3. Daring Colors
Neutrals used to be the recommendation for designing kitchens because they have a general appeal and make your home more sellable in the future. However, neutrals are starting to feel a bit worn out, giving rise to a desire for vibrant, saturated colors used deliberately and tastefully. Popular colors for kitchens designs in 2022 are likely to be various shades of blues and greens, including navy blue, petrol blue, forest green, dark teal, neo mint, moss, sage green, and baby blue.
4. Two-Toned Cabinets
Two-toned cabinets allow you to play around with different palettes and combine two of your favorite materials, finishes, or colors as long as they complement one another. Often this style is executed by using one tone for the top cabinets and another for the bottom. Or perhaps a different finish for island cabinetry vs. the main cabinetry selection. Some popular combinations include cement or raw wood with a matte-colored surface, black and a warm neutral, warm white with a cool gray (or white with virtually any rich color), black and gold, or gray, and natural wood.
5. Tactile Surfaces
Another 2022 kitchen trend will be designed that incorporate textured materials and tactile surfaces that are more interesting and artistic. For example, for industrial-style kitchens, which are expected to be big in the coming year, textured concrete surfaces in different shades are a popular choice. This style is also dominated by steel elements and hardwood or LVP flooring to complete the intentionally gritty, yet intriguing interior.
6. Space-Saving Solutions
When it comes to kitchen cabinets, you are not restricted to standard sizes and configurations. You can design customized cabinets that incorporate a diverse collection of interior drawers and modules that allow you to efficiently organize and store every element in your kitchen. From appliance garages to drawers with various depths and dividers, you can customize cabinetry to your heart's delight to make using your kitchen more convenient and enjoyable in the future. Additionally, modern cabinetry is being designed to keep you connected to your technology by incorporating charging stations, device holders, and docking stations.
7. Open Shelving
Installing open shelves instead of top cabinets is also trending this year and is expected to be big in 2022 as well. Although open shelving is especially suitable as a complement to rustic and farmhouse cabinet styles, you can use it with any kitchen aesthetic to display heirloom pieces, a matching dinnerware set, stunning glassware, and other decorations. Not only does this feature augment the open, airy feel of a small space, but it also increases efficiency as you won't have to go searching through drawers and enclosed shelves to find the supplies and utensils you're looking for.
8. Hidden Handles
With modern kitchen cabinetry, you can further achieve the associated clean and minimalist look by going handle-free or using sleek alternatives. There are several mechanisms to use for handle-less cabinets, such as touch-to-open units or a channel that runs along the top or side of the door. You'll also find contemporary-style cabinets have smooth edge profiles and are free of ornate design work.
9. Oak Wood Cabinetry
For the past several years, cherry, maple, and engineered wood have reigned over kitchen cabinet construction. Now, oak cabinets are making a comeback with their texture, dimension, and neutral color. Whether painted, stained, or left raw, oak is a versatile material that can be layered with a wide variety of other finishes and colors within several different kitchen design styles, including rustic, French cottage, coastal, and craftsman.
10. Under-Cabinet Lighting
Another popular trend for 2022 is under-cabinet lighting to help illuminate your working area and enhance the overall ambiance of your kitchen in Alachua County. Depending on your kitchen design style, you can choose from bars, strips, and pucks for your lighting. Although LED lights are the most common for under-cabinet fixtures, you can opt instead for xenon or fluorescent light.
11. Maple Cabinetry

Not all homeowners are ready for bold colors in their kitchen cabinetry, and the truth about bold colors is that they can become outdated quickly. Another wood that is gaining popularity for 2022 is maple. This is a good alternative to the outdated honey oak that has been part of kitchen designs for many decades. It looks great when given little staining to leave it a natural, light color. If deep, cool tones are not the right style for your décor and tastes, consider looking at kitchen designs with maple cabinets.
12. Appliance Drawers

Appliances don't have to be front and center in your kitchen in 2022. If you are redoing your cabinetry, you can include an appliance drawer. These might have a freezer or dishwasher hidden within a drawer, rather than out for all to see. You can also add appliance cabinets that cover your appliances but have doors that lift out of the way when you need to use one. These types of kitchen cabinets create a more streamlined kitchen appearance without hurting the functionality of your space.
13. Retro-Inspired Kitchen Style

Another 2022 kitchen remodeling trend is to have a retro-inspired kitchen space, but with a modern spin, and this starts with your cabinets. Three decades ago, painted kitchens were common. This outdated trend may not be in place today, but you can mix in some painted elements with natural wood for a modern flare on this traditional look. Pair this idea with some modern kitchen color trends of 2022 to make it a modern look that embraces the styles of the past at the same time.
14. Outdoor Kitchen Cabinets

The outdoor kitchen is a design trend that is popular, especially in Florida. With such beautiful weather, you can enjoy time outside year-round, and having a space to cook will help you do so. Outdoor kitchen cabinets withstand the elements well, so you can have a beautiful outdoor living space to spend time in.
Remodeling Your Kitchen in Gainesville, Florida
If you're preparing to renovate your kitchen in Gainesville or the surrounding area, a good place to start is with your kitchen cabinets. Once you've selected the style, colors, and configuration for your cabinetry, you will have an easier time developing your overall design aesthetic and choosing complementary materials and finishes for your other kitchen components, such as the flooring, tile backsplash, and appliances. If personalization is a high priority in your kitchen remodel in Alachua County, Robinson Renovation and Custom Home's design-build process–not to mention our wide range of renovation services—is a natural fit for your project.