Cabinets make up the bulk of your kitchen, in both style and investment. When you're remodeling your kitchen in Alachua County, it's worth taking time to nail down exactly how you want your cabinetry to look and function so it has the right impact and avoids looking dated.
Tastes and trends can change from year to year, while some cabinet trends tend to stick around. Indulge in trends but also think about the long term, since cabinets are your largest investment in a kitchen. What are the new trends and popular colors, as well as the trends that are sticking around, in kitchen cabinets in 2023?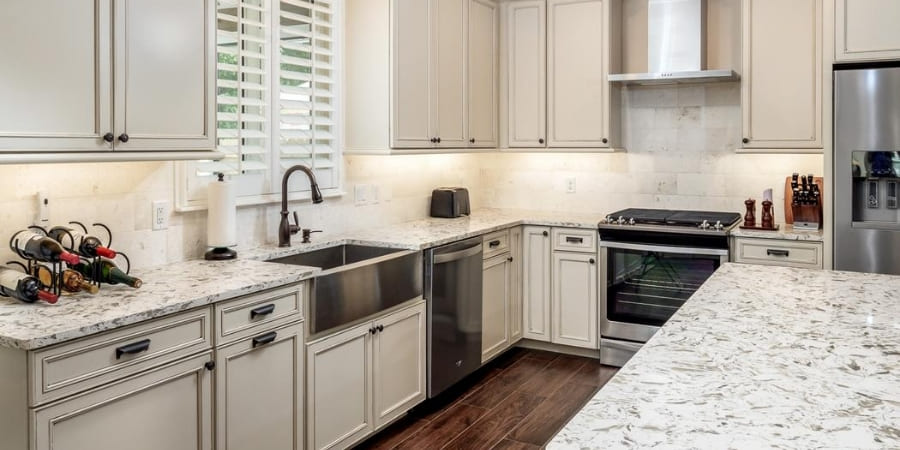 Kitchen Cabinet Ideas for 2023
If you're building a new custom home or remodeling your kitchen in Alachua County, learn about the kitchen cabinet styles, colors, and layouts that are growing in demand. Incorporating a few of these kitchen cabinet ideas into your design enables you to create a fresh, trendy space that is both practical and looks great. Here are some popular kitchen cabinet trends to consider:
1. A New Neutral
All-white and all-gray kitchens are finally out because they lack personalization and read as cold. While using white and gray as part of the overall palette is still a safe design choice, other neutrals are growing in popularity in 2023. Some colors that are being used as neutrals are unexpected, like earthy greens, matte black, and even navy.
One tip when going in this direction: Keep the rest of the design simple and use limited finishes. You can even go handle-free on your cabinets. If you want a neutral space that's a little softer but still sophisticated, go with cream or greige, which is also increasing in popularity.
2. Metallic Tones
Wood is not the only consideration when designing new cabinets for your home this year. When it comes to material and surface trends for kitchens in 2023, metallic shades, such as brushed gold, copper, and stainless steel, are stylish choices for your lower cabinets, the hood, or a wrapped island.
3. Bold Colors
Color has made a big comeback after years of all-white or all-gray kitchens. Last year's colors were all about calming earth tones. In 2023, homeowners are branching out with bold warmer desert tones, like terra cotta, saffron, ochre, and brick red. For a restrained application, consider using these colors on your lower cabinets or island. Your built-in bar or separate coffee station is also a great place to experiment with color.
4. Two-Toned Cabinets
Even more of a step away from the stark white and gray palettes are using different colors on your lower and upper cabinets. This trend began in 2022 and is going strong in 2023. Use a bold color on your lower cabinets while using a neutral or wood tone on your uppers. Or, use a neutral on your parameter cabinets while adding a pop of color to your island. Take it a step further with a third color on your countertops. Black or green marble or butcher block surfaces add more interest and personalization.
5. Texture
Using texture, visual or physical, in your kitchen is another way to add warmth and personality to your kitchen in 2023. Butcher blocks, marble with heavy veining, seagrass wallpaper, and irregular wavy tile can all achieve this look in your Florida kitchen.
6. Smart Storage Solutions
Custom kitchen cabinets avoid that awkward dead-space problem we all experience. It helps to maximize useful space and create storage that's custom to your specific kitchen needs. Lower cabinet drawers that are deep enough for pots, slide-out shelving for easy access, appliance garages, in-cabinet outlets and charging stations, and built-in drawer dividers are smart and easy storage options that will make the most use of your kitchen cabinets.
Don't forget your walk-in pantry or even a butler's pantry to create more storage and prep space. In a butler's pantry, you can add a second sink, create custom storage for serving ware and small appliances, and have an out-of-sight space for used dishes. Your walk-in pantry should include both closed cabinets and open shelving with tracks for pull-out baskets to make the most of your space.
7. Include Open Shelving
Open shelving creates the feeling of a larger kitchen with more airiness, rather than the imposing volume of all upper cabinets. Combining open shelving and upper cabinets gives you the option to keep matching sets out in the open while keeping all of those mismatched items behind closed doors. The shelving can be made of simple floating wood shelves, stainless steel, or more decorative shelves with molding.
The trick to keeping open shelving in the kitchen from looking cluttered is to reserve the surfaces for collections that match, like coffee mugs and serving ware, but also cookbooks and small plants. By mixing what you store on the open shelves, it appears more personalized but also organized.
8. Hidden Handles
With more contemporary kitchen cabinetry, you can further achieve a clean and minimalist look by going handle-free. There are several mechanisms to use for handle-less cabinets, such as touch-to-open units or a channel that runs along the top or side of the door. You'll also find contemporary-style cabinets have smooth edge profiles and are free of ornate design work, like flat front cabinets.
9. Dark Stain on Cabinets
Darker or medium-toned stains on kitchen cabinets are seeing a restrained return. In 2023, medium or dark stains on cabinets look contemporary on Shaker-style or flat-front cabinets. Avoid using these stains on raising panel cabinets unless you're going for a traditional look. Even more sophisticated is using these tones on solid wood cabinets rather than veneer. Walnut, provincial, or kona are great stain choices for your kitchen. Mix using these tones with a lighter color on your upper cabinets or island to avoid making the entire space feel heavy or dark.
10. Natural Wood Tones
Natural wood came back in a big way in 2022 and it continues into 2023. Choose a wood that coordinates or matches the wood in other parts of your home, especially with open-concept floor plans. To avoid looking dated, choose shaker-style cabinets or flat-front cabinets along with more contemporary hardware.
11. Maple Cabinetry
More specifically, maple cabinets are the go-to natural wood in 2023. It's a wood that's just warm enough but also light enough to keep your kitchen looking updated and bright. Maple has a great tone that works with almost any paint color, from white to the trending bold colors of 2023. This is a great wood to use all over or to incorporate in the two-toned cabinet trend that's sticking around and likely to remain popular for years.
12. Appliance Drawers and Cabinets
Appliances don't have to be front and center in your kitchen in 2023. Include appliance drawers that might conceal your freezer or dishwasher, rather than out for all to see. You can also add cabinet fronts that cover your appliances but have doors that lift out of the way when needed. These types of kitchen cabinets create a more streamlined kitchen appearance without hurting the functionality of your space.
13. Stained Glass Panels
Stained glass is another unexpected kitchen trend taking hold in 2023. Your kitchen can still read as upscale contemporary with a deco or craftsman look. The floral or complicated stained glass designs in older kitchens are not what this trend is all about. Less is more when it comes to the pattern and style you choose. Busy patterns can become dated faster and you may just grow tired of them. Accent your entire upper cabinets or single out a statement pair, like over your coffee station. Use in-cabinet lighting to really highlight this interesting kitchen accent.
14. Outdoor Kitchen Cabinets
The outdoor kitchen is a design trend that is popular, especially in Florida. With such beautiful weather, you can enjoy time outside year-round, and having a space to cook will help you have additional space to enjoy the company of your friends and family. Outdoor kitchen cabinets, like stainless steel, teak, and polyurethane resin, withstand the elements well, so you can have a beautiful outdoor living space that will last.
Remodeling Your Kitchen in Gainesville, Florida
If you're preparing to renovate your kitchen in the Gainesville area, it makes sense to focus on the design of your kitchen cabinets. Once you've selected the style, colors, and configuration for your cabinetry, you will have an easier time developing your overall design aesthetic and choosing complementary materials and finishes for your flooring, backsplash, and appliances. If personalization is a high priority in your kitchen remodel in Alachua County, Robinson Renovation and Custom Home's design-build process–not to mention our wide range of renovation services—is a natural fit for your project. Contact us today to schedule a consultation.