4 Min Read
Planning a Kitchen Upgrade? Here's What to Consider
You've decided to relieve your family's frustration by finally planning a kitchen remodel! A brand new kitchen can breathe life into a home and make spending time in this space enjoyable again. To make sure your kitchen remodel goes smoothly and on schedule, there are several considerations to think about before diving into the remodeling journey.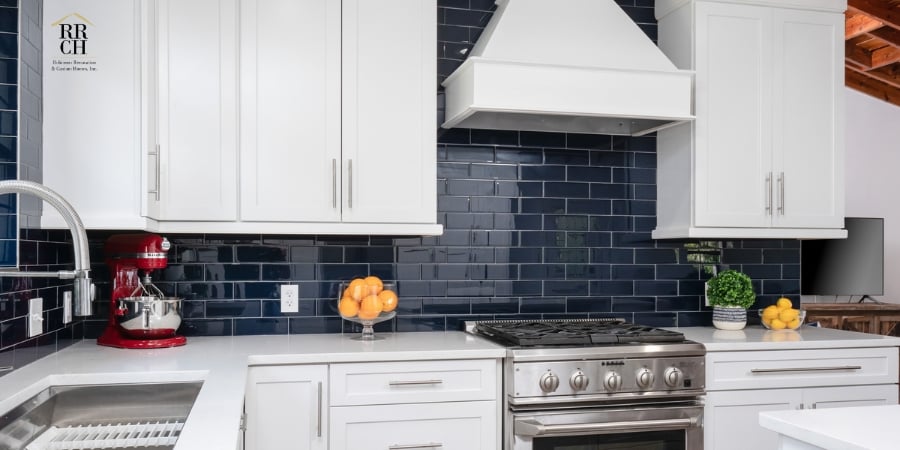 What to Consider When Planning a Kitchen Remodel in Florida?
Any remodel requires a lot of planning, but the kitchen especially. Here is everything you should consider when beginning to plan for your Florida kitchen remodel.
Can You Live in Your Home During a Kitchen Remodel?
This is one of the first concerns held by homeowners. Can you stay in your home or will you need to temporarily relocate? The answer to this question will depend on your personal circumstances and how long your kitchen remodel will take.
If living without access to your kitchen sounds like more frustration than your family can withstand, consider your options for a temporary relocation. Do you work from home? Do you have small children or an older relative that lives with you? Setting up a temporary kitchen in the garage may not cut it. However, if you have an in-law suite with a kitchen or an outdoor kitchen, you can likely tolerate this change in routine for a couple of months without too much frustration.
However, keep in mind that a remodel of any kind will be noisy. The sounds of sanding, sawing, hammering, and more will be in your home for several hours a day. If you won't be home, then this isn't much of a concern. If you work from home, there may be community workspaces for rent by the day, week, or month that you can work from during your remodel.
How to Prepare for a Kitchen Remodel
Prepare for staying in your home during the remodel
If you stay in your home during the remodel, you will need to create a makeshift kitchen somewhere else in your home. A coffee maker, electric tea kettle for hot water, microwave, an electric camping stove, and anything else that will help you maintain some normalcy will also help you to avoid ordering out for every meal.
Prepare for a lot of decisions
During the design process, be mentally prepared to make a lot of decisions. The kitchen requires the largest number of design elements in the home. Flooring, cabinets, backsplash, countertops, hardware, fixtures, and more will need to be chosen. This is why working with a firm that aligns with your design style is important, and a designer that understands your goals and helps to guide the process.
Prepare for dust
If your kitchen is part of an open floor plan, you should cover much of your other furniture in plastic. The carpentry team will seal off the area and use the latest tools to contain construction dust as much as possible, but some of these ultra-fine particles could make their way through regardless.
How Long Does a Kitchen Remodel Take?
From the moment your in-home assessment begins to the day you're filling your new custom cabinets with dishes and glassware, a kitchen remodel can take up to five months. Up to two of those months will be the consultation and design process, meaning construction won't begin until possibly the third month.
Why does a kitchen remodel take so long? The kitchen is a very complex room, both to demolish and to reconstruct. It's the room with the most finishes, appliances, and features. If your kitchen remodel includes structural changes, like adding an island, removing a wall to create an open floor plan, or extending your kitchen to add square footage, your kitchen remodel timeline will extend to the full timeline or even beyond. To get the most accurate timeline estimate, contact a trustworthy and knowledgeable home remodeler.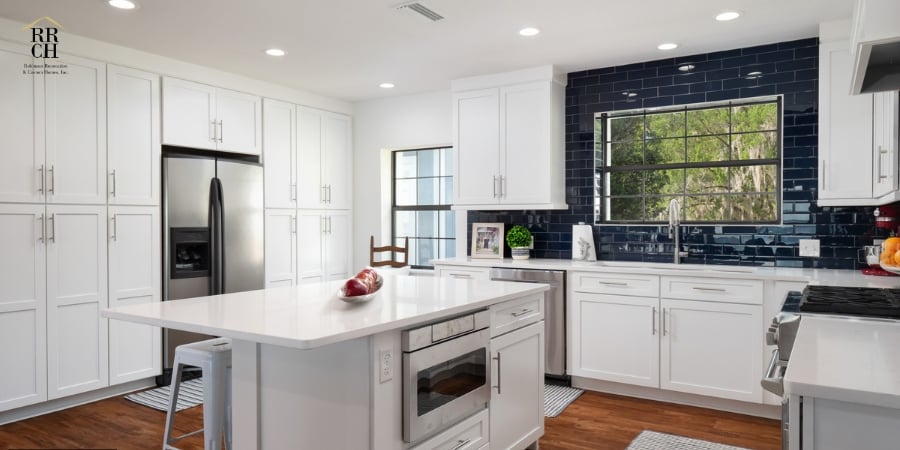 What is the Kitchen Remodel Process Like?
The kitchen renovation process begins with a consultation and in-home assessment. By the time you've hired a home remodeler and scheduled a consultation, you likely have plenty of magazine clippings, online design inspiration boards, or photos of kitchen design ideas to offer your remodeler.
Design
Based on your kitchen's measurements, your remodeling budget, your design goals, the age of your kitchen, and the grade of finishes and features you'd like, your designer can create a design within your budget. You may go through a short editing process to get it just right, then sign off on the design.
When you're working with a design-build team, there's no need to seek bids. Your builder will be there from the beginning, giving you and your designer access to their valuable industry knowledge concerning accurate materials and labor costs as well as making sure your design is feasible. This will save time and money down the line. Choose every finish, feature, and appliance with your design-build team at your side
Demolition & Construction
The demolition and construction process, from the first tile removed to the last cabinet handle installed, could take up to 12 weeks. The process for construction is fairly standard and an experienced remodeler will work step-by-step to install every piece of your brand-new kitchen in this order. Unfortunately, if a particular material is on backorder or arrived damaged, this could offset your timeline. However, an expert remodeler will be able to problem-solve around any delay and keep you updated minute by minute to ensure things are still progressing forward.
Walk Through & Punch List
Upon completion, your project manager will walk you through every foot of your kitchen, each of you inspecting the work to make certain your agreed-upon expectations are met. Any scuff or crack will be addressed and your kitchen will be ready to be a part of your family's daily routine once again.
Plan Your Kitchen Upgrade with Florida's Premier Remodeler
Every homeowner hopes that their remodel will go according to plan, stay within their budget, and meet their design goals. Not every homeowner will have this experience if they don't choose the right remodeler for their project.
Robinson Renovation & Custom Homes have been delivering both impeccable spaces and excellent client experiences in the Gainesville area for decades. We understand that your life doesn't revolve around a home remodel, so we work to ensure your experience is seamless and stress-free, and our proven design-build process is how we do it. Contact Robinson Renovation & Custom Homes to schedule a consultation and learn more about the home remodeling process.