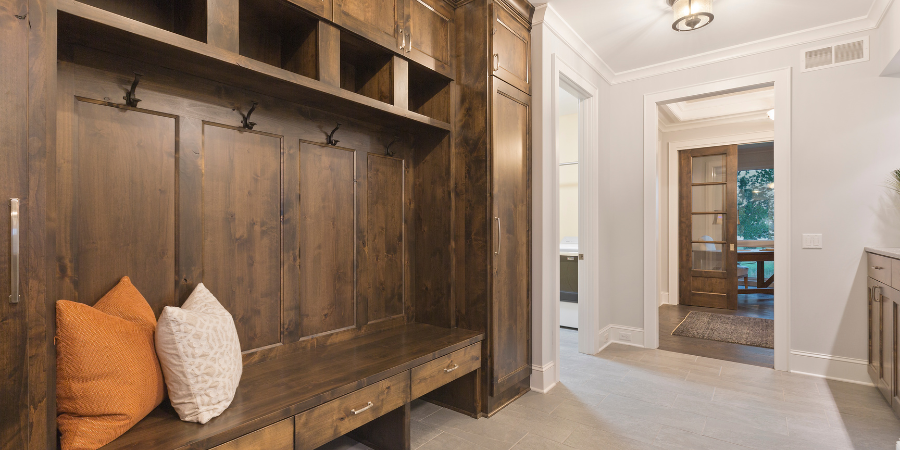 Having enough storage is a top concern for many homeowners. There seems to never be enough, and during remodeling or building a custom home, there's a lot of pressure to get it right. How to maximize you and your family's storage needs will differ room by room. Storage is also so much more than closet space. How can you get the most storage out of your remodel as possible? What are the best additions to maximize storage?

1. Storage Tricks in the Kitchen
The need for ample storage in the kitchen goes without saying. Upper and lower cabinets are a default choice for storage options, as well as the island. Whether you're planning a kitchen addition or remodeling the space you have, you'll want to expand your storage options.
A Kitchen Island With Storage
The kitchen island with storage is a go-to. Instead of the large open cabinets that can get pretty disorganized, consider large drawers. Drawers are easier to keep organized with separators and can vary in depth for different-sized items. If you'd still like the simpler look of cabinet doors, ask your designer about cabinets that conceal inner drawers. For a kitchen island with storage and seating, you can also include shallow cabinets on the seating side for seldomly used equipment and bulk items, like your spiralizer and paper towels.
The Space-Saving Pantry
Pantries are great for extra storage, but they're often designed like a closet with a few shelves. These deep shelves become disorganized and underused. Think of your pantry more like a walk-in closet, with several different types of storage.
Instead of one large door, have your designer plan for two narrow doors that each have shallow storage shelves on the inside, like a refrigerator door. This will also take up less floor space to open your pantry. Also, design the shelves in a U-shape to get a better view. Hang tracks on the underside for sliding baskets to use the space often left empty by shorter items, like cans.
A Breakfast Nook With Built-In Storage
The breakfast nook banquette is great for storing things that aren't everyday items, like serving dishes or special occasion linens. Banquettes can be designed to have storage accessed through the seat, which is hidden by the cushion, or from the front. If from the front, you can have cabinet doors or open spaces for baskets.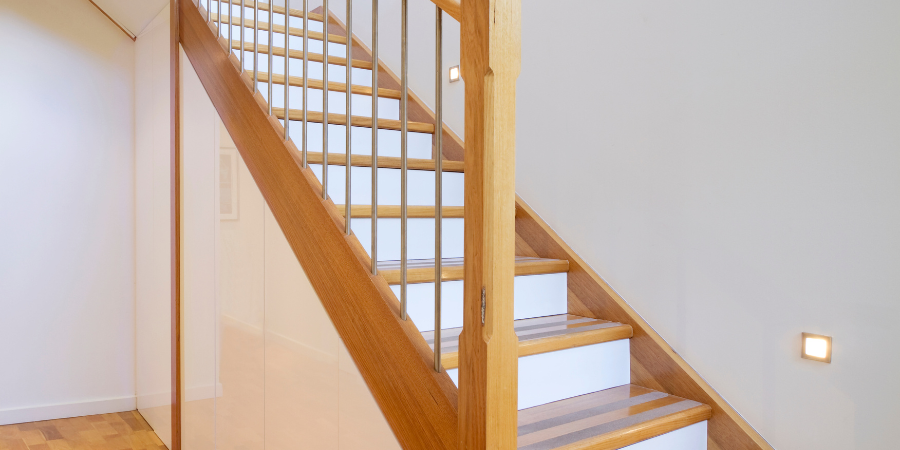 2. Under-the-Stair Storage
The half bath or a storage closet is a classic solution for utilizing the space stairs create, but they don't make the most of all that empty space. Pull-out shelving along the wall under the stairs is an opportunity to use several cubic feet of free space that's not used by a bathroom or closet. This is also an untapped spot for recessed bookshelves. Talk to your designer about utilizing every inch of your Gainesville remodel by building in as much storage under the stairs as possible.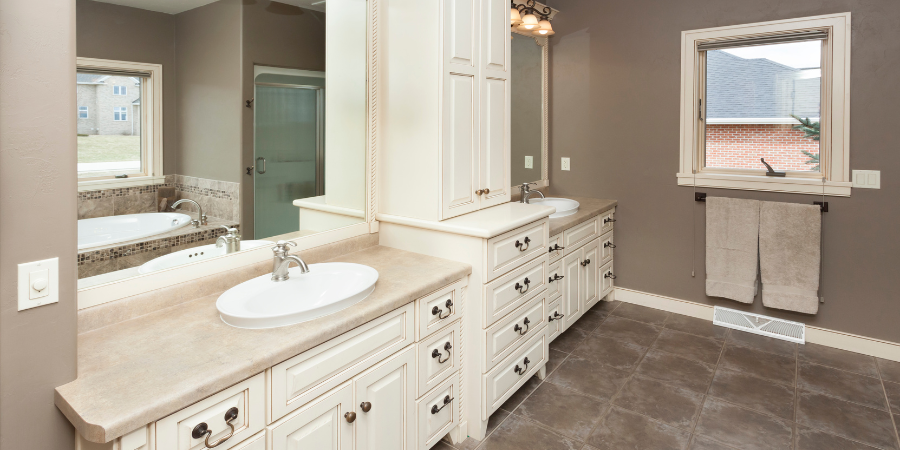 3. Better Bathroom Storage
Built-in bathroom storage usually consists of cabinetry and a linen closet, but storage in your Gainesville bathroom remodel can go further. Ask your designer about building shelving into the wall between the studs for a little more space. This is a great place for playing with organization-as-art, by placing items like cotton swabs, bandages, and other small items in attractive jars and boxes. This is also a more stylish option for over-the-toilet storage than store-bought versions.
As for the vanity and other cabinet space, look toward customization. By installing slide-out shelving, drawer dividers, and specialized storage options, you'll save space just by having everything stored efficiently in the first place. Specialized storage that you should consider are heat-resistant drawer compartments with built-in outlets for hair styling tools or utilizing a slender space for pull-out shelves reserved for cleaning supplies.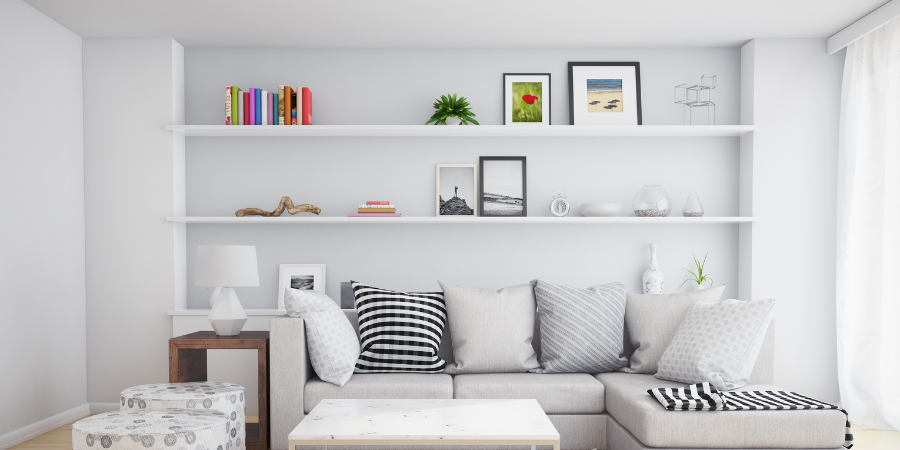 4. Living Room Storage Ideas
Chances are, your current living room was designed as one large space. If you're remodeling your Gainesville living room and want extra storage space without buying more furniture pieces, you have options. Have your designer plan a wall completely filled with built-ins that are a mix of cabinets, drawers, and open shelving. This may or may not include a space for hanging a tv, but should definitely include outlets between the shelves and in the cabinets regardless. You'll want plenty of places to plug in electronics without having exposed cords.
For more sophisticated storage, built-in barrister cabinets are a great alternative to typical glass-front cabinet doors. You could also opt for built-in shelving tucked behind glass French doors. Another option for additional storage that adds architectural interest is a craftsman-style half wall with built-in cabinets with mullioned glass cabinet doors. Depending on the style you want.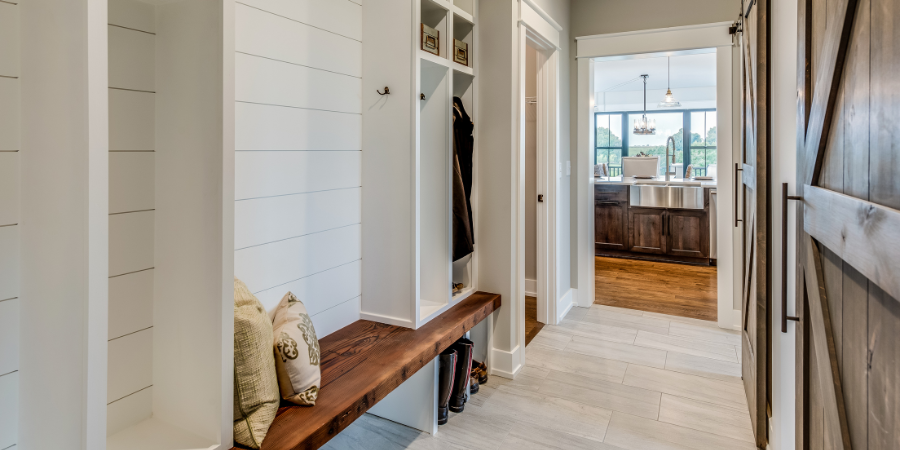 5. The Hard-Working Mudroom
If you're considering an addition to your Gainesville home, include a mudroom as the ultimate catch-all to keep your day-to-day activity organized. The mudroom is the extra storage space that every home needs to keep umbrellas, coats, dirty shoes, backpacks, sports equipment, and more from collecting in different parts of the home.
A highly organized mudroom has an abundance of storage designated for each of these items, like individual built-in lockers, shoe cubbies, and a coat closet. Mudroom storage can also include a built-in bench with storage, hooks for dog leashes, and cabinets for reusable shopping bags and sports equipment. Be sure to talk with your designer about choosing flooring and other materials that are easy to clean in this hard-working room.
Ask an Experienced Home Builder for More Storage Ideas
Storage is a major concern for anyone remodeling or building a custom home. The custom home builder you choose should be well-practiced in designing storage solutions that will suit your needs and more. Robinson Renovation & Custom Homes is a design-build company in Gainesville, Florida that can give you everything you need under one roof. Problem-solving, creativity, craftsmanship, and customer service aren't only specialties but principles. Contact Robinson Renovation & Custom Homes to schedule a consultation to discuss your Gainesville home remodel.