Bathroom niches play a practical purpose in custom or any home, whether placed in your shower or built into other wall space. However, they have the potential to be much more than that.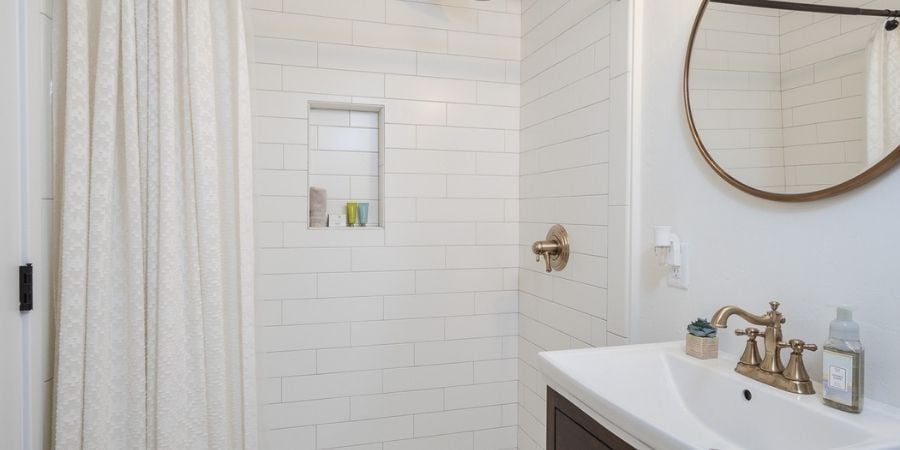 With a beautiful design, shower niches and other inset storage can add a little style and flair while accentuating the overall design of your bathroom in Alachua County. You have the freedom to choose from a variety of materials and styles to turn your bathroom niche into a piece of art that stands out in an otherwise empty and very trendy space.
Why Is Inset Storage Trending in 2021?
It is common knowledge that adequate storage is a must-have in a functional bathroom, whether it be a grandmaster bath or a small powder room. Most families, and their guests, have a variety of personal care items and accessories that need to be kept in the bathroom, along with the household's shared cleaning supplies, towels, bathroom essentials, and a few decorations.
The problem is that all these items can quickly become clutter that creates a stressful environment and undermines the function of the space. There are numerous storage solutions you can select for your bathroom remodel in Alachua County, including open shelving, medicine cabinets, built-in cabinetry, and under-sink storage.
In 2021, however, built-in niches, recessed shelves, and inset storage solutions are on the rise as they complement the clean, uncluttered minimalist atmosphere that is so valued in residential bathrooms. These carved-out nooks and crannies can store all your toiletries and personal items, along with plants, candles, and other simple décor. These customized bathroom features elegantly blend into the wall, laying flush, so you don't have to worry about knocking into a cabinet or shelf that is jutting out. This is especially helpful in a smaller bathroom, where space is limited; you want to avoid creating a cramped, claustrophobic environment.
Shower Niche Ideas for Your Bathroom Remodel
One of the most popular places to add a bathroom niche—or two—is the shower or near your bathtub. This way, you can tuck away your soap, conditioner, shampoo and the rest of your showering accessories so they're not spilling all over the place. Additionally, as open showers and clear glass surrounds are currently trending, the niche has become a unique design opportunity.
There are a couple main categories of shower or bath niches to consider: customized and prefabricated, and tiled and finished.
For a custom tiled niche, your professional remodeling team will construct a framed box between the wall studs and then cover it with a tile backer board, waterproof the inset, and add tile. Although this is the mostly costly option, it also enables you to construct a shower niche in any size or shape. Plus, you can play around with tile patterns and customize the feature as much as you want.
A prefabricated niche is often made of stainless steel, plastic or foam board, and it has a tile bonding surface so you can lay the tile over it. You only have a few standard sizes to choose from when it comes to prefab niches.
Finished shower niches are usually easier to install than a tiled shower niche, but it's a different look that may not fit with every bathroom design style. Whether you choose a retrofit niche or a membrane-bonding niche for your shower or bathtub, these products are generally available in stainless steel, porcelain or plastic.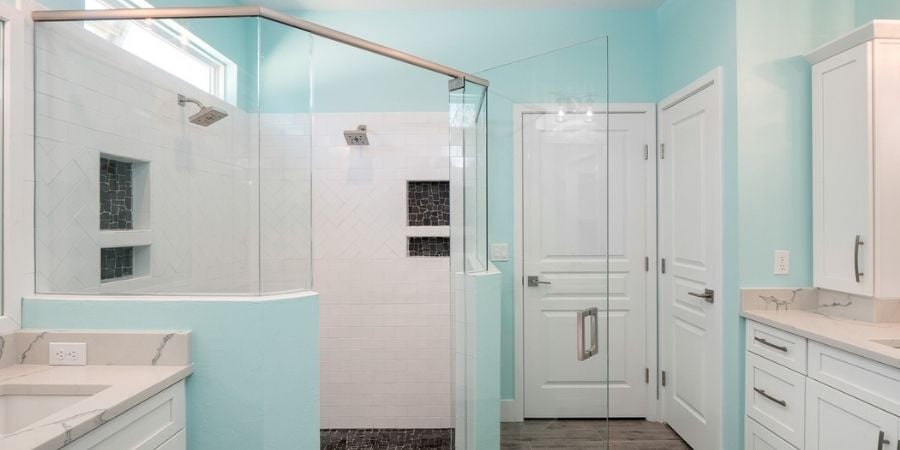 Designing Your Custom Bathroom Niche
If you are designing a customized shower niche for your Gainesville bathroom remodel, here are a few questions to ask yourself during the bathroom remodel process:
How many shower and/or bath products will need to live in the niche permanently?
How tall, wide and deep are the products you generally purchase?
How many household members use the shower on a regular basis? Do you want to add individual niches for each user, or a couple niches at different heights to accommodate varying ages and abilities?
Do you often have overnight guests who may also want to temporarily store their items near the shower or bathtub?
How much space do you have to work with, both on the surface and based on what is behind the wall? That can impact depth, height and width.
What type of tile or material are you planning to use in the shower when you remodel your bathroom? What is your overall design style?
What is your budget for the bathroom remodel process?
Do you want the niche to blend into your design or become a statement piece? Niches can be a fun opportunity to get creative with patterns, colors, and textures and cultivate eye-catching contrast.
Depending on your lifestyle, remodeling budget and the primary users of the bathroom you're upgrading, you can work with your design-build remodeling team to create a custom bathroom niche that's exactly the right size, shape and style for the space. You can choose anything from a subtle, elegant niche that blends into the surrounding tile work or a bold, deep niche that doubles as a stunning artistic feature to complement the rest of your design aesthetic.
Customizing Your Bathroom Remodel in Gainesville
When you're upgrading a space as intimate as a bathroom, you want to carefully consider your family's unique lifestyle needs and daily routines to effectively personalize your remodeling plan. Each unique feature your select should serve a distinct purpose while furthering your overarching vision for the space. At Robinson Renovation & Custom Homes, we can help you establish clear project priorities for your bathroom remodel and explore how to achieve them. Our goal is to empower and guide you as you evaluate options, make selections and develop a plan that fits your budget and timeline.