6 Min Read
2022 Bathroom Trends to Consider For Your Gainesville Remodel
Now that 2022 is here it's a good time to evaluate key aspects of your home, such as your bathrooms, and determine if they need an upgrade to improve either their form or function.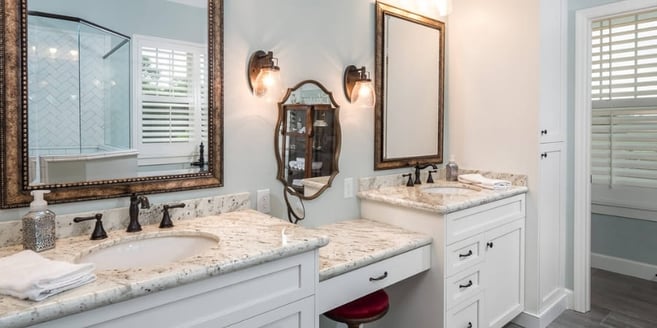 Bathroom Remodeling Ideas for 2022
Tackling a bathroom renovation is an effective way to add value to your home in Alachua County and keep it up to date with current trends, not to mention improving your own comfort and quality of life. Bathrooms are used on a daily basis for bathing, getting dressed for the day, and capturing moments of solitude, so it's important these spaces are kept inviting and fully functional.
Bathroom trends are constantly changing. So, before you start planning your dream bathroom, it's a good idea to make sure what you have your eyes on is popular and not instantly dated. You don't want to spend money on a bathroom upgrade that will fail to generate any return on investment, and one of the quick ways to stunt your ROI is by installing dated, old trends. To help with your Gainesville kitchen and bath home remodel, here are some of the trends and designs you should consider implementing in your planning.
What are the 2022 Bathroom Trends?
For starters, you'll want to consider adding more spa-like features to your home. Being stuck at home during the extended pandemic shutdown has forced people to look at their home living space in new ways. Because spas were not open to the public for much of 2020 and parts of 2021, many have started adding spa features into the bathroom. This means bathroom remodel in Gainesville, FL you'll want to consider sauna showers, mosaic tiles, thicker glass in showers to better maintain the heat (which is a plus when opting for a sauna shower), and, of course, a shower and a bathtub.
Murals of scenic scenes added to walls have gained popularity and will only increase in demand this coming year. Think Japanese-style painted scenes of birds and flowers in a misty fog. It makes it feel as if the scene is right there in your bathroom, and many homeowners want to move as far away from the clinical appearance as possible.
Also, look to splurge on the light fixtures. Ditch the basic and opt for tasteful chandeliers and other luxury lighting fixtures.
Bathroom Remodeling Ideas for 2022
As you begin planning your bathroom remodel, the first step is to identify your main priorities for the project once you know that it's time to renovate. That may include refreshing the space after years of gentle wear and tear, replacing outdated features and fixtures, adopting a new design style, or adding extra storage and functional space. While you're at it, you may also consider perusing what's trending in terms of structural and design elements for bathrooms of various shapes and sizes. Heading into 2022, here are some popular bathroom remodeling ideas to potentially incorporate into your project:
1. Blending Nature and Architecture
There is an innate desire to be connected to nature, a tendency that's being indulged by the creation of bathrooms that blurs the barriers between the interior and exterior. A biophilic approach to bathroom design starts with drawing in plenty of natural light; using raw, organic materials; incorporating earth tones; and adding plant life to your space. Taken to the extreme, this trend may even involve connecting your bathroom directly to an outdoor space, such as a patio or garden, or installing large windows and glass doors.
2. Sustainability
Another trend in bathroom design is focusing on sustainability. Although that may mean different things to different homeowners and interior designers, it begins with establishing a balanced and harmonious relationship between your home and the surrounding environment or working with natural surroundings rather than against them. Think about incorporating repurposed and recycled materials and products. Additionally, there are plenty of areas in the bathroom for applying energy-efficient selections.
3. Natural Stone
Whether you're creating a spa-like bathroom or embracing a different style for the space, there is a natural stone that can fit into your vision. From elegant marble and breathtaking onyx to earthy travertine and dramatic slate, you can use any natural stone for your bathroom floor and showers. You just have to make sure the material is properly installed, sealed, and maintained.
4. Minimalism
The bathroom industry is evolving to include a heightened focus on minimalism and function over form. A simple, utilitarian approach to your bathroom design involves cultivating personality-oriented comfort, cutting down on needless décor, and incorporating technology that improves the function of your space, from heat-generating towel hangers to mirrors with integrated lighting. The goal is to create a more lifestyle- and need-oriented space with fewer products but greater personal comfort.
5. Industrial Aesthetic
If you're looking for contemporary bathroom ideas, consider exploring the trend toward the intriguing and easily maintained industrial style. To achieve this look, you want to involve structural and design elements such as concrete for the countertop and floors, an exposed brick accent wall, and wood beams and copper pipework. These materials should also weave their way through your other accessories, such as the towel rack, dustbin, and soap tray. Top off your industrial aesthetic with some Edison lightbulbs.
6. Geometric Designs
Geometric elements are enjoying their day in the sun in a big way. They lend to fostering a bathroom environment that's as stylish and artistic as it is functional. The most obvious application for pure geometric lines is the tile work for your flooring, walls, and shower surround. Even for simple bathroom designs that don't break the bank, you can have fun with the shape and color of your tiles. If you want to take the trend a step further, select a sculptural bathtub and geometric furniture, art pieces, towels, and shower curtains.
7. Bathroom Color Trends

While all-white bathrooms are on the way out and black matte is on the way up, homeowners would do well to consider these extremes, especially when it comes to small bathroom colors. While black can give a warm, enveloping feeling to a bathroom, it can also make a small bathroom seem smaller. Instead of using a lot of black, consider gray or blue shades. Blue is still a very hot bathroom color. Contrasting colors look fresh and bold, while neutral, natural colors never get old when it comes to bathroom vanity color trends either.
8. Glass Showers
When it comes to luxurious, modern shower designs, glass-enclosed structures are increasing in popularity. Add a built-in bench to complement the at-home-spa environment created by a frameless glass shower. They are easy to clean, plus they make your bathroom look larger and less cluttered. Another ultra-modern idea is the open shower concept. Sometimes they are marked off with stairs, edges, or another architectural element, but by adding a suitable drainage system during your bathroom remodel or addition, you don't have to worry about water running into other parts of the bathroom.
9. Eclectic Tiles
Roughly textured. Charmingly imperfect. Vibrantly colored. These are some of the phrases that describe Bohemian tiles, which are trending for 2022. You can focus solely on incorporating hand-crafted, sculptural tiles into your bathroom design for a little boho flair, or you can fully embrace the style throughout your bathroom composition and décor by selecting a claw-footed freestanding bathtub, brass accents, and rich colors. Even if you want to stick with a tried-and-true classic like subway tile, there's no rule saying you can't select a fun color or arrange the tiles in a dynamic pattern.
10. Twin Showerheads

Let 2022 be the year you don't have to wait for your significant other to get out of the shower before you begin your morning routine. As larger showers become the norm, it makes sense to have two showerheads and amenities to match. Not only does this make life more convenient, but it also looks wonderfully symmetrical, whether you choose to use large-format tile or one of the other up-and-coming bathroom tile trends like chevron, hexagon, or bohemian designs.
11. A Wet Room

This expansion of the glass shower concept moves even more of the bathroom into the shower. This is a hot topic when it comes to bathroom design for accessibility and aging-in-place. Basically, the shower, bathtub, and sink are all behind the glass partition. There are no lips or steps to get into the shower, and the floor gently slopes to allow water to drain easily without getting other areas of the bathroom wet. All of the materials used in the wet room are waterproof and easy to spray clean. Some wet rooms even add the toilet into the mix. Naturally, bathroom storage, towels, and the vanity area outside of the partition.
12. Japandi Style

If you lean toward the timeless bathroom design ideas of Scandinavian or Japanese styles, this calming, nature-inspired, minimalist blend of the two may be just for you. Wood-look tiles, stone, and neutrals are trending colors for bathrooms anyway, and this is the central theme of the Japandi style. In fact, if you want to extend your outdoor living space in ways you never considered before, try an outdoor Japandi bathroom with stone or bamboo and lush, thick greenery as a privacy screen.
Refresh and Refine Your Alachua County Bathroom
Are you thinking about giving your bathroom a fresh, trendy look in 2022? Whatever trends you're interested in or want to learn more about, there's never been a better time to begin planning your dream bathroom renovation in Gainesville, Florida than right now. So give our staff a call and let us help you live out your bathroom dream.
Renovating your bathrooms is one of the most cost-effective ways to add value to your home and embrace your shifting tastes and needs. At Robinson Renovation & Custom Homes, we can help you design and construct a bathroom remodel that captures your project priorities along with popular trends to make the space look and feel new.