The tile in your bathroom serves a practical purpose while also significantly influencing the entire aesthetic of the room. Tile is the perfect material when it comes to remodeling your bathroom. Whether looking at new flooring, tile for a shower, or for walls and backsplashes around the bathroom sink, tile is versatile, relatively easy to clean, and can stand the test of time. However, you don't want to just select any tile. You need to keep in mind what's trending for 2022. This way, you'll update your bathroom while also increasing your home's property value. When it comes to your Gainesville bathroom remodel, here is what you need to know regarding how to pick the best tile for your new bathroom.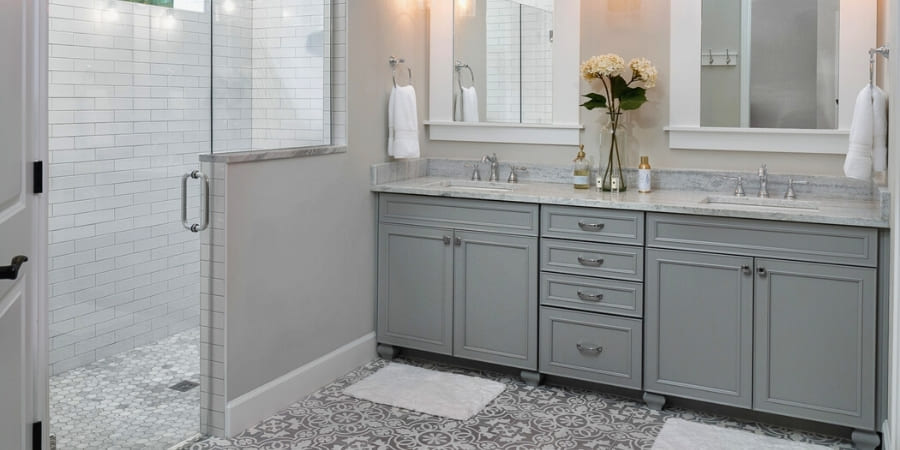 Whether the materials are being installed as flooring, a decorative backsplash, or a shower or bath surround, the types of tile for your bathroom remodel in Alachua County are among the most important elements to consider. The choices you make now will impact the function of the bathroom, if it remains trendy, maintenance requirements, and upkeep costs for years to come.
Think Photo-Worthy
Whether you like it or not, sharing posts of nearly every aspect of life onto social media platforms like Instagram is more popular than ever. This includes the bathroom. It's why boring old white and gray tiles are going out with shower-only designs. Instead, you want a new aesthetic design in Gainesville that will come to life on Instagram. Whether this is a unique pattern or bold color, one of the fastest ways to solidify your design choice is to make it Instagram-worthy.
Statement Bathrooms
It's okay if you don't want to jump head-first into elaborate designs for the rest of your house. One of the perfect ways to make a design statement is with a half-bathroom. Whether you've been wanting to bring a bit of art deco design into your home or you've been considering a classic 1920s noir look that meets modern color trends, doing so in a smaller bathroom is the perfect opportunity to do so. The beauty of modern 2022 tile trends is it really promotes uniqueness, interest, and color (as long as it doesn't clash). So, if you want to push boundaries with your Gainesville bathroom remodel, there's never been a better opportunity to do so than right now.
Selecting Types of Tile for Your Bathroom
Tile comes in numerous different materials, shapes, and sizes, giving you nearly limitless options for your bathroom renovation. With so many choices to sift through, narrowing down the perfect fit for your project can seem challenging. Here are a few steps for evaluating what types of tile flooring to use:
1. Identifying Budget and Goals
From ceramic and terra cotta to porcelain and bamboo, tile is available in multiple materials. Each material, however, has a price point. You want to make sure your selection fits within the budget for your bathroom addition or remodel. Since materials also vary in durability and how much maintenance is needed, you should also consider the type of bathroom you're working on and who primarily uses it. While granite and stone may be appropriate for a luxurious master bath with a spa-like aesthetic, linoleum or cement-bodied tiles are better for bathrooms frequented by children and pets because of their durability and more economic cost. Vinyl also enables you to emulate other materials, such as tile or hardwood, while remaining durable scratch-proof, and water-resistant.
2. Choosing Colors and Tile Size
The next step is figuring out what tile color scheme will complement your overall design style, whether it be contemporary, classic, or something in between. Each type of tile lends itself to a different aesthetic. If you are designing a warm, relaxing environment with neutral tones, stone, pebble or even bamboo flooring are good choices. For a lavish bathroom with a traditional twist, opt for the sophistication of marble and granite. Meanwhile, stainless steel, rectified tiles, and thin grout lines are perfect characteristics to complement a modern space. Ceramic and porcelain are also versatile options that fit into almost any design style. Both materials are made from a kiln-fired clay mixture, but porcelain is denser and more durable since it's made from ultra-refined clay and fired at higher temperatures. You can get both ceramic and porcelain in a wide range of colors and sizes, and they are the most popular materials to select for a heated bathroom floor.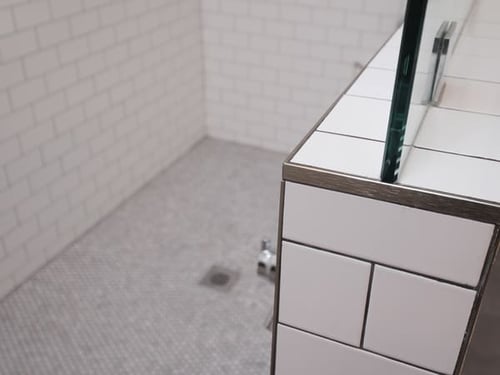 Pictured: This Schluter®-DESIGNLINE trim adds a nice clean look to your tile edges.
3. Finalizing Your Selections
Once you are working with the Gainesville design-build team overseeing your bathroom renovation or addition, you can move toward finalizing your tile choices for the project. As the world of tile is constantly evolving, it is difficult for individual homeowners to keep on top of what flooring options are available and what is currently trending. That's where professionals come in. Your remodeler can provide you insight into the average market costs for materials, their availability, and their specific pros and cons for each individual bathroom project. Additionally, if your bathroom presents any unique challenges or complexities, your team can show you what options are available to help you achieve your vision but stay on goal with your budget.
Best Type of Tile for Showers and Bathtubs
Along with flooring, you also must decide if the tile will feature in the rest of your bathroom design, whether it be on the walls or in the shower. When used in these ways, however, tile presents a different set of options and considerations. For example, a tile material you would use on your wall might not be suitable for going underfoot. You also need different sizes of tile when you're decorating a wall or a bath surround.
Is There a Specific Tile for Showers?
Since tile is durable and easy to clean, it works well for the floors and walls of walk-in showers. On the flip side, you're dealing with an area that gets wet—more so than the rest of the bathroom—so you want to plan accordingly.
Many homeowners opt for tiles that are small and water-resistant, such as mosaics, pebbles, or sealed stone tiles. If you choose to use ceramic, go with a smaller size. Although that creates more grout lines for you to clean and maintain, it also increases grip, allows for proper drainage, and makes your shower safer. Since the grip isn't a concern for shower walls, you can choose two different types of tile: one for the flooring and one for the walls themselves. Tumbled travertine, honed natural stone, and sealed slate are also popular options to use in showers because they provide adequate traction and come in rich, luscious colors. You should avoid marble as it gets extremely slick when wet, retains moisture, and also chips easily.
If you're re-tiling your shower during your bathroom renovation, take the new tiles all the way to the ceiling for a more finished look. It also makes the space easier to clean and ensures your drywall isn't left exposed to water and dirt.
Remodeling Your Gainesville Bathroom
Tile remains the surface of choice for most bathrooms in Alachua County, but there are many different options to choose from. As a design-build firm, Robinson Renovation and Custom Homes work with you throughout the entire remodeling process, from initial conception to final construction. After discussing your budget and project goals, we can help you explore the different types of tile to consider for your bathroom upgrade near Gainesville.