When you think of building a new custom home, chances are you see it as two separate processes: Developing design plans for your house and then turning those plans into reality during the construction phase. Part of that binary conceptualization has to do with the fact that those two aspects of home building require unique knowledge and skills sets.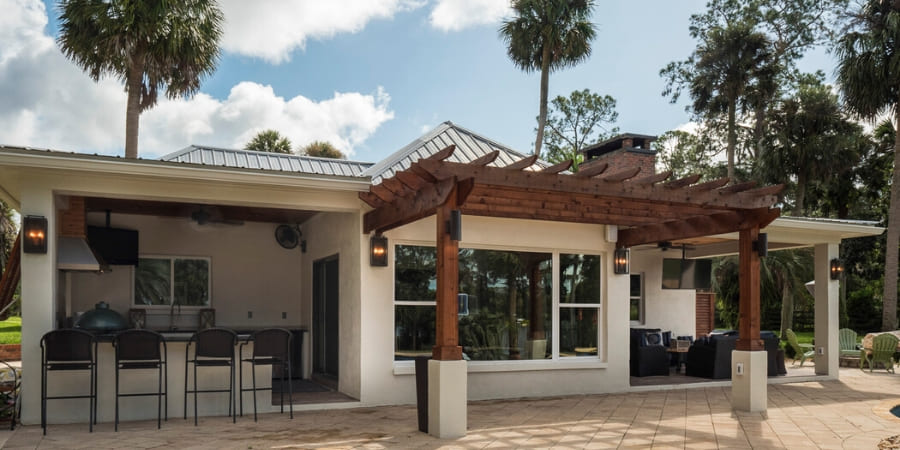 However, there is a different way to go about building a custom home in Alachua County and that is the Design-Build process. With this delivery method, you don't lose the specialized expertise necessary to design or construct your new home. Rather, you introduce both your key players at the start of the project so they can be collaborating and optimizing the value of their individual skills and knowledge all the way to the end.
What Is the Design-Build Method?
Design-Build is all about simplifying and streamlining the home building process. In the traditional Design-Bid-Build delivery method, you work with an architect to design your home. With the architects schematic drawings in hand, next you'd bid out the project and select a different home building firm to handle the construction. Splitting the project in that way, however, can lead to miscommunication and differences of professional opinion that undermine efficiency and lead to costly scope creep. Nobody wants that.
With Design-Build you sign one contract with one firm, which means the builder gets involved from the beginning and helps guide the design process. Through consistent collaboration, everyone stays on the same page from start to finish. Here is a closer look at the Design-Build process and how it differs from Design-Bid-Build:
1. Initial Consultation
You meet with your Design-Build team so they can get a general idea of your vision, goal, and ballpark budget for the project.
2. Preliminary Proposal
Your team presents a design agreement, which outlines what you can expect in the process. After reviewing the preliminary scope and budget of the project, you sign the design agreement.
3. Design Development
With your architectural drafters, you will explore design options and make selections for different features, products, and finishing items. Your builder will provide feedback on the cost and feasibility of constructing your house based on your initial preferences, giving ideas for scaling back or making adjustments if need be. This process of value-engineering gives you the ability to further refine the plans until they meet your expectations at a budget that will work for you.
4. Final Proposal
Your Design-Build team will then finalize your selections, drawings, and the budget, although minor refinements can still be made at this point. You also will discuss approximate start and completion dates and be presented with a construction contract to sign.
5. Pre-Construction
During this phase, the behind-the-scenes work takes place. Your Design-Build team will order materials, coordinate labor and subcontractors, obtain the necessary building permits, and develop a detailed job schedule. You will also meet your Project Superintendent and Production Manager and go over communication protocols; daily start and stop times; dates you will be unavailable or out of town for work or vacation; lockbox arrangements; and other details that contribute to developing clear expectations.
6. Construction
If you've partnered with a qualified Design-Build firm, you can expect your project to begin on the scheduled start date and your on-site Project Superintendent to keep you informed as work progresses. Furthermore, your Production Manager will make routine site visits to ensure the job stays on schedule with minimum disruptions.
7. Final Walk Through
Once construction on your new home is finished and the work site is cleaned, you will be invited for a final walk-through to double check all systems and structures with your Superintendent. If you are concerned about anything, your team will make adjustments to ensure complete satisfaction.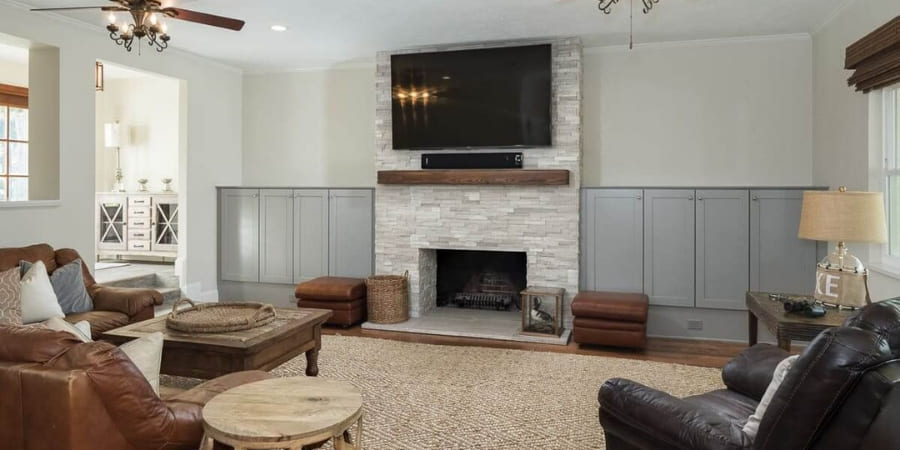 What Are the Benefits of Design-Build?
There are several practical reasons Design-Build is the optimal delivery method when you're building a new custom home in Gainesville, Florida, or the surrounding area. By working with one firm for the entirety of the project, you have a single source of accountability as your project moves from planning to construction. With the home builder overseeing the drafting of the construction plans, you can rest assured that what you see on paper can realistically be executed by the contractors—and just as importantly, at the price you expect. The architectural drafters and builder can implement value-engineering during the design phase, which is less expensive than making changes once construction has started.
In addition to only having to sign one contract, you also don't have to worry about a bid process with Design-Build. Bidding puts excessive emphasis on getting the job done for the lowest price, often to the detriment of quality and professionalism. With Design-Build, you start integrating and developing relationships with all your key players from the very beginning, which gives you the opportunity to communicate your expectations in terms of both price and quality. Your team won't cut corners or look for inferior materials just to be able to make the lowest bid on your project. Rather, they will collaborate with you as a cohesive unit to bring your vision to fruition in the most feasible, effective way possible.
Related Reading: 2020 Kitchen Remodeling Trends in Gainesville
Finally, Design-Build saves time and money and minimizes your risk, thanks to more streamlined communication. With design and construction services delivered under a single contract, there will be more cooperation and collaboration and fewer design changes and inaccurate estimates. You will have one contact person to communicate with, rather than having to make calls back and forth between two different companies and hoping there are no misunderstandings. Your unified team will work seamlessly together to understand your needs and deliver a high-quality project.
Creating a New Home the Design-Build Way
Robinson Renovation & Custom Homes wants to make the custom home building process as efficient and stress-free as possible, which is why we utilize the Design-Build process. As the premier Design-Builder in Alachua County, our team of professionals will execute your entire project from planning and designing to construction, on time and on budget.