3 Min Read
Bathroom Remodeling Trends That Are Becoming Outdated in 2024
A bathroom full of outdated trends is not a space where you want to begin and end your day. Remodel your Gainesville bathroom to feel fresh, sophisticated, and high-end by avoiding these outdated bathroom trends in 2024. What's out of style for bathroom remodels and what are designers and homeowners choosing instead? Let's find out!
All White or Gray Everything
We've seen the popularity of monochromatic white or gray bathrooms recede for the past few years, but in 2024, they are completely behind us. Celebrate your personal style with color. Greens and blues are bathroom favorites, but also experiment with neutral pinks and even black. Coordinate these colors with natural wood tones to create a truly personalized space that's sophisticated and stylish.
Imagine an all wood vanity with a bright white quartz countertop, deep sea blue tile on the shower walls, and a light blue wall color. A smaller space, like the bathroom, is a fantastic place to play with more colors and patterns, so work with your designer to find the right combination for your style.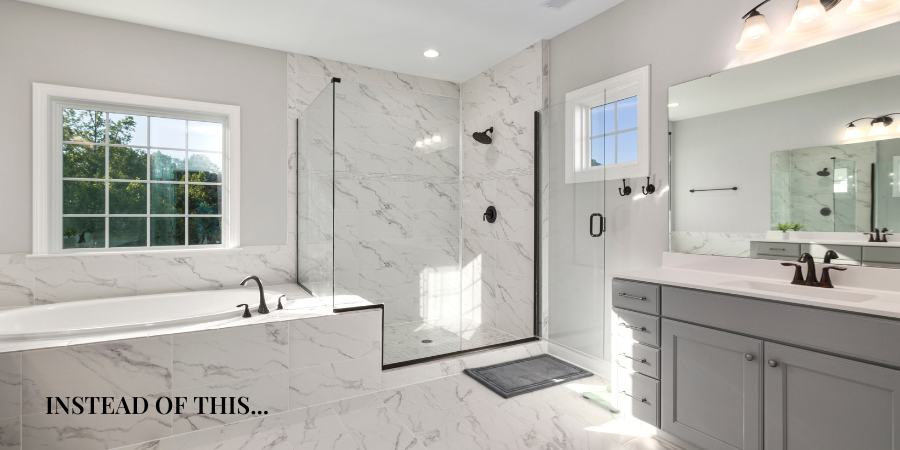 Prefab Cabinetry
Standard, factory-made cabinets? Not in 2024. Home remodelers in Gainesville, Florida, are seeing a surge in demand for completely custom storage solutions. After all, every homeowner has different needs, so your storage in the bathroom should reflect that. Today's bathroom cabinets come with hidden outlets, slide-out shelves, heat resistant compartments and hidden outlets for your styling tools, custom dividers, and more clever features made just for you. Working with a design-build team can lead to a remodel that's not just beautiful but truly functional for the entire family, with a custom-built place for every need.
Builder-Grade Light Fixtures
While it may seem like choosing builder-grade light fixtures is a clever way to save on costs, a lower grade of light fixtures will actually bring down your overall aesthetic because they simply cannot match the quality and style of high-end fixtures. Light fixtures can affect the style of your bathroom more than you may think, so it's essential to consider opting for a higher grade to elevate your space. Designers suggest choosing a series of stylish pendants, high-end sconces, or a vintage statement fixture to transform your remodeled room into something spectacular.
Skipping Storage for Style
Pedestal sinks are classic and sophisticated. Floating sinks are sleek and stylish. However, neither offer the storage families need in a bathroom. In 2024, embrace the marriage between style and convenience. Work with your designer to incorporate storage while focusing on a design that offers the streamlined and sophisticated feel a more minimal vanity could offer.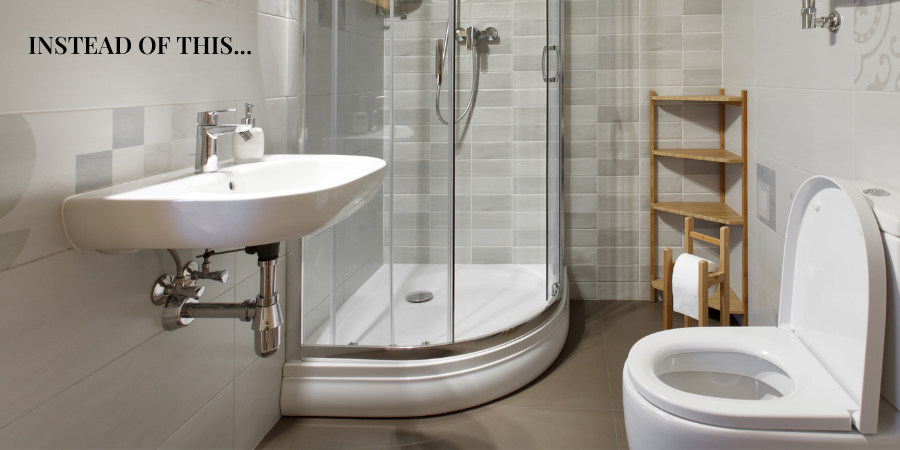 Large, Rectangular Wall Tiles
Large, rectangular wall tiling has remained the default go to for a couple of decades now. While it might have seemed sophisticated and high-end, it now is a common staple of many homes and designers are seeing a departure. In 2024, opt for tiles that offer more personalization, like Zellige tiles, geometric Art Deco tiles, a return to penny tiles, and hand-stamped cement tiles. Incorporating more texture, interesting shapes, and bold colors creates a style that speaks more to your personal tastes.
Ornate Vanities
Overly ornate millwork throughout your bathroom can feel overwhelming, especially in a space that will likely not be more than 200 square feet in size. Over the past few years, the move to create spa-like retreats has pushed ornate bathrooms to the side, including vanities with an abundance of millwork and details. Instead, choose simplicity on your larger bathroom features. To add special details into your space, choose a finish to be the focal point and tone down the rest to balance it out. For example, choose geometric tile for a statement wall behind your vanity and balance the space with more minimalistic finishes and features elsewhere.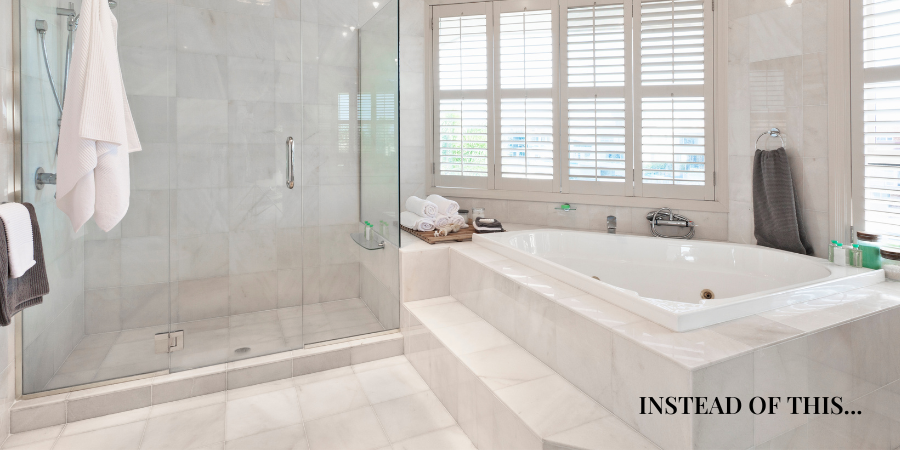 Oversized Bathtubs
Are bathtubs going out of style altogether in 2024? Not at all. But the larger tubs that take up more square footage than necessary are. Freestanding bathtubs are still very desirable in primary, or master, bathrooms. However, even with a freestanding tub with a beautiful organic shape, you can choose a size that works for your bathroom's floor plan rather than choosing a style that overwhelms the space. Do you dream of a bathtub model that offers jet streams? Today's freestanding bathtubs also offer jet features as well as heated walls and other features that elevate your comfort and experience.
Discover A New Bathroom Look
Outdated trends will make your bathroom feel tired and drab. When you're ready to remodel your Gainesville area bathroom, be sure to choose a design-build team that has their finger on the pulse of both current 2024 bathroom trends and the outdated trends you'll want to avoid. Contact Robinson Renovation & Custom Homes to experience not only a seamless remodeling experience, but to also enjoy the expertise and knowledge of an in-house design expert. Schedule a consultation with us today to begin your bathroom transformation.