Do you have a bathroom in your home in Alachua County that feels small, outdated or dysfunctional? Do you dream of having a large master bath that is outfitted with little luxuries to enhance the comfort and ease of your daily routine? Is your family dynamic changing, necessitating the addition of a new bathroom space to support multi-generational living?
With a remodeling project, you can transform your bathroom in various ways to enhance its function, comfort, and aesthetic appeal. It all depends on what you envision for the space and how much you want to spend on the renovation.
How Much Does It Cost to Remodel a Bathroom in Florida?
Developing a budget is a crucial part of designing a bathroom remodel in Alachua County. While you won't have definitive numbers to work with until you've finished your schematic drawings and nailed down your selections, it's imperative to have a preliminary budget to share with your design-build remodeling team. Based on a variety of factors—including the size of the bathroom, scope of the project, and quality of materials—here is a look at the average bathroom remodel cost in North Central Florida:
Cost of Bathroom Remodel-Midrange
The average cost to update an existing 5-by-7-foot bathroom in the Gainesville area is roughly $20,000 to $25,000. For that price, the typical bathroom remodel involves replacing all fixtures with new, mid-range bathroom components, such as a standard white toilet, porcelain-on-steel tub, recessed medicine cabinet with a light, and basic vanity with an integrated sink. At this level, the size of the bathroom remains the same, along with the location of your main fixtures.
Cost of Bathroom Remodel-Upscale
If you want to expand your bathroom within the existing footprint of your house and upgrade the area with new, high-end materials, fixtures, and finishes, the average cost is closer to $60,000. The scope of an upscale bathroom remodel typically includes designing a new walk-in shower with ceramic tile walls and body-spray fixtures; installing a freestanding soaker tub; and constructing a water closet that offers increased privacy and comfort. The type and quality of materials also factors into the higher cost. For example, you can include more customized bathroom components, from the cabinetry to the tile work, lighting, and type of flooring.
Cost of Bathroom Remodel-Universal Design
Many homeowners in North Central Florida also opt to remodel their bathroom to include a universal design. What that means is updating the space so it is accessible to all household members, regardless of age or ability. For this type of remodel—which often involves making the bathroom ADA-accessible, installing a walk-in shower with a fold-out seat, and replacing the toilet with a comfort-height fixture—you can expect to pay approximately $30,000 to $35,000.
Cost of Bathroom Addition
The cost of a bathroom addition ranges from about $40,000 for a traditional 6-by-8-foot room featuring mid-range elements to roughly $80,000 for an upscale bath addition to a master suite. The price of your customized bathroom addition depends not only on the square footage you're adding, but also how the project impacts the structural elements of your whole home and whether you choose high-end, specialized fixtures, materials, and design elements or more budget-conscious options.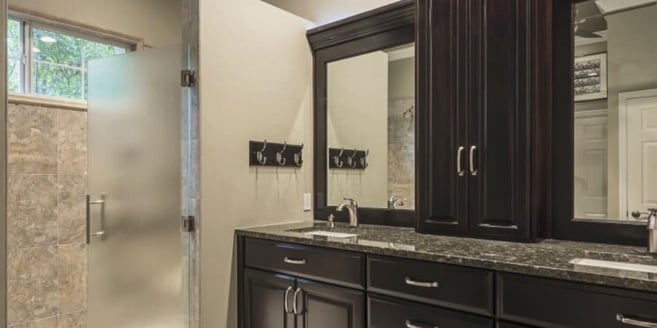 How Much Value Will a Bathroom Remodel Add?
Bathroom additions and remodels tend to have a fairly good return on investment (ROI) when compared to other home improvement projects, especially in the North Central Florida area. In 2020, bathroom renovations added immense resale value to homes, enabling property owners to recoup more than 100% of their project costs. Additional data from around the state and South Atlantic region supports figures in a more conservative 50% to 70% range.
As your developing plans for your Gainesville bathroom remodel, consider the market value of other homes in your neighborhood to ensure you are optimizing your potential ROI. For example, if you do $50,000 worth of improvements to your home that is valued at $300,000, and other surrounding homes are only valued in the $250,000 to $300,000, you may not necessarily recoup a high percentage of your project costs when you sell your home.
While improving the overall value of your property and its resale potential are worthwhile objectives, also keep in mind that your Gainesville bathroom remodel pays dividends in other ways by improving your quality of life. Whether your project involves mostly maintenance and some cosmetic upgrades or a complete transformation, the outcome is a space that is more inviting and functional for you and other household members.
Budgeting Your Bathroom Remodel in Alachua County
Cost is an important factor when undertaking any type of home improvement project, including bathroom renovations. One benefit of working with a design-build company, such as Robison Renovation and Custom Homes, is the ability to control costs throughout the early stages of the process. Our team can help you prioritize your project goals, explore your options, and identify alternative where needed to keep your bathroom remodeling project on-budget while still achieving your fundamental vision.