4 Min Read
Design Tips for Creating your Dream Spa Bathroom
There's nothing quite as rejuvenating as a day at the spa; but who has the time or budget to visit a spa as often as we'd like or need?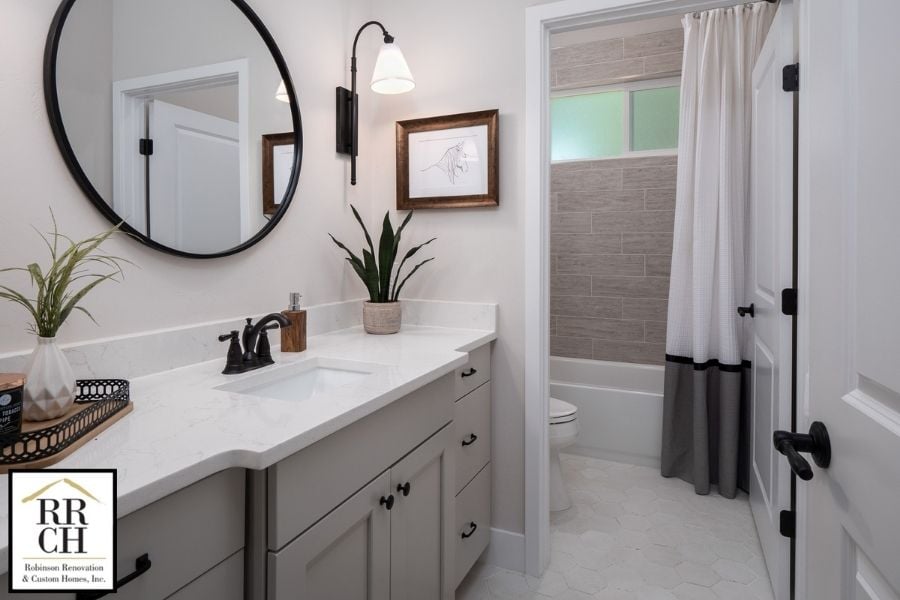 Creating a luxury spa-like bathroom in your home is easier than you might think with the right remodeler and a feature-by-feature plan. What features go into creating a spa-inspired bathroom and how can you recreate the spa feel in your own home?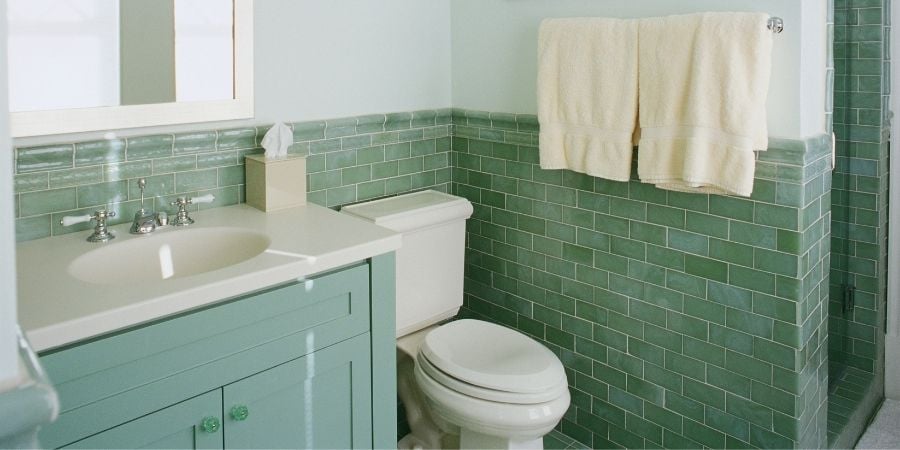 Serene Shades
Starting with the spa bathroom color for your tranquil space, choose an all-over color that exudes serenity. White is the classic go-to, but be sure to use a satin or matte finish to avoid glare. An all-white bathroom that's filled with natural light is the perfect spa-like atmosphere, but can become harsh with gloss paint and will spoil your at-home spa experience.
White is the norm but also consider soft and light shades of green for a calming bathroom color, which are overwhelmingly the most popular shades of 2022 by every major house paint brand. For the brightness of white, choose a light mint. To lend a more nature-inspired look, go for a soft and subtle sage green.
The Right Lighting
Give your bathroom a spa feeling with lighting that can change with your mood. How? Placement and dimmer switches will do the trick. When only low light is necessary, say for a relaxing soak at the end of the day, under-vanity lights will give the perfect ambient glow while candles can take care of the rest. For all-over relaxing lighting that doesn't overwhelm, set your recessed lights to the right brightness with a dimmer switch.
Spa lighting for your bathroom doesn't stop there. Use strategically-placed sconces with a frosted shade flanking your vanity mirrors. Over the freestanding tub, choose a longer horizontal light fixture to give the space a soft glow. To make your shower more serene, be sure to have the overhead light also set on a dimmer. By utilizing multiple types of lighting, with dimmers and separate switches, you can control how much or how little light you'd like in your home spa and where you'd like it most.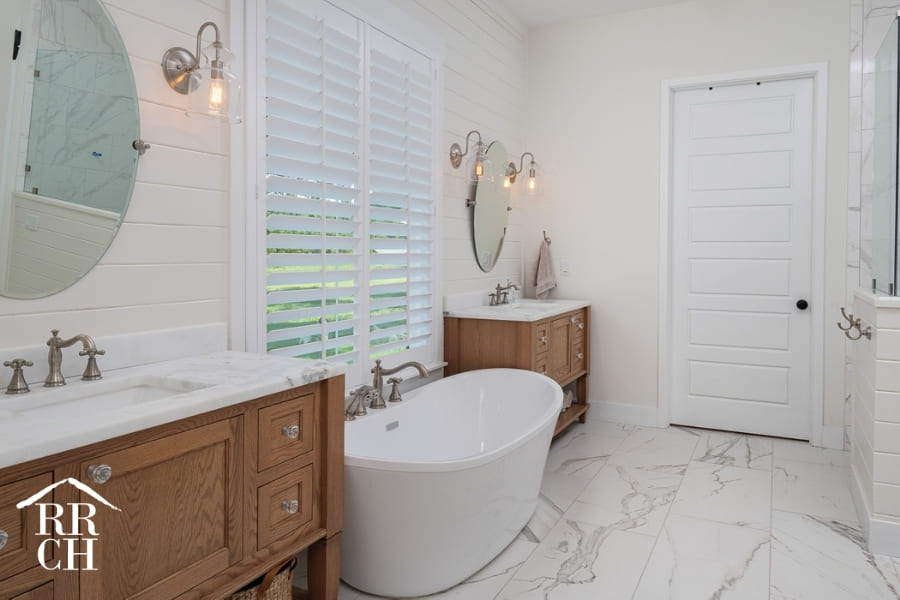 Freestanding Tub
The freestanding tub is a luxury spa bathroom must-have. The latest trend in freestanding tubs is organic, rounded shapes–perfect for your home spa design. Increase your level of relaxation by installing a freestanding tub with whirlpool jets. Freestanding tubs are often seen in a gloss finish, but a matte exterior would create less glare and carry the dreamy, tranquil feeling of a spa.
The Shower
A large tub is a usual image that comes to mind when we think of spa-inspired bathrooms, but the shower can be just as relaxing and maybe more. For a serene shower that gives you the ultimate spa experience, have your remodeler install a steam shower.
Keep in mind that the design of your shower stall will need to accommodate all of this relaxing steam by being completely enclosed and properly prepped. Don't worry–an experienced bathroom remodeler will know just what to do. Include a built-in bench or a water-resistant teak option and you'll have a peaceful retreat without even leaving home.
Flooring
For a luxurious spa bathroom where white is the all-over palette, add a little visual texture and timelessness with white marble flooring with light gray veining. Larger rectangular tiles read as a cleaner look, giving you fewer grout lines to break up the material. If you'd prefer a little color and texture in an all-white bathroom, go for wood look ceramic tiles in light neutral grays.
If you're going for a nature-inspired spa bathroom, your flooring can do much of the heavy lifting to pull off the look. Natural wood isn't ideal for the humidity in a bathroom, but wood look ceramic tiles are a perfect stylish and durable choice. Light ash pairs beautifully with a soft shade of green on the walls.
Natural Wood
Whether you've chosen an all-white palette or one with natural tones, natural wood adds something special and even grounding to your in-home spa. Add a natural wood vanity, open shelves, and wood-look flooring to create cohesion.
Fixtures
Fixtures–such as faucets, handles, and towel rods–may be small in size, but they lend a lot of style to a space. Select high-end fixtures in brushed gold or pewter to give your bathroom a spa-worthy style. Either finish will pair beautifully with both an all-white or natural-toned color scheme.
Accessories and Décor
After your custom bathroom remodeler has finished installing all of the larger spa features, it's up to you to finish off your bathroom with accessories and décor that will truly give your bathroom that spa feeling. Less is more when it comes to the clean and quiet look of a spa, so the key is to choose pieces that coordinate and continue the same color palette your designer has put in place.
Use tasteful containers for all of your essentials that need to be kept within reach. Shampoo, hand soap, cotton balls, and other items can be easily transferred into glass or ceramic bottles and jars. Even placing the most ordinary items in a beautiful container will read as refined and stylish. Another spa-like accessory is a bathtub tray for your freestanding tub.
If you've chosen nature-inspired tones, like wood and green, add other natural textures. A seagrass or jute bath mat at the vanity, a teak stool, and a woven basket to keep toilet tissue nearby are all décor items that will continue the tone.
No matter the palette you've chosen, every spa-inspired bathroom should include indoor plants to bring calm and tranquility to the space. Be sure to use matching pots and planters to not distract the eye from the calming environment you've created.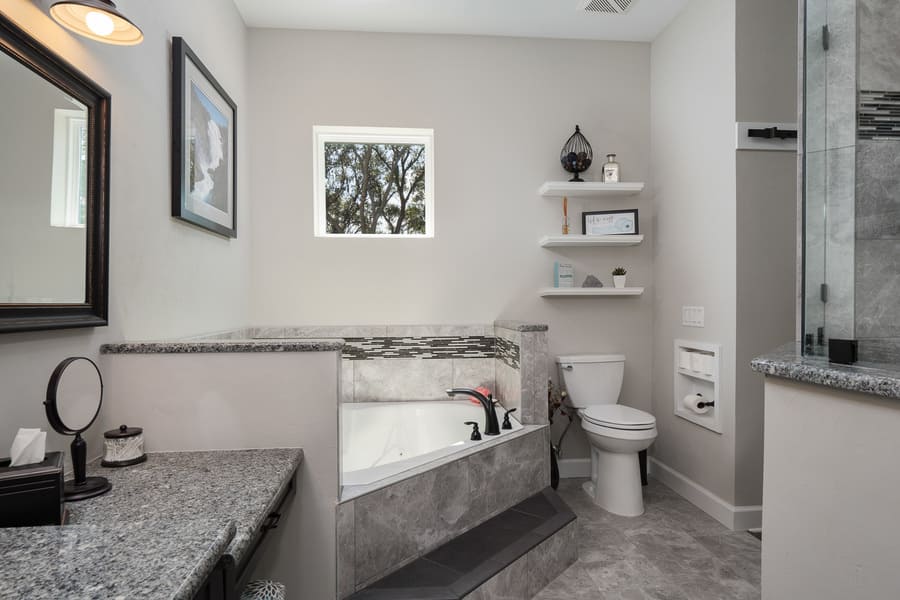 Your In-Home Spa Bathroom Remodel Awaits You
Creating a spa-worthy retreat in your own home is easy when you break it down, feature by feature. It's even easier when you work with a design-build team that is experienced in designing and building luxury spaces that make every day feel special.
Robinson Renovation and Custom Homes is an Alachua County-based custom builder and remodeler that specializes in turning visions and dream homes into real spaces for you and your family to enjoy for years to come. Contact us to schedule a consultation and start your journey to the spa-worthy bathroom of your dreams.