The decision to add to your home may come from any number of reasons. Your family is expanding, you have an older relative moving in, or perhaps you've just bought a new home and planned an addition from the onset. Now is the time to decide: should you build up or bump out?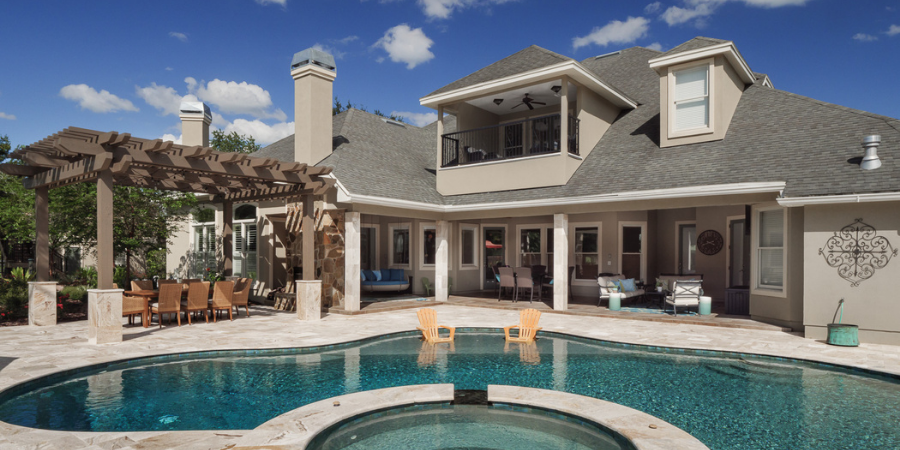 Why You Should Build Up
Sometimes the decision to build up or out will be determined by why you're adding to your home from the start. Common additions for those who decide to build up are master suites, an additional bathroom, an additional bedroom, or office space. What are the other factors that will determine if you should build up?
It Can Be Less Expensive
A fact that's surprising to most is that it can be less expensive to build up than it is to bump out when you compare adding the same type of space per square foot. This is simply because building up can require less material and labor than building out. The needs for building up will likely entail framing and wood, then extending electrical and plumbing, and finally rebuilding the roof. Of course, it also includes reinforcing the structure to support another floor. As for building out, there are the excavation costs, adding footers, fill dirt, concrete, plumbing, electrical, and the added labor that these tasks require.
Again, the price per square foot comparison is based on comparable spaces. The difference in room functions will also determine the price per square foot. For example, if you're adding an additional living room or office space on the ground floor, this will have an average price per square foot that's much lower than adding a master suite upstairs. What's required to build a master bath will cost more than what's required to build out open space.
Set Back Requirements
Most neighborhoods have setback requirements that keep you from building within a certain distance to the property line. This may end up being the only deciding factor depending on how much space you're hoping to add and how far your home already is from the edge of your lot. To find out what the setback requirement is for your home your building survey or neighborhood plat map is the quickest resource.
Keep Your Yard Space
Of course, if you decide to build up rather than bumping out, you will retain your current yard space. Keeping your yard space, even if it's not heavily used at the time of the remodel, means you could plan for adding an outdoor living area later on, or even a pool. Also, if selling your home might be in your future, many homebuyers value yard space. If building out reduces the backyard significantly, this could hurt your resale potential.
To Fit In
The decision to build up may also simply be to fit into the makeup of your neighborhood. If your single-story home is surrounded by multi-level homes, adding another level can boost your curb appeal. There is also the factor of your home appearing more valuable with a second story, especially if it stands alone as a single story.

Why You Should Bump Out
Some additions just make more sense on the ground floor of a home. If you're adding to your kitchen, living room, or adding a garage, these are obvious ground-level additions. Not to mention, you will likely be able to live in your home during the renovation. In-law suites, an additional bathroom, a home office, or a game room are spaces that could be on any floor but are also usual ground-floor additions. Besides the room type, what are some other reasons to bump out rather than build up?
It's Your Forever Home
Planning to age-in-place means you'll need to look ahead and consider what your mobility needs will be in the future. Climbing stairs is usually not a desirable option past a certain level of ability or age. Of course, the addition of an elevator isn't out of the question but does require mechanical systems that could go into disrepair and cause major complications. Building out is likely the most sensible option if you plan for this to be your final home.
Accessibility Issues
A single-story home may be more practical for families with small children or who plan to have children. Adding a playroom or an additional bedroom and bathroom for a child onto the ground level is the safer option. The same goes for adding an in-law suite, which is usually added with an aging parent in mind. Your older relative may have difficulty with stairs, making a simple trip to the kitchen downstairs close to impossible later in life.
Height Restrictions
Finally, your local housing regulations may limit the height of your home. Contacting your homeowner's association from the start may save time later, especially if you begin designing for building up and find out you're restricted from doing so.
Talk With A Professional About Your Addition Options
After considering your budget, lifestyle, and needs, an experienced home builder should be well-equipped to help with these major decisions. Hiring the right design team to help you decide where to build an addition and what option you have will be the difference between a seamless remodeling experience and one full of challenges and stress. Robinson Renovation & Custom Homes is a design-build firm that is dedicated to exceeding homeowner's expectations by practicing exceptional customer service through transparency and communication. Robinson Renovation has been owned and operated by the same family for three generations and understands the importance of a functional and beautiful family home. Contact Robinson Renovation & Custom Homes to start the conversation about your remodeling and home addition goals.