4 Min Read
2023 Home Additions: Increase Your Home's Value in Gainesville, Florida
Adding onto your home can bring a lot of relief to everyone in the home as well as your guests. When you're looking to increase your square footage, you may be wondering if your remodel will also increase your Florida home's value. Every addition will increase its value, but each type of room you add will have a different return on investment (ROI). Find out which rooms have the highest ROI and other addition ideas to make your home more welcoming, functional, and comfortable.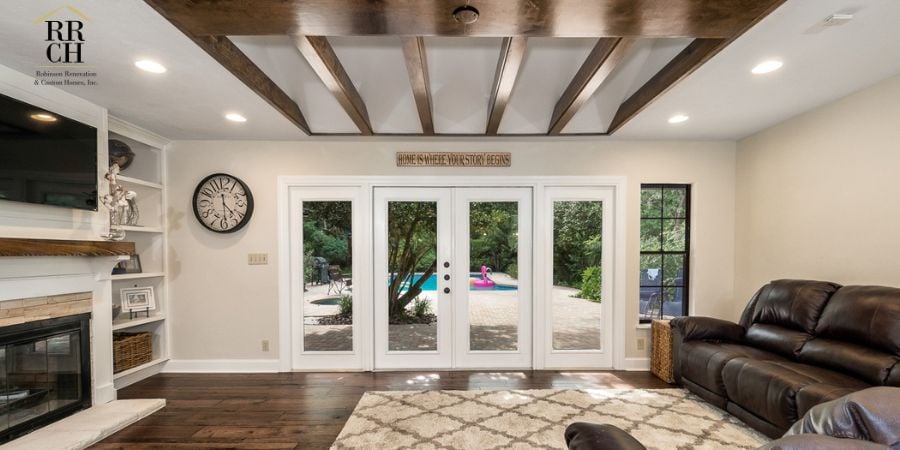 Additions to Consider
In-Law Suite
An in-law suite is a great addition and actually quite versatile. If an older loved one will be moving in soon, of course, this is a perfect space to keep them near but give them privacy and independence, especially if the space is built using universal design.
If you often have overnight visitors, an in-law suite will give them and your privacy, making their stay a lot more comfortable for everyone. Have an older child that would like more independence? Do you need office space at home that's more out-of-the-way for an uninterrupted work day? Consider an in-law suite addition.
In-law suites can be added to the exterior of the home, with a separate entrance, or detached and connected to the home via a sidewalk. The cost for a detached suite will be higher in order to get power and plumbing to the space and for other reasons. In general, expect an in-law suite to cost $150,000 to $300,000, depending on the location, the finishes you choose, and the amenities you'd like to include. The space will include a wet bar or kitchen, a bathroom, a living room/bedroom combo, or two separate rooms. The ROI will be around 70%.
Bedroom
Often, a family simply needs another bedroom to give every household member their own space. Bedrooms are one of the least complex rooms to create, needing little more than walls, a ceiling, and electricity. The labor and materials that are needed to extend your foundation and roof are really where the costs come in.
Expect a bedroom addition to cost between $150 and $250 per square foot with a ROI of around 50%. It is a low ROI, but the value really comes from increased comfort while you're in the home. If you're looking to sell your home soon, this might only be a necessary addition if your home only has two bedrooms. Your ROI may be up to 70% if the room is described as a flex room with amenities that a buyer would consider a home office.
Garage
If your home lacks a covered parking spot and storage for tools, a lawnmower, or sports equipment, a garage is a great addition to your home. The first question to ask yourself is if you'd like an attached or detached garage. Attached garages will cost less but a detached garage is a great scenario for an above-garage apartment for extra income, to house guests, or a home office.
The cost per square foot is, on average, $45 to $100 per square foot for a standard garage. To add a second level for a simple home office or small, basic apartment, add around $50,000 to $100,000, depending on the amount of features you're including and the size. The ROI for a garage is around 65%.
Bathroom Addition
Adding a bathroom to your home is a great idea if your household members far outnumber the bathrooms in your home, or if your guests have to use the children's bathroom down the hall rather than a convenient half bath. Turning your primary bedroom into a master suite with a bathroom addition? Then the cost will be on the higher end because of the added amenities that are typical of a master, or primary, bathroom.
A typical bathroom addition in Gainesville will cost from $50,000 to $90,000 with a ROI of 78%. A very simple half bath could be less than this range, and a more luxury spa-like primary bathroom could be more. A lot of finish and feature choices go into a bathroom, so it's best to contact an experienced builder to get a closer estimate based on your design goals.
Master Suite Addition
If your home is older, chances are your home wasn't originally built with a primary, or master, suite. To add this amenity that most homeowners expect today, the price range in Gainesville, Florida, could be between $150,000 to $300,000 for a large bedroom with a sitting area, a walk-in closet for two, and a bathroom with a double vanity, walk-in shower, and freestanding tub. The ROI for adding a primary suite could be from 67% to 80%, depending on the finishes and features you choose for the space.
Sunroom Addition
Florida homeowners today love to have a place to enjoy wrap-around sunshine and the feeling of being more connected to the outdoors, but away from the exposure of direct sun and rain. If this sounds like you, a sunroom is the perfect addition. The space can range from basic to luxurious, and cost from $10,000 to $30,000, with a ROI around 50%.
Mudroom Addition
More and more homeowners are building homes with a mudroom because of just how useful they are, with added storage and the benefit of keeping messes from going any further into the home. Custom-built lockers, a built-in bench, a place to wash the family dog, and a sink could cost around $18,000 to $30,000, but sometimes higher if extending the foundation and roof is needed for a bump out rather than taking space from a garage or other existing room.
Kitchen Additions
Adding to your kitchen can improve layout and flow, add much needed storage, and make room for needed appliances. A kitchen addition will also result in a remodel of the entire room. Kitchen upgrades that add the most value are an island, creating an open concept, and a walk-in pantry. Expect a kitchen remodel and extension in Gainesville to cost around $140,000 with a ROI of up to 60%. Of course, your unique kitchen remodel could exceed this amount if higher-end finishes and appliances are chosen, your kitchen is larger than average, or your remodel is more extensive than most.
Outdoor Additions
An outdoor addition in Florida can range from a cozy patio to a lavish outdoor kitchen complete with a lounging area and outdoor dining. Because the range of possibilities is so vast, so is the price range: $15,000 to $150,000 and beyond. The ROI you can expect for any outdoor addition, however, could be between 65% to 80%.
What Space Will You Add to Your Gainesville Home?
The decision of which type of space you'll add to your Gainesville home will likely be most affected by a few main factors: selling your home sooner than later, your budget, and your family's needs. If this is your forever home, the importance of ROI decreases and your family's comfort becomes a priority. To help you decide what type of space you should add, talk with a trusted and experienced home remodeler that can learn about your family's needs and help you along the decision-making process.
Robinson Renovation & Custom Homes has created extra space for families to live more comfortably in their Gainesville homes for decades. We provide a full-service experience that includes design, plan development, and construction. When you're ready to explore what addition is best for you that will fit within your budget, contact us to schedule a consultation.