Adding an in-law suite to a custom home or remodel is becoming increasingly popular. Whether the space is meant for an aging relative, an older child returning to the nest, visiting guests, or recreation, in-law suites are on the rise. What makes an in-law suite an in-law suite and how can you and your family benefit from this added space?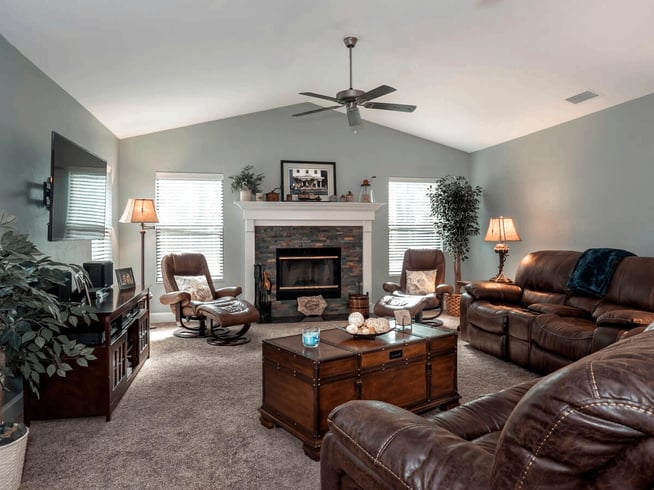 What Is an In-Law Suite?
It's pretty straightforward, really. An in-law suite consists of a bedroom, bathroom, kitchen area, and living space. These units can be attached to or detached from the main home, but will always have a separate entrance. It might be in the attic, above the garage, or in a separate building but on the same property.
As for the amenities in an in-law suite, this depends on both budget and space. For instance, if square footage is pretty limited, the kitchen may be more of a kitchenette with a minifridge, microwave, and sink. With a bit more space, you could add a patio or a dining nook.
How Do You Design an In-Law Suite?
Designing your in-law suite will, again, depend on space and budget. It will also depend on who will be using the space. If the in-law suite is for an aging relative, accessibility is key. Climbing stairs won't be a realistic option, so the attic and above the garage aren't on the table. A suite that is attached to the house or detached and across the backyard, would be more logical.
You will also want to consider amenities that support aging in place. Designing for limited mobility will mean incorporating ramps, wider doorways, and bathroom features that could accommodate a wheelchair. If you're building your in-law suite for other uses, like guest space or an older child that's moving back home, you won't be so restricted and could add the space where stairs are necessary.
Other design considerations for the in-law suite addition would be including clever storage solutions, making the space feel larger with lots of natural light, or building a built-in banquette for morning coffee and meals.
Is an In-Law Suite a Good Investment?
Many home buyers are keeping their parents in mind when looking to build or buy a new home. With rising housing costs and a vested interest in saving on expensive assisted living facilities, potential buyers are increasingly looking for properties that already come with this additional space. If you're thinking of selling your home in a few years, adding an in-law suite will set your home apart.
How much value does an in-law suite add? The return on investment (ROI) of an in-law suite addition in Gainesville is an impressive 70%.
How Else Could You Use an In-Law Suite Addition?
An in-law suite isn't just for the in-laws. With the extra space and amenities this home addition offers, the possibilities for what the space can provide are nearly endless.
Home Office
So many homeowners are working from home. With many not planning to return to the office life of yesteryear, adding a space that offers quiet and isolation for online meetings and productivity has become crucial. The kitchen, bathroom, and lounge space can serve as your amenities within reach that keep the distraction of going into the main home at a minimum.
A Space for Visiting Friends and Family
Plenty of homeowners would like to keep loved ones near when they're visiting but don't want to sacrifice privacy and routine. With an in-law suite, you and your guests can enjoy each other's company without compromising on your day-to-day.
Passive Income
The separate living quarters of an in-law suite are a perfect opportunity to add to your annual income as a rental unit. In Florida, these rental properties aren't only legal but encouraged. Accessory dwelling units (ADUs) offer an answer to rental shortages–great for homeowners and renters alike. Consider separating the utilities from the main home upon design and construction to better manage the space as a rental unit.
Leisure Space
If you have older children that crave privacy and the ability to entertain their friends, the in-law suite is a great space for gaming, watching movies, and having sleepovers with more independence. Stock the kitchen with snacks, fill the bedroom with bunk beds and wire the space for surround sound.
Hire the Right Design-Build Firm to Add an In-Law Suite to Your Property
Some may consider the in-law suite to be like designing a home, just on a much smaller scale. However, being able to navigate ordinances, cleverly work amenities into a small amount of square footage, and still create a space anyone would like to call home is a special skill.
Robinson Renovation and Custom Homes is a design-build firm in Alachua County that understands the importance of family and creating spaces for everyone to feel right at home. Contact Robinson Renovation and Custom Homes to schedule a consultation and start imagining what the added space of an in-law suite could do for you and your family.