A new outdoor summer kitchen can be a beautiful and useful extension of your home in Alachua County. Once the project is complete, there is no end to the outdoor soirees, pool parties and intimate family get-togethers you have to look forward to.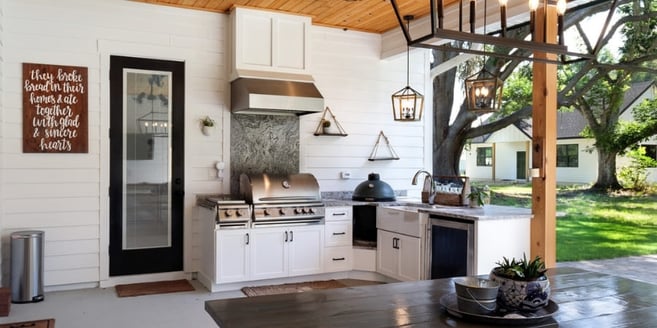 When designing your outdoor kitchen, however, you want to think about function and durability, as well as visual appeal. That requires putting careful consideration into the materials and features you select and how well they can withstand the elements on a year-round basis.
Top Materials for Outdoor Kitchen in Gainesville
Outdoor kitchens come in different shapes and sizes. Depending on your budget, space and lifestyle needs, you can create a simple yet usable kitchen with a few key appliances, like a grill and refrigerator, or an expansive space that includes bar seating, lots of counter space and other features. Regardless of your particular setup, keep in mind that the selections you make should be geared toward an exterior environment, which means being able to withstand Florida's alternately sunny, humid weather and year-round rain.
To help you plan and design your newest outdoor amenity, here is a look at the components often incorporated into outdoor summer kitchens and the best materials for each one:
Decks & Coverings for Outdoor Kitchens
To help protect outdoor kitchens from high temperatures and weather events, most of them are constructed on an existing deck or covered patio adjacent to the home. You may already have a location on your property that's the perfect spot to build your summer kitchen. If not, installing a deck, lanai and/or other outdoor structures might be incorporated into your project. For an outdoor kitchen in Alachua County, consider concrete block with an applied stucco finish, or a deck made of natural or engineered wood. Concrete is also a durable, long lasting choice of material for the flooring.
One of the easiest ways to cover your outdoor kitchen is with a canopy or pergola. The optimal choice depends on which best matches your home style. For example, Pergolas have a bit of a Mediterranean vibe that wouldn't fit with every architectural style. To enhance the appeal and comfort of your outdoor kitchen and seating area, consider adding ceiling fans and misters to keep you cool during hot Florida summer days.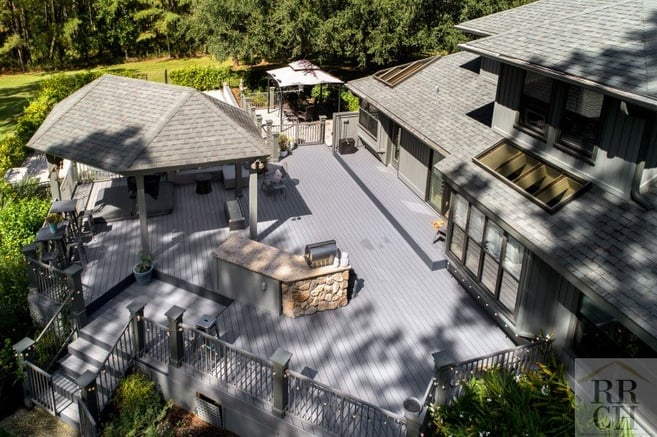 Outdoor Kitchen Cabinets
Your cabinets will play a key role in creating a sophisticated yet functional outdoor kitchen. For a substantial, built-in look that is resistant to the elements, the best option is to construct a masonry system with a stucco veneer, brick or decorative stone and cutouts for installing your appliances. Although labor intensive, this approach to your outdoor kitchen results in a visually cohesive and sturdy structure that can withstand regular use.
Another popular option is high-density polyethylene (HDPE), which is a type of plastic. As an exterior cabinetry material, HDPE is advantageous because it's easy to clean and maintain and impervious to water and moisture. On the downside, there are limited color and style options and it must be used with a stainless insulating sleeve since it's combustible.
With stainless steel cabinetry—an increasingly common selection for exterior living spaces—you create a uniform look if your outdoor kitchen appliances feature the same material. Stainless steel has a clean, modern appeal, with powder coat finishes available in a range of colors and textures. Finally, stainless steel offers nearly incomparable long-term value as it's non-corrosive and resistant to fire and impact damage.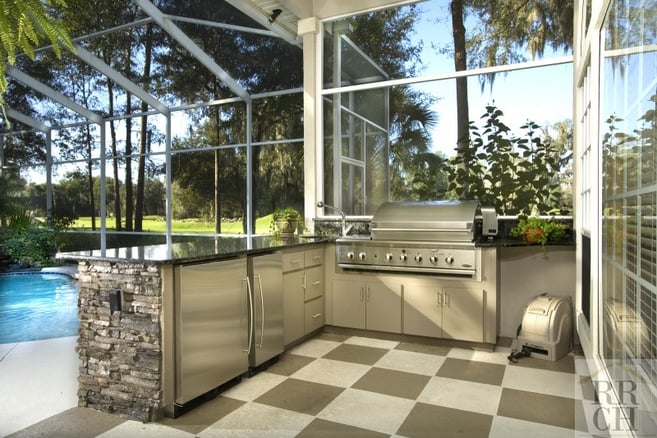 Outdoor Kitchen Countertops
Natural materials are a good look for the countertops in your outdoor kitchen, especially if you want to enhance a connection between your outdoor living space and the surrounding environment. Granite is perhaps the best all-around choice, thanks to its durability and ease of maintenance. It can withstand heat from pots and pans while you're cooking, as well as direct sunlight. Quartzite, slate, marble, soapstone and other natural stones are also appropriate for outdoor use. If you use a porous stone, however, it must be sealed regularly to make it water-resistant and protected from food and beverage spills. Softer stones, like soapstone and quartzite, can also be scratched and nicked by sharp objects, so you should avoid cutting and prepping food directly on the surface.
For a more rustic or industrial style, consider using concrete. One unique benefit of concrete is that it can be poured to fit the exact dimensions of your outdoor kitchen. You can also embed tiles or stones for a unique touch.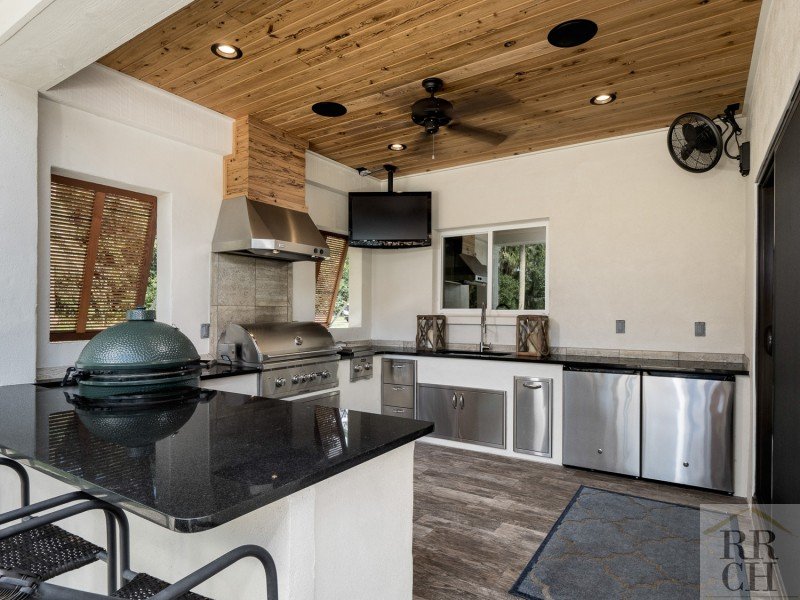 Outdoor Kitchen Appliances
To determine what appliances to include in your outdoor kitchen, you'll first need to decide how you plan to use the space and how often. At the very least, you'll want a built-in gas grill with a hood and preferably side burners, as well as a compact refrigerator and outdoor sink. For a luxury, high-use kitchen, also consider a hidden trash compartment, ice-maker and warming and storage drawers. Many manufacturers, such as Summit and Avallon, construct refrigerators specifically designed for outdoor use. In terms of light, outdoor kitchens are most optimal with a combination of general lighting placed directly about the cooking and seating areas. Some task lighting can also help better illuminate your workspace at night and create the perfect ambience for you and your guests.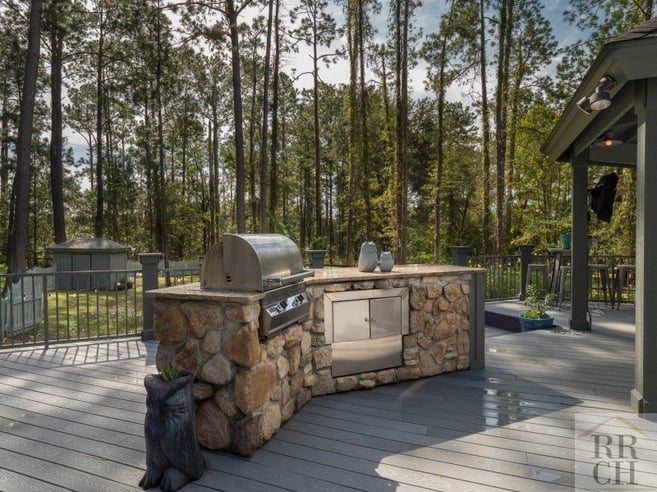 Elevating Your Gainesville Home with an Outdoor Kitchen
If your family prioritizes spending time outdoors, you need a suitable spot to do so. An outdoor kitchen can become a natural extension of your daily life in Florida, enabling you to regularly cook outdoors with your family or more comfortably and conveniently entertain visitors. At Robinson Renovation and Custom Homes, we know how important outdoor living spaces are to optimizing the value and function of your home. Our team can help you design and construct an outdoor kitchen that's tailored to your family's specific routine, as well as the style of your home and your budget.