When it comes to top-notch dining in Gainesville, Florida, you have plenty of options no matter the occasion, from date nights and family get-togethers to business meetings and quick eats.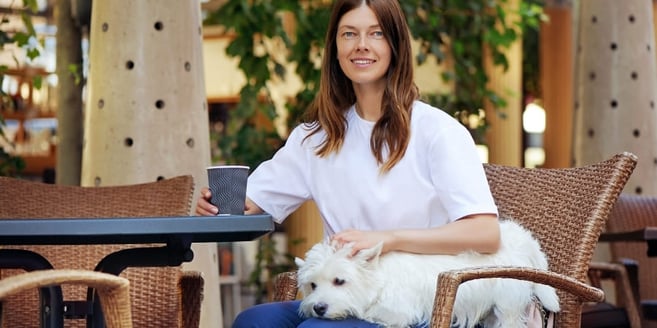 Sometimes what you want is a great restaurant that not only offers delicious food but also a seat at the table—or at least near it—for your favorite pet. Fortunately for homeowners in Alachua County, there are numerous dog-friendly restaurants, cafes, and other dining establishments in Gainesville.
Top Pet-Friendly Restaurants in Gainesville, FL
No matter what you're in the mood for, you can find a local eatery that satisfies your tastebuds but doesn't require you to leave behind your furry friend. Here is a look at some of the best pet-friendly places in Gainesville:
1. One Love Cafe
With ingredients from local farms, One Love Cafe is a fresh, unique restaurant that offers an outdoor patio gathering space that is perfect for pets. The homemade pickles are a house favorite, and it has a full-service bar. What makes this location unique among restaurants in Gainesville, FL is the fact that it is not a formal, sit-down environment. After you get your food, you'll pull up a patio table while the kids play corn hole or you listen to live music from local performers. If you don't want to enjoy the patio, get your food to go and go explore one of Gainesville's many springs.
2. Wahoo's Seafood Grill
Wahoo's Seafood Grill, which has locations in both Tallahassee and Gainesville, features a wide variety of coastal-inspired seafood dishes, including etouffee, blackened cobia, crab dip, shrimp and grits, and fish tacos. The inside of Wahoo's hosts an eclectic array of decorations hand-picked by the owner, but you can use the outdoor patio when you're accompanied by your pet.
3. Sonny's BBQ
Many locals are acquainted with Sonny's BBQ, a Southeastern chain that has been serving comfort food since Floyd "Sonny" Tillman opened the original location in Gainesville in 1968. At the location on SW Archer Road, you can enjoy slow-smoked barbecue, classic southern sides, and homemade desserts at one of the pet-friendly tables situated outside.
4. Ballyhoo Grill
Are you going out to eat with a group of friends who all have distinct tastes in food? At Ballyhoo Grill, you have your choice between a wide selection of seafood, steaks, and sushi. Everything is made from scratch, including Ballyhoo's award-winning soups and delicious salad dressings. With spacious indoor seating and dog-friendly outdoor seating, Ballyhoo is the ideal spot for eating out with your family, a large party, and/or your favorite pet.
5. The Top
The Top on North Main Street in downtown Gainesville is a hub for vegans, vegetarians, and carnivores alike. Their covered seating area and patio tables also cater to the canine clientele. Along with delicious pub fare, you can enjoy more than 30 rotating draft lines and a host of craft cocktails, such as a Chocolate Espresso Martini or an Elder Fashioned.
6. Peach Valley Café
Peach Valley Cafe on SW 34th St. is the place to go for traditional breakfast and brunch food, such as buttermilk drop biscuits and sausage gravy, eggs benedict, chicken, and waffles, omelets, and specialty pancakes. The café also serves up lunch until 2:30 p.m. every day of the week, or you can stop in for an espresso drink and fresh baked goods. To top it off, Peach Valley has several dog-friendly outdoor tables.
7. SweetBerries
SweetBerries in Gainesville is known not only for its scrumptious fresh frozen custard selection but also for how dog-friendly it is. Each day features a different custard flavor, and you can keep track of what's coming up via SweetBerries' online Flavor Calendar. After ordering your food from the walk-up window at the restaurant, you and your pup can make use of the extensive deck seating.
8. La Fiesta
La Fiesta is another Gainesville restaurant with an established reputation after serving authentic Mexican food to the community since 1989. The menu includes a variety of classics—including tamales, burritos, fajitas, and tacos—as well as numerous vegetarian options, complimentary chips and salsa, and sweet treats, such as cheesecake chimichangas and deep-fried ice cream. The restaurant includes front and back patios that are both dog-friendly.
9. Loosey's Downtown Gainesville
Loosey's is known for its tasty, made-from-scratch food and wide selection of local and regional craft brews. Locally owned and operated, Loosey's is also a hub for live music and entertainment, with events taking place throughout the week. The restaurant's seating includes patio tables, where you are welcome to have your pet.
10. Volta Coffee, Tea & Chocolate
As implied by the name, Volta Coffee, Tea & Chocolate specializes in all that is good, sweet, and espresso-y. However, they also offer more substantial entrees, such as hotdogs, sandwiches, and quiche. The menu changes regularly, but the restaurant never falters from using fresh, high-quality ingredients. Plus, it gives you a reason to go back time and again to see what new specialty beverage or baked good is featured for the day or week, and you can hang out with your food, drink, and pet at one of the outdoor tables.
11. BJ's Restaurant and Brewhouse
Some chain restaurants in Gainesville, FL, welcome pets, and BJ's Restaurant and Brewhouse is one of those. At BJ's, a dog-friendly outdoor patio makes this an ideal spot to have some food with friends, and your pet. Don't let the fact that this restaurant sits by a mall keep you from trying it out. The Deep Dish Pizza is a crowd favorite, and they also have slow-cooked meat and Mediterranean chicken pita tacos that are quite tasty. The Pizookie is a favorite, and famous, dessert.
12. Public & General
P&G is a neighborhood spot in NE Gainesville. They have a revolving mix of super-fresh "pub"-style food, as well as more elevated options for every palate. They feature a wide array of craft beer, wine and creative cocktails. Friendly, conscientious service and fall weather on their patio with your furry friend makes it wonderful candidate for your new go-to spot.
Making a Home in Gainesville, FL
Gainesville is a great place to live. Not only does it have all of these dog-friendly restaurants, but it also has popular summer camps, family-friendly activities, and interesting cultural attractions. You will find ample opportunities to enjoy your local community when you make Gainesville your home.
There are many factors that contribute to your health and happiness within a particular neighborhood, including the quantity and quality of local dining, retail and entertainment establishments, as well as cultural and natural attractions and public amenities. It also comes down to your home and how it suits your family. If you've outgrown your home in Alachua County or your lifestyle needs have changed, expanding or remodeling is a viable solution that enables you to stay where you love while enhancing your family's quality of life. Specializing in both commercial and residential remodels, as well as new home construction, Robinson Renovation & Custom Homes and our team of professionals can help you find a meaningful, long-term solution for upgrading your house.