Florida has so much to offer and finding the best fit for you can be a really exciting process. With over 200 sunny days per year, a plethora of cultural sites, family friendly cities, and an abundance of nightlife, Florida is an oasis. This state has plenty to offer for anyone seeking a high quality of life, affordable living, an excellent place to raise a family, and anything in between.

Gainesville
Gainesville is one of the most affordable places to live in Florida, particularly for what it offers in return. It also boasts a booming nightlife with plenty of restaurants, bars, and music for every taste. Residents happily report how pet-friendly the city is, too! The city is also for the outdoor enthusiast, with not only lakes, springs, and rivers within reach, but also a variety of fun summer camps!
Gainesville is also one of the best cities to live in Florida for families. The K-12 public education system is highly ranked and the city is home to the University of Florida. With so many excellent qualities, Gainesville truly is one of the best cities to live in Florida.

Tallahassee
As the capital of the state of Florida, Tallahassee is a cultural center. Packed with museums like the Museum of Florida History, Florida Historic Capitol Museum, and Tallahassee Museum. The city also offers hundreds of miles of biking, hiking, paddling, and riding.
Tallahassee is incredibly family-friendly, with the public education system being highly ranked and the city's low crime rate. Further, High school students in the area rank eighth for college readiness among the 150 most populous metro areas in the U.S.

Pensacola
The panhandle of Florida has a quiet real estate market making it an affordable place to live. Pensacola is a fantastic place to invest in, especially on a budget.
White sand beaches and emerald waters make this city a perfect destination for anyone seeking a dense suburban beach town with growing jobs in healthcare manufacturing, and tourism, plus opportunities for entertainment and relaxation. The bays and Gulf also make this an excellent place to live for anyone interested in fisheries and dining.

Orlando
As the well-known home of Walt Disney World and Universal Orlando Resort, Orlando is an excellent source of entertainment. Aside from the more well-known reputation Orlando has, its downtown is bursting at the seams with nightlife, dining, and live music. Residentially, Orlando is filled with bungalows and the market is very competitive. With a steady influx of young professionals, the housing inventory is notoriously low, but so is the average home cost. If Orlando is where you'd like to call home, be ready to make offers quickly.

Melbourne
Melbourne is a mostly suburban area enjoyed by families, young professionals, and retirees alike. It's also the most populated part of Florida's Space Coast which sits nearby Cape Canaveral and the Kennedy Space Center. Due to its location on the Space Coast, the city strives to blend arts, science, and economic development. Melbourne's arts district is bustling with museums and galleries.
As for nature lovers, Melbourne is in very close proximity to the 155-mile long estuary, Indian River Lagoon, for surfing, manatee watching, hiking, and kayaking. Families who enjoy these outdoor adventures will also enjoy the city's thriving public education system which ranks among the best. Further, with median home prices below the national average, high quality of living doesn't have to come with a high price tag.

Port St. Lucie
Port St. Lucie has been growing in value for years. Like a lot of the Florida metro areas, the cost of living in the area is relatively high, but with good reason. Boating and fishing is a favorite activity in the area, but one of the best features about Port St. Lucie is its laid-back environment and safe neighborhoods where people can raise a family. It was actually voted the 11th safest city in Florida in 2021. Port St. Lucie is also quite close to the Atlantic beaches. Port St. Lucie gives you access to some of Florida's finest features while providing a safe place to live.

Tampa
Tampa is another city that has experienced an impressive level of growth in recent years. With pristine beaches, clean streets, and a bustling economy, Tampa is a destination for homeowners and tourists alike. The city also boasts an affordable cost of living, making it a destination for retirees as well as young professionals.
Between hockey, football, and baseball, sports are a big part of life in Tampa. Tampa is a center of entertainment and is rich with museums, shops, parks, and restaurants. Other popular attractions include Busch Gardens, the Florida Aquarium, and a number of cultural centers.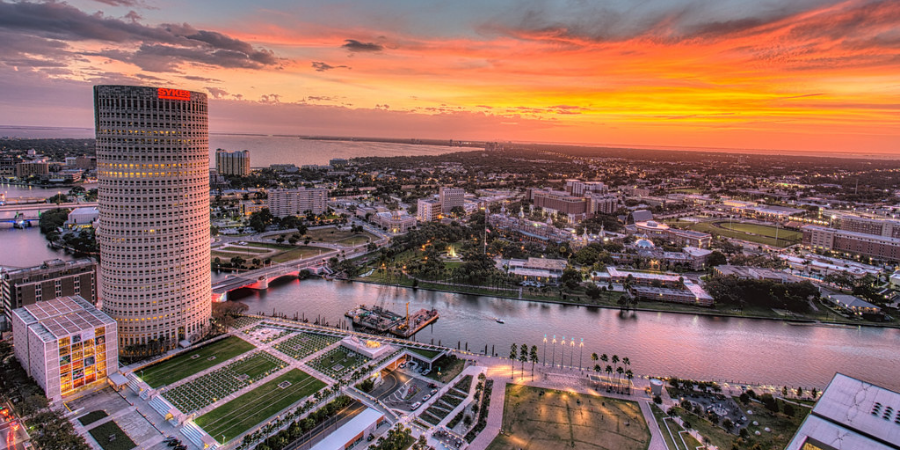 Finding the Right Fit in Florida
Florida houses diversity among people, entertainment, and environments. Living inland offers proximity to lakes and waterways, and on the coast, white sand beaches and sea breezes. The list of desirable places to live in Florida goes on and on, with some areas offering far more than others. Gainesville, Florida is one of those places. Whether buying a home and looking to make it your own with a renovation or building a custom home from start to finish, contact Robinson Renovation & Custom Homes. This design-build firm is fully outfitted with an in-house team of experts ready to make your Florida move a breeze.