Gainesville, Florida, has a well-established reputation as a college town, thanks to the Florida Gators. In recent years, however, the city and surrounding Alachua County area has become home to an increasing number of young professionals and families (and pets).

One good reason for this shift, besides the burgeoning job market for science, technology, and medical careers, is the plethora of community attractions, amenities, and activities that enhance the area and make it an inviting place to raise your family. Throughout the year, you will find a variety of festivals and events in and around Gainesville, not to mention an abundance of outdoor recreation opportunities. If you plan on staying in Gainesville or are bored during a remodel, this list is for you!
But first, a friendly reminder to check for any adjusted hours and policies for visiting each location before you go.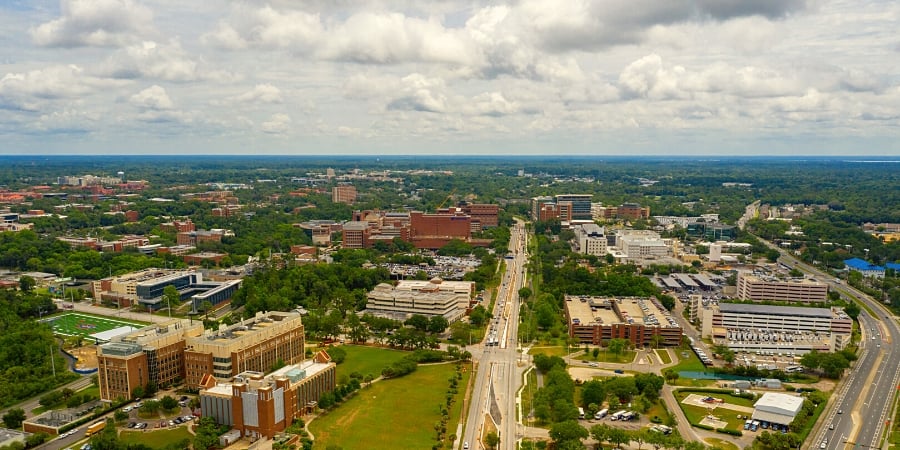 Things to Do in Gainesville, Florida with Kids
When it comes to taking a special outing with your kids for educational or entertainment purposes, Alachua County has plenty to offer both seasoned residents and new homeowners. Here are some of the best things to do in Gainesville that your whole family can take part in:

1. Cade Museum for Creativity and Invention
The Cade Museum for Creativity and Invention, located at 811 South Main Street in Gainesville, is named for Dr. James Robert Cade, a former professor at the University of Florida and the lead inventor of the sports drink Gatorade. The Cade Museum, which opened to the public in 2018, pays homage to Cade's "outlandish spirit, zest for life and new ideas, and his constant, genuine interest in helping, motivating, and encouraging people of all ages and experience." The museum hosts camps, fields trips, and other programs, in addition to featuring a variety of exhibits. You can visit from 10 a.m. to 5 p.m. Wednesday through Saturday or from 1 to 5 p.m. Sunday. Adult admission is $12.50, while children ages 5 to 17 are $7.50 and children 4 and younger are free.

2. Ben Hill Griffin Stadium
Ben Hill Griffin Stadium, known affectionately as "The Swamp," is the football stadium for the University of Florida's football team. The facility is located on the university's Gainesville campus and has undergone several renovations since its construction in the 1930s. "The Swamp" is the largest stadium in Florida—and often considered one of the toughest environments for visiting teams. Catching a football game is a fun tradition to start with your family, especially since there's no bad seat in the house, but you can tour the state-of-the-art sports complex year-round.

3. Florida Museum of Natural History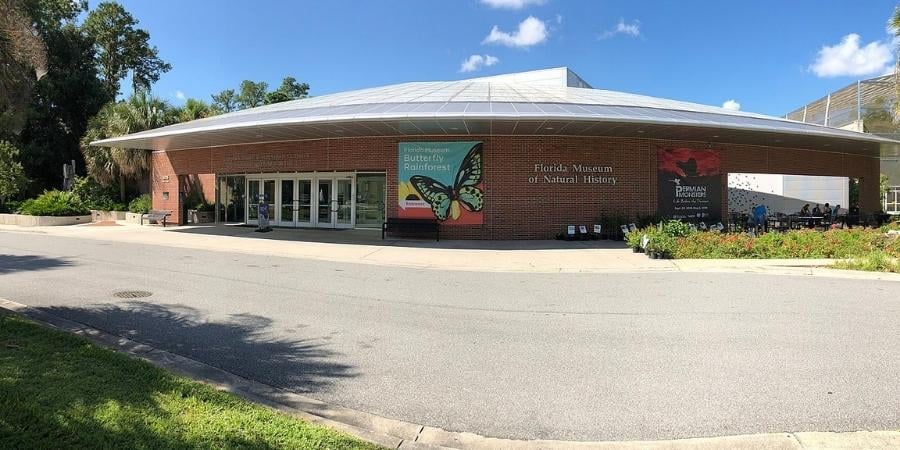 Photo by: Todd Van Hoosear - 2018 Economic Development Tour of Greater Gainesville
The Florida Museum of Natural History, located on the University of Florida campus in Gainesville, is one of the top five natural history museums in the nation. The museum has eight permanent exhibits, as well as a collection of limited-time-only exhibits and several outdoor areas that children love to explore. One of the most popular exhibits among families is the museum's Butterfly Rainforest, featuring hundreds of free-flying butterflies and birds from around the world, as well as an assortment of other animals, such as turtles and fish. The rainforest environment is landscaped with tropical trees and colorful flowering plants. You can view the live butterfly spotlight at 2 p.m. every day, as well as 3 p.m. on Saturday and Sunday, weather permitting.

4. The Retirement Home for Horses
The Retirement Home for Horses at Mill Creek Farm is an equine sanctuary that sprawls across 335 acres in North Central Florida and is home to about 140 horses, two donkeys, and a mule. Many of the residents at the sanctuary had former careers in the police force or military or as circus horses before retiring to Mill Creek Farm. Others were rescued by the SPCA and other organizations. You can visit the farm from 11 a.m. to 3 p.m. Saturdays for the low admission cost of two carrots. Additionally, about 50 acres of the site are native woods and wetlands and home to numerous animals, including deer, fox, rabbits, squirrels, and many species of birds.


5. Devil's Millhopper Geological State Park
Devil's Millhopper Geological State Park is a hidden miniature rainforest amid North Central Florida's otherwise sandy terrain and pine forests. At the park, which is designated a National Natural Landmark, you will find lush vegetation and small streams flowing down the slopes of the limestone sinkhole. You and your family can enjoy picnicking, hiking, and wildlife viewing, as well as learning more about the sinkhole through interpretive displays. The hours for Devil's Millhopper are 9 a.m. to 5 p.m. Wednesday through Sunday. The park is closed Monday and Tuesday. Admission fees are $4 per vehicle carrying up to eight visitors. Pedestrians and bikes are $2.


6. Harn Museum of Art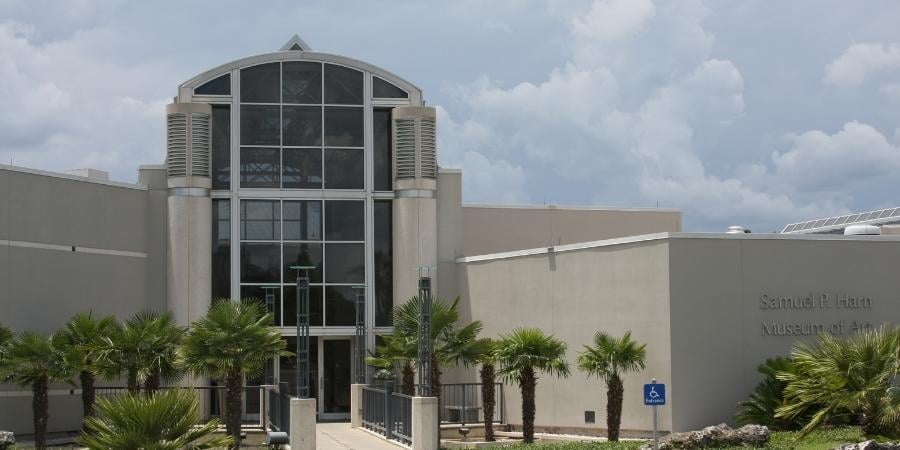 If you're looking for things to do in Gainesville this weekend, consider the Harn Museum of Art located on the University of Florida campus. The museum's exhibitions change frequently, but the facility has five galleries that are dedicated to collections of African, Asian, modern, and contemporary art and photography. Young visitors may especially gape with wonder at the 24-foot "Hammering Man" outside the building and "Rory," a 6-foot tall horse comprised of scrap steel and tractor parts. After your tour, you can grab a bite to eat at the Camelia Court Café and browse the gift shop. Admission to the Harn Museum of Art is free unless otherwise noted for specific programs.


7. Santa Fe College Teaching Zoo
Although the Santa Fe College Teaching Zoo is part of the institution's Zoo Animal Technology program, it is also open to the public and well worth the visit for Gainesville families. The 10-acre SF Teaching Zoo, the only zoo on a college campus accredited by the Association of Zoos and Aquariums (AZA), is home to more than 70 species of animals, including Bald Eagles, White-throated Capuchin Monkeys, Matschie's Tree Kangaroo, Asian Small-clawed Otters, and American Alligators. The students enrolled in the program maintain the facility and care for the animals. You can meander the ¼-mile trail through the zoo, which is stroller and wheelchair accessible. The zoo is open seven days per week and visiting hours are 9 a.m. to 2 p.m.
8. Kanapaha Botanical Gardens
Walking around a garden is a delight, especially when you can see specimens that you've never glimpsed in the wild. The Kanapaha Botanical Gardens features acres of green space for quiet reflection and the simple joys of the unusual or unexpected. Take a walk on the 1.5-mile path and see more than 24 collections. Bring a picnic and head to the children's gardens for a bit of whimsy and wonder.
Hoping to find hidden things to do in Gainesville FL? Start with the best springs.
9. Haile Homestead
If you want to know things you can do in Gainesville this weekend and you have just a little room in the budget, consider taking the kids to the historic Haile Homestead. This historic cotton plantation is an excellent opportunity to show your children important aspects of the region's history, particularly through the writings on the "talking walls." There are several weekend tours at $5 for adults and free for children under 12.
What Can You Do in Gainesville that is Fun, and Low-Cost?
If you're looking for free or low-cost things to do around Gainesville FL, you could try these options:
Sweetwater Wetlands Park
Haile Homestead
University of Florida Bat House
Harn Museum of Art
Gainesville-Hawthorne State Trail
Sweetwater Wetlands Park is more than 100 acres of wetlands that costs $5 per car and $2 per person. Bring your binoculars and catch a bird's leap into flight. Walk along 3.5 miles of gravel paths and boardwalks to find alligators, butterflies, and more. Just remember that the park closes promptly at sunset, so you should pay attention to the time before you go.
How Far Away Is Gainesville From the Beach?
Gainesville is about 90 miles from many of the popular beaches near cities like Jacksonville, St. Augustine, Daytona Beach, and more. With regular traffic, it will take a bit less than two hours to arrive. Fortunately, Gainesville's position in the state puts it within driving distance of many of Florida's most populous cities, which is perfect when you're looking for a getaway.

Building Your Home in Alachua County
As a hub of both cultural and natural amenities, Gainesville, Florida, is an enjoyable place to both visit and to set down roots. If you can see yourself living in an area with top-notch resources but a small-community feel, Robinson Renovation & Custom Homes can help you build a home in Alachua County. We specialize in both quality design and construction services so you can work with one qualified team from start to finish on your new home build or residential remodeling project.