Although predominantly known as the home of the University of Florida and the Gators, the city of Gainesville, Florida, has plenty more to offer in the way of superior education at all levels, a strong job market, beautiful natural settings, amazing things to do with your furry friends, and a high quality of life.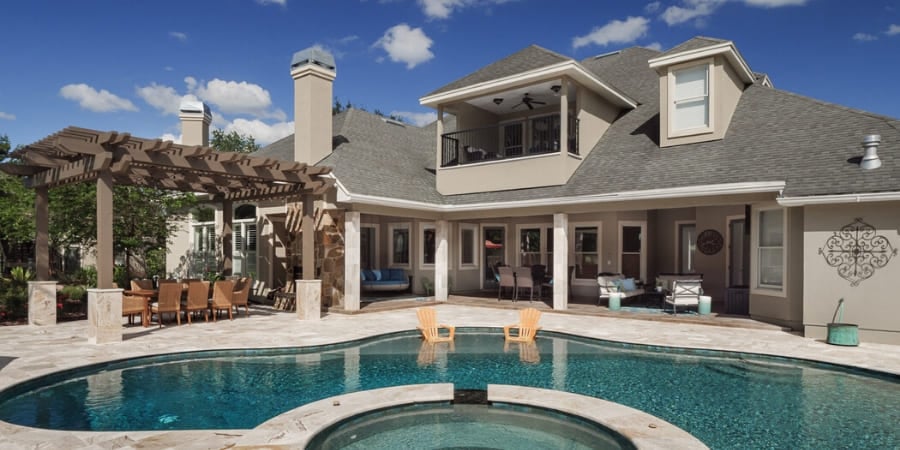 Not only is Gainesville one of the best places in the nation to retire, but the city is suitable for residents of all ages. It satisfies current homeowners and beckons new ones with its promise of natural beauty along with an abundance of cultural, recreational, and public amenities and reasonable home-building costs.
Is Gainesville, Florida, a Good Place to Live?
Deciding where to live is based on the nuanced evaluation of numerous factors. You may be drawn to a location because of school or a job, a show, or you may desire to live closer to family. It's also important that your new community satisfies your lifestyle needs and future goals. If you plan on moving or building your next custom home here, this may be the guide for you.
No matter your motivation, here are 10 reasons to consider building your custom home in Gainesville, Florida:
1. Highly Rated K-12 Education
Gainesville is serviced by Alachua County Public Schools, a district that consistently receives high ratings from the Florida Department of Education for its 46 high, middle, and elementary schools. According to the school district, their vision is to bestow graduates with the knowledge, skills, and personal characteristics to be lifelong learners and productive, contributing members of the community. If you are looking for specialized high schools to educate your exceptionally driven students, F. W. Buchholz High School and P.K. Yonge Developmental Research School have both received a College Success Award from Greatschools.org. If you want to work in education, you also can find employment opportunities within the regional school system.
2. Higher Education Opportunities
Although the University of Florida isn't all the city of Gainesville has to offer, it does serve as a strong economic driver in the area, along with supporting world-class medical facilities that are anchored by the university's research. It was founded in 1853 and has evolved into one of the largest research universities in the country. The University of Florida is currently ranked No. 30 among national universities, according to the U.S. News and World Report. Santa Fe College, also based in Gainesville, is another quality institution within the Florida College System. In 2015, Santa Fe College was recognized by the Aspen Institute as one of the top community colleges in the nation.
3. Comfortable Year-round Climate
Florida is often associated with hurricanes, but locals can tell you that, weather-wise, the area experiences an ample amount of sunshine and a mild year-round climate. Gainesville experiences an average of 224 sunny days per year. While snow is a rarity—it hasn't snowed in Gainesville since 1996, according to the National Weather Service—the city does experience an average of 50 inches of rain per year. Generally, the temperature is between 60 and 80 degrees, with lows in the 40s during the winter and highs that are upwards of 90 degrees in the summer making for some balmy beach-perfect weather. The most comfortable months in Gainesville are October and November. Additionally, because Gainesville is located in the north-central region of Florida, it is rare that Atlantic hurricanes severely impact the community.
4. Thriving Economy
As innovation and technology have evolved, Gainesville's economy has expanded as well. You can find jobs with living wages in Gainesville in a variety of industries, including education, healthcare, advanced manufacturing, information technology, software, green technology, logistics, and agriculture. About 24% of Gainesville residents hold a bachelor's degree and 21% have a master's degree or higher—both of which are higher than the national averages of 20% and 12%, respectively. This contributes to a talented workforce that supports the thriving economy. The median income in Gainesville per household was about $37,000, as per the last census. The average income per individual is about $23,000. However, there are numerous high-paying jobs in Gainesville, Florida, in healthcare, finance, education administration, and marketing.
5. Entrepreneurial Support
Gainesville is a hive for startups and entrepreneurs, thanks to resources offered by Santa Fe College, the University of Florida, and the overall supportive business climate in the area. For several years, community leaders, stakeholders, and government officials have contributed to innovation in Gainesville, working to create jobs, bring in new businesses, and sustain existing ones. The city received the 2019 Insurify STEM award for the top city in the state of Florida demonstrating exceptional dedication to the advancement of science, technology, engineering, and math (STEM).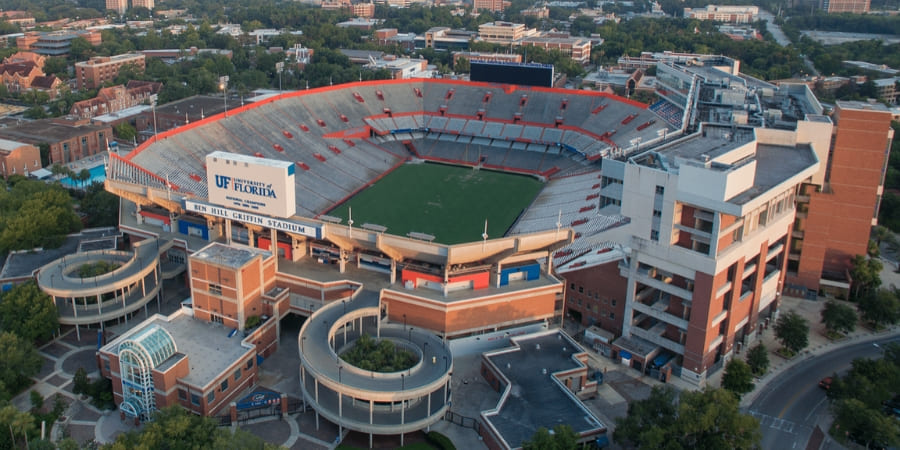 6. Sports and Recreation Opportunities
Whether you enjoy watching sports or engaging in them and other indoor and outdoor recreation, Gainesville is the answer. The city oversees dozens of municipal parks, as well as more than 30 miles of hiking trails, and the community, in general, is very bike-friendly. There are six state parks nearby, including Ichetucknee Springs State Park, which spans more than 2,500 acres, including eight crystalline springs. Throughout the year you can also go tubing, diving, or kayaking on the Santa Fe River. Another plus for families is the selection of summer camps for children in the area. Additionally, the Florida Gators have a consistently top-ranked football program, and home games at Ben Hill Griffin Stadium give sports enthusiasts one more fun thing to do during the fall.
7. Dining, Shopping, and Entertainment
Gainesville has a thriving downtown that encapsulates some of the city's best dining and entertainment. In your free time, you can visit the famous butterfly rainforest at the Florida Museum of Natural History or head to the Cade Museum for Creativity and Invention or Samuel P. Harn Museum. It is the site of regular art festivals, the Hippodrome Theater, and one-of-a-kind shops.
8. Diverse Population
Because of the reasonable cost of living, temperate climate, and access to activities, Gainesville is perceived as a desirable retirement destination. However, the younger population also has burgeoned as of late. Young adults between the ages of 20 to 35 comprise about 40% of the city's total population and families with young children contribute another 38%. The city is also ethnically diverse with vibrant cultural communities. These trends are due in part to the increasing number of university students who choose to stick around after they graduate because they can find rewarding jobs in established and emerging industries in the Gainesville area.
9. Superior Quality of Life
Because of its mild climate, affordable cost of living, and vibrant arts and culture community, Gainesville is a welcoming place to live. In general, Gainesville's cost of living is about 5% lower than the median for the United States, and housing costs are lower than both national and state averages. One area where you may experience above-average COL expenses is utilities, which is generally attributed to keeping your home cool during the summer months. In terms of healthcare services, two of the state's best medical centers are located in Gainesville: North Florida Regional Medical Center and University of Florida Health. There is also the Malcom Randall Department of Veterans Affairs Medical Center which provides an array of specialty healthcare services and is also an active teaching hospital.
10. Easy Commute
Although there are plenty of things to do in Gainesville proper, the city's central location makes it easy to visit and explore other top-notch Florida destinations. If you desire a more urban vibe, you can take a day trip to Orlando. Atlanta, Georgia, is approximately five hours away by car, while Charlotte, North Carolina, is less than seven hours away. When you're ready to take advantage of Florida's warm weather and hit up the beach, the Atlantic coast is only an hour and a half from Gainesville, and the coast off the Gulf of Mexico is even closer. Meanwhile, there are numerous lakes, springs, and rivers in the Alachua County area.
Building a Home in Gainesville, Florida
From families with young children to professionals of all ages, Gainesville has something to offer a wide range of existing and prospective residents. Whether you crave the sunshine, the robust business climate, the abundance of living-wage jobs, or the blend of urban vibes and community spirit, Gainesville is a great place to consider creating your new custom home. Once you've decided to settle in Alachua County, Robinson Renovation & Custom Homes can help make it happen. Our team will collaborate with you to design and build a custom home that serves your needs and lifestyles preferences, giving you the perfect home base for living, working, and thriving in Gainesville.