Making major renovations on your home is a great way to add resale value to your property, enhance your own enjoyment, and improve your daily life in general. Major renovations will improve the look, feel, utility, and value of your home, but it is a major investment.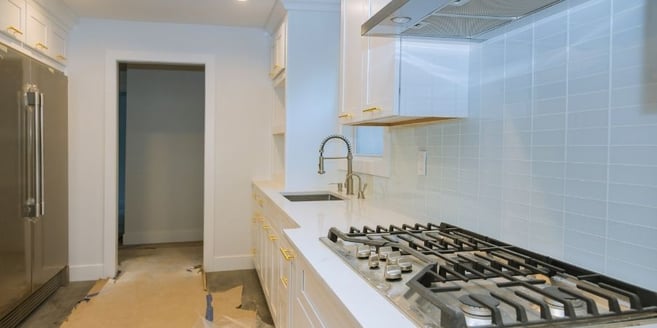 For many, the easiest way to stay on top of the project is to remain on the property. Naturally, this will be a bit of a balancing act. It's likely to come with some advantages and some clear disadvantages. Here, we would like to discuss some of the pros and cons of staying in your house during renovations. We will also cover some circumstances in which it is more or less feasible.
Pros, Cons, & Tips on Staying Home During Renovations
If you like roughing it, if the weather is still reasonably nice, and if you enjoy a change of pace, staying at your Gainsville home during your renovation can be rather enjoyable. If, on the other hand, you prefer more of a feeling of stability and regularity, it could feel like a prolonged chore. Either way, it's going to be a lot more affordable than going on vacation or staying at a hotel. Here are some of the things you should consider.
Pros
There are significant advantages to staying on location during your home makeover. Here are some of the most important benefits.
Develop a Good Relationship with Your Contractor
Once you've worked with a reputable design-build team who does great work and sticks around until you're satisfied with a job well done, you'll be unlikely to switch to another. What better way to learn about their process, and make sure you get the renovations you have in mind?
Save Money on Accommodations
Depending on the scope of your renovation project, it could take anywhere between three weeks to four months or more. The amount of money you would spend on even the most affordable lodging would represent a significant dent in your budget.
Gain a Throughout Understanding of the Process
The design-build process is complex. Our team is a full, design-build contractor, handling the design, before and after consultations, and the construction process. The advantage to this is there will be fewer to no communication failures and an optimal likelihood that you will get exactly what you had in mind from the start while staying under budget.
Cons
Inevitably, there will be some disadvantages to watch out for. Here are some things you should be mindful of during your stay-at-home renovation.
Messy, Noisy, Disruptive
Construction work is loud and dirty. It takes up time and space. If you're going to be trying to do work at a home office during construction hours, it's likely to be a problem.
Access to Your Home Will be Limited
For your safety, and for the efficiency of work being performed, you will be unable to use rooms that are under construction.
Renovations May Take Longer
If you and your construction team have to work around each other, the job may take longer than it normally would. This can also affect the overall price of the job.
Tips for a Stay-at-Home Renovation Experience
Protect Your Valuables
Be sure to move anything you want to keep safe away from work zones. Use a shed or rental storage facility to ensure workers and valuable items don't collide.
Have a Plan B
Staying at home during a renovation can prove to be more than you had bargained for. Therefore, it's a good idea to have other accommodations ready to go.
Know Your Contractor's Work Schedule
If possible, you want to avoid your activities and construction activities getting in each other's way. Keep a schedule of your team's work hours so as to avoid any surprises.
Some Projects are More Intrusive Than Others
Projects that involve multiple rooms, especially kitchens, bathrooms, and bedrooms are especially intrusive. You don't want to count on camping in the yard if a major makeover is underway...unless you have a camper!
Read More Tips for Staying at Home During a Remodel.
Should you choose to stay on the premises during your renovation project (and maybe go exploring in the meantime!), it's best to work with a design-build contractor who understands your reasons and will be willing to work with you. Here at Robinson Renovations & Custom Homes, Inc., our team will be happy to help you make the most of a stay-at-home renovation project. We'll work out mutual scheduling, and our team will be happy to meet with you regularly so that our job and your life can go forward smoothly. Get in touch today to learn more.