The idea of making a home better suited to the needs of an aging occupant is far from new. But with modern technology, materials, and tools, today's homeowner has a better chance than ever of being able to stay home comfortably and safely while increasing the value of your home. The trends and tools for achieving this have changed quite a bit over the years. Here, we'll cover some of the best tips, tools, and trends for aging in place remodeling.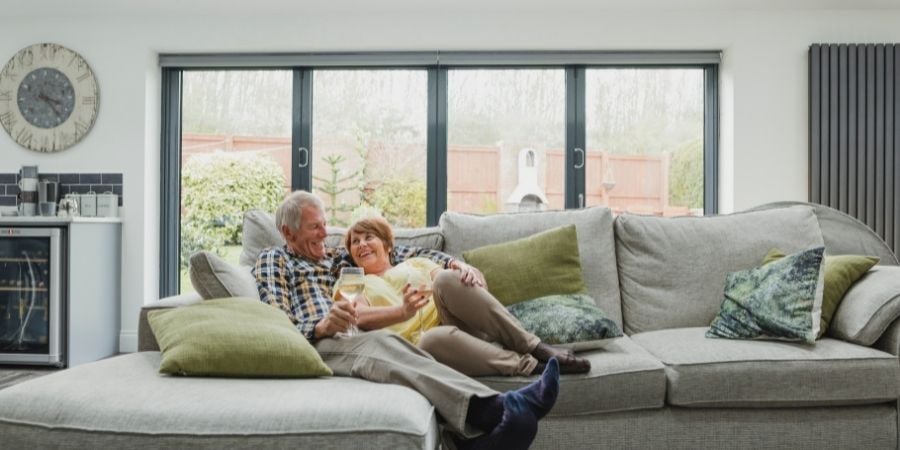 It should be said that the key to aging in place successfully requires humility, wisdom, and patience. For example, we may need to restrict our daily activities to the first floor of the home. We may need to change the way we perform various activities. Remodelers who understand the needs of senior homeowners can help you to design your home for maximum safety and enjoyment. The following lists and tips are meant to show you what's common and what's possible. Naturally, the end result will be up to you.
Remodeling Trends for Aging-in-Place Gracefully
One of the first concerns of many of our aging-in-place clients is that the new modifications will lack the charm and comfort they are accustomed to. They are concerned that the character and coziness of their home will be hindered by clinical and charmless safety-related additions. This concern is both reasonable and valid. That's why our remodeling experts consult with you (especially when it's time to renovate) diligently to draft aging-in-place house plans that serve your health and safety needs while helping to retain the charm of your beloved home.
Fall Prevention Modifications
When it comes to interior design meant to help seniors live well and stay healthy, fall prevention is of the utmost importance. The most common way of achieving this includes safety bars in kitchens and bathrooms and non-slip flooring. Other important features of this kind are ramps at exits and entryways. Ramps are useful not just for wheelchairs, but for removing a lip that can cause trips and falls.
Naturally, one of the first things many people think of in universal design is the iconic stairway chair lift without asking any questions. These are great not only for eliminating a major hazard, but they can also save an aging homeowner from exhaustion, which can be dangerous. This is not the only way to modify stairs for the elderly, but it is an efficient and even luxurious, life-saving option.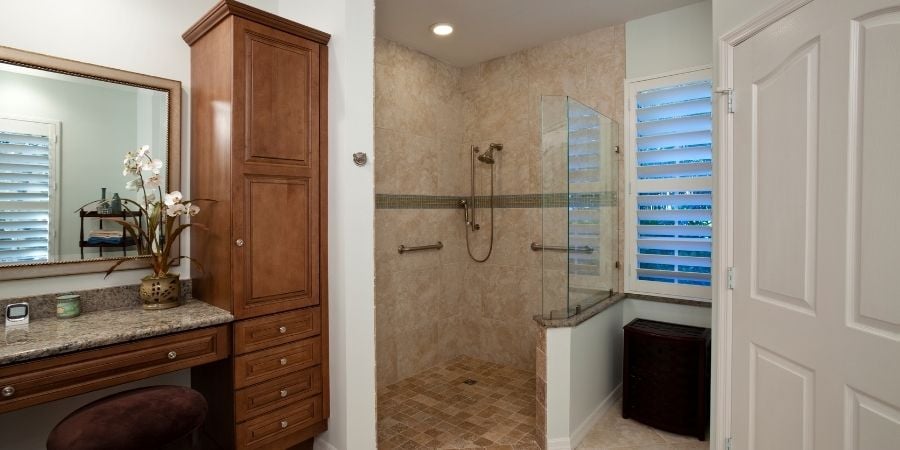 Outside of this what we want to look at closely are safety rails and non-slip flooring in the kitchen, bathroom, and entryways. Any place with slick flooring where water can form a slip hazard is a good candidate for senior kitchen/bathroom makeovers. In the bath, curb-less showers and seating are a good idea. Special tubs are made to make getting in and out easy, and shower seating makes getting in and out even simpler.
Not to be forgotten is the quality of these features. Wooden rails and stylized non-slip textures provide all the safety you're looking for without looking clinical or otherwise unappealing. Other considerations could be ensuring doorways are wide enough to accommodate a wheelchair or walker, kitchen work surfaces at a chair height, and easy to operate hardware and fixtures in all areas.
Optimized Lighting
Reduced eyesight is a common thing many aging people live with. Having reading and prescription glasses at various points about the home is an important part of the solution. Another is enhanced lighting. Lighting that is more powerful than usual is a good option when coupled with dimmer switches and knobs. Easy to see and easy-to-use light switches and other control features are available to aid the visually impaired.
Accommodating Home Health Aids
Finally, we must consider the likely possibility of incorporating the services of a home health care provider in your aging-in-place plan. Special accommodations are recommended for live-in aides. Short of that, medical supply cabinets, a writing area for leaving shift change notes, and specialized communications devices are recommended.
Of course, this is far from an exhaustive description of all the options available to you when considering aging-in-place in your Gainesville home... To learn more about your options and what's available, find our contact page here.
Design Senior Living Accommodations to Suit Your Unique Needs
Every senior citizen is different, with different needs, interests, and limitations. Here at Robinson Renovation & Custom Homes, Inc., our goal is to leave you comfortable and confident in your newly renovated surroundings. That means, delivering ideal Gainesville home makeovers that work for the individual client. We work with you closely, carefully following your wants and needs to make your aging in place experience everything it can be and more. Get in touch today to make your retirement home everything you hoped it could be.