6 Min Read
Best Springs, Rivers & Lakes Near Gainesville
It's summertime in Florida, which means swimming, sailing, and soaking up the sun are on the agenda.
One of the best perks of being a homeowner in Alachua County is living in close proximity to numerous lakes, rivers, and springs where you can enjoy a variety of outdoor recreation. Whether you're in the mood for a peaceful river for an afternoon of sunbathing and relaxation or you prefer a refreshing watering hole where you can take a dip, there are plenty of options within the Gainesville area.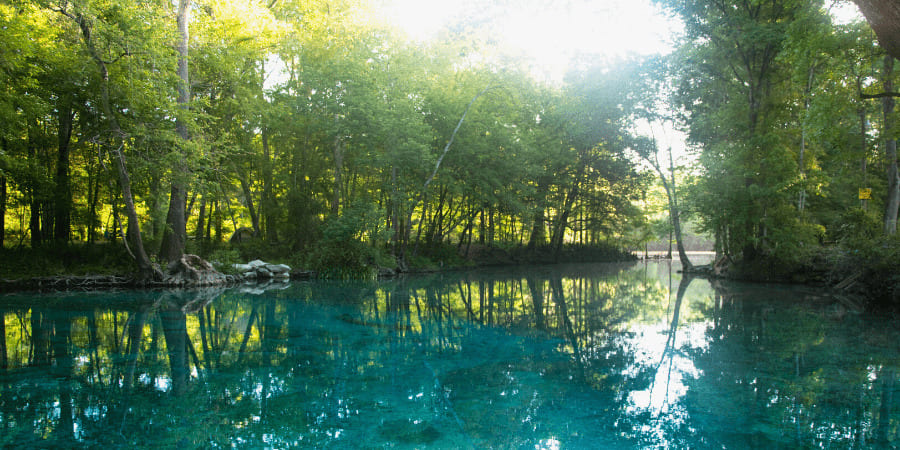 Springs Near Gainesville, FL
Looking for a freshwater spring to play in this summer? You're in luck. North Florida is home to over 1,000 freshwater springs, including several in Alachua County and the surrounding region. Here are a few to consider:
Ichetucknee Springs
At the Ichetucknee Springs State Park, you can float on the crystalline waters of the spring-fed Ichetucknee River on a tube, relax beneath lush canopies of trees, and enjoy sightings of birds, turtles, and other wildlife. Of the several springs located in the park, Blue Hole Spring is the largest.
Poe Springs
Poe Springs Park—which encapsulates roughly 202 acres of scenic woodlands and rolling fields—includes Poe Springs, the largest spring in Alachua County. It pumps about 45 million gallons of fresh, cool water on a daily basis and your family can go swimming, kayaking, or tubing. The park also features nature trails, volleyball courts, picnic areas, and a playground.
Rum Island Springs
Rum Island Park, in Columbia County, gives you easy access to the dazzling, clear freshwater of Rum Island Spring, one of the many springs located on the Santa Fe River. The park is open year-round and you can enjoy not only swimming, but also canoeing, boating, snorkeling, fishing, and more. There are also picnic tables and public bathrooms at this family-friendly park.
Gilchrist Blue Springs
At the Ruth B. Kirby Gilchrist Blue Springs State Park, in High Springs, family fun and pristine waters await. The park encompasses a collection of natural springs, including the Gilchrist Blue Spring, which produces an average of 44 million gallons of water per day and has remarkable water clarity. You can also recreate at other scenic springs in the park, including Little Blue Spring, Naked Spring, Kiefer Spring, and Johnson Spring.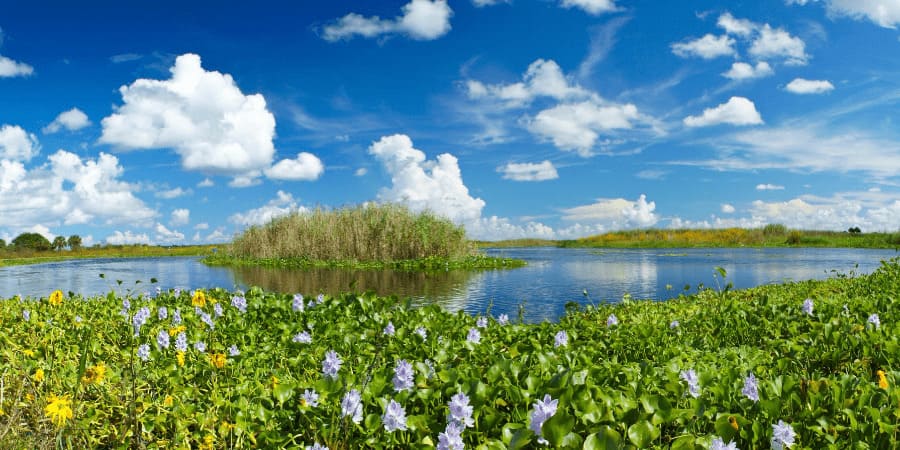 Rivers in Florida
If you're in the mood for water-tubing, canoeing, kayaking, or sailing, there are several rivers near Gainesville to visit, and often the rivers and springs go hand-in-hand. Some of the popular rivers for recreation around Alachua County include:
Ichetucknee River
The Ichetucknee River is a scenic, spring-fed river in North Central Florida. The river is about 6 miles long and most of it lies within the boundaries of the Ichetucknee Springs State Park, connected by its eight major crystalline springs. The rest of the river is located to the south of U.S. Highway 27. The river averages about 20 feet wide and 5 feet deep. Once you're done with your water adventure, get out on the land via three nature trails that wind through lush park forest and a majestic sandhill environment.
Hogtown Creek
You don't have to travel far from your home in Gainesville to experience Hogtown Creek, which has several tributaries including Possum, Rattlesnake, Elizabeth, and Springstead creeks. You can view and enjoy the creek at the several different City of Gainesville Parks, including Alfred A. Ring Park, Loblolly Woods Nature Park, 29th Road Nature Park, Green Acres Park, Westside Park, John Mahon Nature Park, Coffrin Nature Park, and Split Rock Conservation Area. There's also a new park to enjoy: Hogtown Creek Headwaters.
Santa Fe River
The Santa Fe River in Florida begins at Lake Santa Fe, Lake Alto, and their respective swamps to the northeast of Gainesville. From there, it flows west approximately 44 miles. About a half-mile mile downstream from the main parking area at O'Leno State Park, the Santa Fe disappears—or rather flows for little more than 3 miles into a sink in the underlying karst limestone formation known as the Cody Scarp. The river resurfaces at River Rise Preserve State Park.
Lochloosa Creek
Lochloosa Creek, the largest tributary to Lochloosa Lake and longest creek in Alachua County, doesn't get as much attention as the major rivers but it is a good source for summer fun. The lake itself, located 5 miles south of Hawthorne near the town of Lochloosa, is designated as a Fish Management Area. There is public access to the water in a couple of locations, as well as a public pier south of Lochloosa on Burnt Island.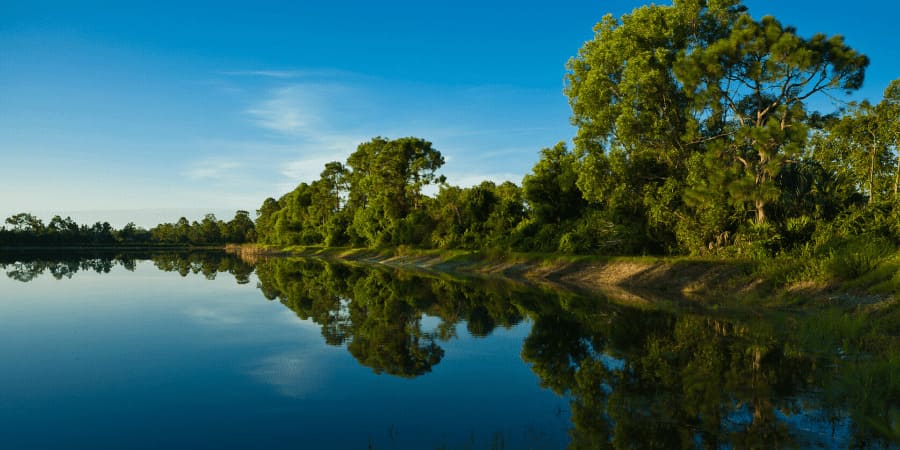 Lakes in North Florida
While springs are a big draw for families in Gainesville, there are also several welcoming and refreshing lakes in North Florida. This summer, consider a visit to these popular sites:
Newnans Lake
Newnans Lake, just east of Gainesville, is a freshwater fishing paradise. The 5,800-acre lake, designated as a Fish Management Area, is stocked with catfish, bream, black crappies, and some largemouth bass. Newnans isn't the best spot for swimming, but you can boat or canoe on the water. Additionally, Newnans Lake State Forest is great for other recreational activities, such as hiking, mountain biking, nature study, and wildlife viewing.
Lake Santa Fe
Looking for one of the best swimming lakes in Florida? Lake Santa Fe has got you covered. Located in Melrose, about 20 minutes northeast of Gainesville along State Route 26, the spring-fed lake is divided into two bodies of water that are connected by a narrow pass. Besides swimming, locals and visitors use the lake for water skiing, tubing, paddling, and fishing.
Lake Wauburg
Lake Wauburg is a special outdoor recreation site reserved for University of Florida students, faculty, and staff, although they can bring up to four guests. The lake and its associated park offer opportunities for swimming, boating, volleyball, and other athletics. There are also picnic tables and grills for day-users to enjoy.
Lake Alice
Lake Alice, a small scenic lake on the University of Florida campus, is primarily a wildlife area that is used by students as a sort of outdoor classroom. However, there is also a boardwalk on Lake Alice's northern side that takes you through the woods and swamp to a viewing platform. Since the lake is home to alligators, turtles, and birds, however, you can't enter the water.
Curious, Historic, & Otherwise Unusual Gainesville Springs
Not all of Gainesville's natural springs are simply ordinary springs. Some are contained within a private property or closed off to the public for various reasons such as safety or natural and unnatural contamination. Still, others are curious about their unusual properties which make them scientifically anomalous or otherwise interesting. If these types of springs capture your imagination, you may be able to contact the owner of the property to gain access to those which are generally barred from the public. Those which are not closed to the public are usually interesting for their historical relevance or for the structures and institutions built near or around them.
Before attempting to visit any of these springs, it is best to contact the property owner or public works division responsible for the area to gain permission to visit and to be informed about safety conditions.
Boulware Springs Water Works
This historic spiring was the meeting place where citizens originally cast their votes to create the town of Gainesville, FL. It was added to the national registry of historic places in 1985. It was the source of the city's water until 1913. The University of Florida relocated to Gainesville in 1901 as the city promised the school free water for as long as it existed. UF is still there today and the school still draws free water from the Boulware Spring.
Glen Springs
This hydrological spring is rated as a 5th magnitude spring. It has been a popular site for swimming and picnicking. Unfortunately, it is no longer maintained for public use and the property was closed in 1970 due to its being unstable. But it is still a scientific and ecological point of interest.
Hornsby Spring
This interesting spring is owned by a religious organization and closed to the public. Visitors may access it with permission. This spring was damaged by water pumping and has been contaminated. Even still, it flows intermittently and is ranked as a spring of the 2nd magnitude. The site is still considered an important location for prehistoric archaeological research.
Santa Fe Rise
Located within O'Leno State Park, the nearest city is High Springs. The park contains hardwood hammocks, sinkholes, sandhills, river swamps, and other interesting natural structures. The Santa Fe River winds its way through O'Leno Park where it vanishes into a sinkhole. The river reemerges three and a half miles away in the River Rise Preserve State Park- so named as the river rises to emerge in that park. There, it forms a land bridge that once supported part of Bellamy Road. The surrounding area is a popular location for biking, hiking, and horseback riding.
Treehouse Spring
Designated as one of Florida's most outstanding springs, Treehouse Spring is considered an irreplaceable natural resource and has been declared a protected area. Formerly a first magnitude spring, the water flow is now lower than it should be due to the fact that it was over-pumped. The water here is known to appear clear or tannic, depending on water conditions. The spot is a popular location for swimming and is on privately owned land, but it is undeveloped and not barred to the public.
Living in Alachua County
Water recreation is a way of life in Central Florida. With the myriad of lakes, rivers, and springs in the area, there is ample opportunity for swimming, fishing, and recreating on a daily basis. This summer, save yourself time to do the things you love by working with Robinson Renovation and Custom Homes on any residential renovation projects or new construction in Alachua County.