4 Min Read
10 Timeless Custom Home Design Trends in Gainesville, Florida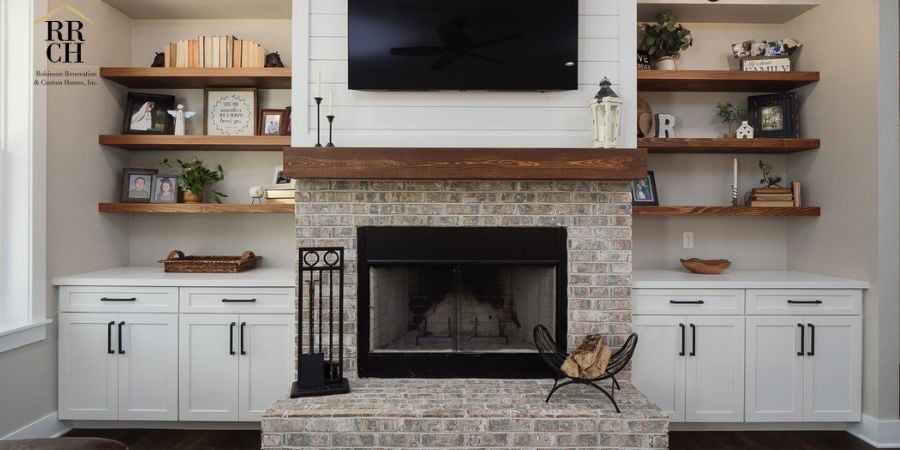 Your custom home should be filled with features and finishes that show your personal design style. To avoid indulging a little too much in the latest trends, however, you'll want to anchor your home with timeless designs that will stand the test of time. What makes a home timeless and why should you design your custom home with each? Let's find out.
The Most Timeless Features for Your Custom Home
1. Open Concept Floor Plan with an Island
Since open floor concepts came onto the residential scene with modern architecture, homeowners have realized the benefits. Open sightlines, making a home feel larger, offering families a feeling of connection, and having more space to entertain friends and family are the major upsides of this custom home layout. It won't be going out of style anytime soon, so including an open floor plan in your custom home will serve you well for years.
2. Built-Ins
Built-ins are a great way to show off your personal style, offer function in every room, and minimize the pieces of furniture you'll need to store everything from electronics to books. Built-ins that include closed cabinets below and open shelving above will always be useful for every family. The minor update of changing out the cabinet fronts to evolve with your home's style is a small investment compared to changing out entire pieces of furniture.
3. Primary or Master Suite
Designing your custom home with one, or even two, master suites is the way to go in a new custom home or custom remodel. Having an additional suite is perfect if you have frequent overnight visitors, may be expecting an older loved one to move in, or have an older child that comes home from college for extended periods.
The usefulness of a primary, or master, suite is obvious to most: added privacy, a place to get away from a busy household; and having the space to go through your morning and evening routines without competing for space are only a few of many examples. Make sure to work with your designer to select finishes and styles that will not become outdated over the next few years in order to keep our new primary suite timeless.
4. Covered Outdoor Living Areas
Having a living space outdoors will make your Florida home feel bigger by having more room to hang out and enjoy quality time at home. An outdoor space can be just a covered porch off of your living room, a place to dine al fresco or both with the addition of a full outdoor kitchen. This custom feature is timeless in that it offers more variety to at-home life and the longer you live with this feature, the more usefulness you'll find over time.
Include finishes and materials that are easy to maintain and are durable to avoid having to make frequent repairs. For the cooler months, include heaters and thick curtains that can block the wind, which is also useful during rainy periods. Take outdoor living a step further and add a hot tub, a bar, storage for outdoor dinnerware, and a TV.
5. Natural Light
Natural light is one of those custom home features that will never go out of style and is one of the top must-have items on homeowners' lists. An open floor plan helps to carry light throughout your main living space and usually offers enough wall space to include several single-hung windows in a line, large picture windows, or even moving glass walls that lead to an outdoor living area. If wall space is an issue in your design, like in your bathroom or kitchen, consider skylights.
6. Wood Floors
Wood floors are another timeless home trend that homeowners have loved for a long time. Hardwood floors are classic but require maintenance every 7-10 years. Consider the look of hardwood with ceramic wood look tiles. They're available in every wood shade and are durable enough for even the kitchen or bathroom. You can also go with a luxury vinyl tile that has a natural wood grain feel and pattern.
7. A Mudroom
It's unlikely that any homeowner has regretted adding a mudroom to their custom home design. This room is highly versatile and incredibly useful. Include built-in cubbies for each family member, a low rinse basin for the dog, plenty of cabinets, and a sink. The design of your mudroom shouldn't be an afterthought, however, even if it's a room that's meant to get dirty. Easy-to-clean ceramic tile flooring and gloss paint as well as stone counters are both stylish and will make this hardworking room easy to maintain.
8. Home Office
The home office is a classic, but its usefulness has really come to light in the last few years. It's not only a great place to take meetings uninterrupted, but also offers space for storage, a spot for homework, or even a convenient location for a Murphy bed when needed. Be sure to include plenty of storage, outlets, lighting, and windows for natural light as well.
When planning your home office, troubleshoot different locations for this room in your custom home design plans with your designer. An out-of-the-way location is best to avoid interruptions and temptations to wander away from your desk.
9. Marble or Granite Countertops
Many kitchen and bathroom trends come and go, but stone countertops will always be a timeless custom home feature. Both marble and quartz are available in many colors and contrast in veining. Marble tiles are great for the shower and bathroom floor.
This timeless staple is also now being used in slab form for the kitchen backsplash. This trend has only become popular in the past couple of years, but homeowners are realizing how easy it is to keep clean as well as the sophistication it brings to a space, making us all believe it'll be around for quite some time.
10. Fireplaces
Even if the Florida climate doesn't allow for year-round use of a fireplace, it does offer a grand focal point in the living room and a place to showcase treasured photos and other items. The façade of your fireplace could be brick for a traditional look, stone for a rustic feel, or drywall to blend in with the rest of the room. Painted brick, in white or even black, gives a fireplace a more contemporary look while incorporating needed texture and personalization.
Looking for More Timeless Designs for Your Custom Florida Home?
At Robinson Renovation & Custom Homes, we know our way around both timeless and trending designs, will blend them seamlessly to help you express your personal style, and create a functional home that's both beautiful and clever. Our proven design-build process will bring your custom home from concept to completion in a stress-free and easy way, within your budget and timeline. Contact us to schedule a consultation and begin dreaming up your custom home in the Gainesville, Florida area.