Are you considering a kitchen remodel? At the heart of most kitchen remodeling trends is new cabinetry. When you upgrade your cabinets, make sure you check out these must-have cabinet kitchen features.

1. Cabinet Tray Dividers
Storing flat items, such as your cookie sheets and muffin tins, is tedious. Stacking them on top of each other just leads to a crash or makes it hard to get the one you want, but if you have a large number of them you can't really stand them on end, either.
Tray dividers can help. Pick one of your cabinets and add vertical dividers to section off the space. Then, you can add your cookie sheets and other thin, flat items standing on end, and easily reach up to grab what you need when you need it.
2. Corner Cabinet Accessories
If you have a corner cabinet, you may find that it's one of the most challenging to use. These cabinets are often quite deep and can hold quite a bit, but the depth makes it hard to access those items. Soon things get lost in the corner, never to be seen again.
A built-in Lazy Susan can help. They allow you to swap out your static shelving for something that turns, so you can see everything stored in the space easily and grab what you need when you need it.
3. Turn Attention Under the Sink
Many homeowners will store dish soap and cleaning chemicals, or even a small garbage can, under the kitchen sink. Again, this can become a space for clutter, and you could end up with a bit of a jumble there.
One way to make this area usable is to add a pull-out drawer. You can pull out the drawer to see all of your cleaning supplies or more easily reach your trash can, then slide it back in when you are done.
4. Hidden Kitchen Appliances
Another modern kitchen remodeling trend is a hidden kitchen appliance. Kitchen appliance storage cabinets safely hide your microwave, fridge, or other large appliance, so the kitchen looks like a more streamlined space.
Perhaps you don't want to hide your microwave or fridge, but rather your small kitchen appliances. Consider a storage garage for your appliances. This is a cabinet with a door that swings up. It sits back behind the wall line and lets you close up the mixer, coffee pot, and blender when you aren't using them. When you need one, open the garage door and slide the appliance out to use.
5. Drawer Dividers
In addition to cabinet tray dividers, you can add a number of dividers into your kitchen drawers. Waypoint Living Spaces offers wood-tiered cutlery dividers and peg dish organizers that integrate well with the overall design of their cabinetry. These help keep the things you're storing in their proper places, and also make the drawers more user-friendly because you can store more items in the drawers with an organization system in place.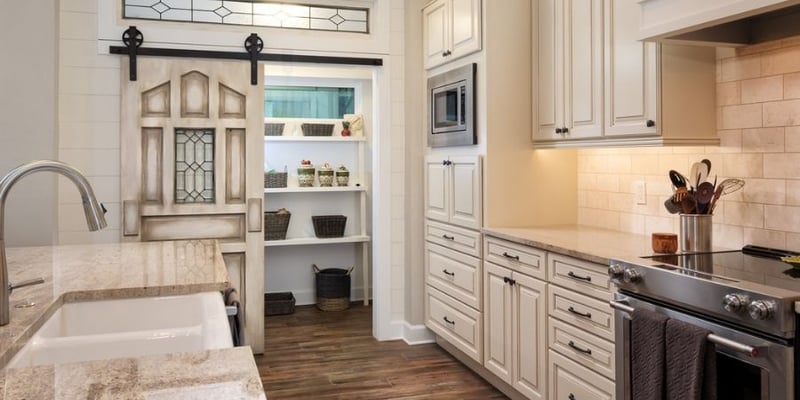 6. Consider a Pull-Out Pantry
One option that can help you maximize your kitchen space is a pull-out pantry. This pantry looks like a regular cabinet but actually pulls out like a drawer. It has several shelving units that hold everything from paper goods to canned goods, so you can pull it out and grab what you need quickly.
7. Swing-up Appliance Shelf
Small appliances, such as a pressure cooker or a mixer, can take up a lot of counter space. A swing-up appliance shelf fits inside your lower cabinet to hold this device when you aren't using it. When it's time to use it, you simply swing it up to counter height and get to work. This eliminates the need to pick up a heavy item every time you want to make a cake!
8. Move Dishes to the Drawer
With the right interior elements, such as the previously-mentioned peg stands, you can store your plates and bowls in a drawer instead of a cabinet. This lets younger children reach the dishes to help with chores and also frees your cabinets to more easily store bulky or unusually shaped items. If you have quite a bit of drawer space in your kitchen design, consider adding this popular trend.
Schedule a Consult to Discuss Kitchen Remodeling
Whether you're wondering how long does kitchen remodeling takes or want to learn more about your hardware options to add to your design ideas, we're here to help. Contact Robinson Renovation & Custom Homes to learn more about our remodeling services.