After last year's events, this year's Parade of Homes event is returning to its regular springtime schedule this April! Our entry this year is at Lot 12 in Fletcher Park which will be open to the public, giving you the chance to walk through the property. Twice per year, the Builders Association of North Central Florida shines a spotlight on more than a dozen beautiful new custom-built homes throughout Gainesville and all of Alachua County. Come see us there!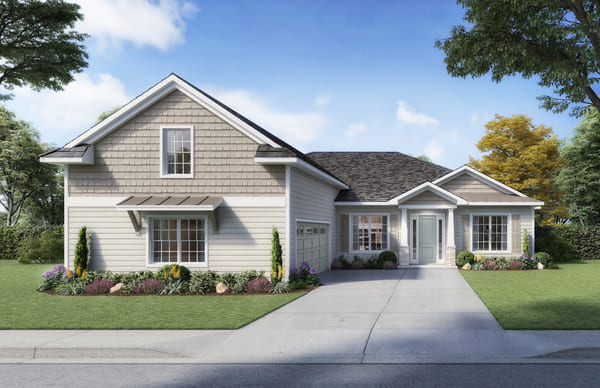 The annual Gainesville Parade of Homes showcases the latest in home design and décor, along with the most cutting-edge energy saving construction techniques. It also is a chance to stay up to date with recent evolutions in the field of land development. The 2021 Spring Parade of Homes is scheduled for the weekends of April 17-18th and 24-25th. All homes along the "parade route" will be open from noon to 5 p.m. and admission to the event is free.

History of Parade of Homes
The Parade of Homes was established in 1958 by the builders association and it is held twice annually, in the spring and in the fall. Over the past six decades, the event has featured more than 2,000 brand new homes in more than 300 neighborhoods throughout Alachua County. All the homes featured in the parade are built by members of the builders association, which is designed to promote, educate and serve building industry professionals in Florida. BANCF is a valuable resource to connect you to building professionals in our area, in addition to providing unique opportunities to support its more than 550 members. Each parade requires contributions from numerous people, including builders, developers, subcontractors, lenders, suppliers, designers and others. Collectively, these professionals combine their talents and resources to show the public the newest ideas and advances in the housing industry and highlight the best they have to offer.
For community members, this is your opportunity to look at dozens of new homes in Alachua County that showcase a variety of styles, floor plans, and features. Our entry this year at Lot 12 in Fletcher Park will be open to the public. Even if you aren't able to make it to this year's event, you can take a virtual tour of this home anytime instead!
Additionally, even if you're not in the market for a new home in Gainesville, the Parade is the perfect way to gather ideas and inspirations for renovations or additions that could enhance your existing property.
Tips for Attending the Parade of Homes
The homes and properties featured for each event are situated along a route that you can follow on your own. As you travel throughout Gainesville—or make your way to other Alachua County communities featured in the event—you can pick and choose which homes you want to stop at and tour. As you prepare for the upcoming Parade of Homes, here are some tips to help you enjoy and make the most of your experience:
1. Fuel Up Ahead of Time
No food and drinks are allowed on the tour, seeing as it takes place in custom homes that are brand new and in perfect shape. However, since the open houses begin at noon, it gives you the perfect opportunity to grab lunch at a new restaurant or old favorite before embarking on the tour starting with the neighborhood that's closest. You then have several hours to pace yourself to enjoy each stop. If you don't have five hours to spare, don't worry. The BANCF produces a Parade of Homes magazine ahead of time that includes a brief look at the homes on the tour and their corresponding neighborhoods so you can plan ahead and prioritize which ones you don't want to miss.
2. Bathrooms at Homes Aren't for Use
While it may not seem like a big deal, it's good to keep in mind that none of the bathrooms within the homes on the tour are available to the public during the event. Occasionally there are portable restrooms situated along the route, but it's still beneficial to plan your travels accordingly.
3. Use Appropriate Footwear
At some of the homes, you will find disposable booties at the front door that you are requested to wear. Although it may not be mandatory, you should use the booties to help protect finished flooring from collecting scratches and scuff marks. Even if there are not booties on site, be mindful of your movements and be sure to wipe your shoes off before entering the house.
4. Respect the Space
In general, you should respect the space and not take advantage of the unique opportunity to conveniently take a look at multiple custom homes in Alachua County. Treat the home as you would want others to if it was eventually going to be yours, which means closing doors carefully and keeping your hands off windows and other surfaces.
5. Ask Questions and Gather Information
The Parade of Homes brings together a myriad of knowledgeable and experienced professionals and gives you direct access to their expertise. This is an opportunity to gather information about the specific homes you're visiting or the home building industry in general. Feel free to speak with the realtors and custom home builders, such as Robinson Renovation and Custom Homes, who are on site and ask them your questions.
6. Take Notes and Get Pictures
While you might not be intending to design and build a new home in the immediate future, the Parade of Homes is the perfect time to gather information about the latest trends and developments in design and construction and window shop for future remodeling ideas. You never know when you may come across a design feature you didn't know you would love. Jot down notes and take pictures to reference when the time comes to renovate your home or design a new one.
A Taste of the Gainesville Real Estate Market
Whether you're planning to design and build a new custom home in Gainesville, renovate your existing property, or simply network with industry professionals, the BANCF Parade of Homes provides an opportunity to see what's on the market and what's trending. For more information about the Parade of Homes, call (352) 372-5649, visit the Builders Association of North Central Florida's website, or find the Parade of Homes event page on Facebook.