Over the past few years, more and more Florida homeowners are realizing the benefits of having a kitchen added to their outdoor living spaces. Appliances made for outdoor kitchens are becoming more common, increasing their affordability and availability in terms of style and function.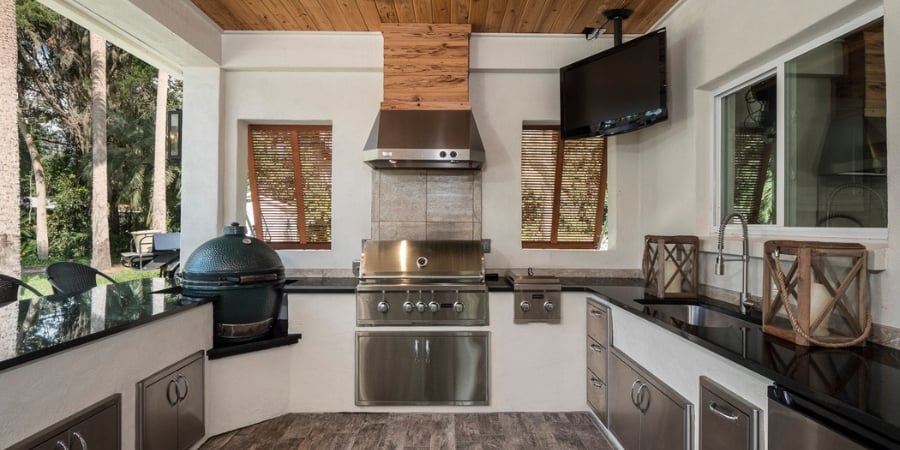 Advanced materials and manufacturing techniques are allowing companies to create weatherproof and durable furniture and appliances, so your outdoor remodel investment will last, even when exposed to the elements.
So, why are so many homeowners adding an outdoor kitchen to their homes, how much can you expect an outdoor kitchen to cost, and what are a few ideas for your own outdoor kitchen?
How Much Does It Cost to Build an Outdoor Kitchen in Florida?
Giving an average cost for building an outdoor kitchen can be tricky. It's one of the most widely varied spaces homeowners can build and can include anything from just the basics to a full suite of appliances. As with any remodel, your cost will come down to size, the finishes and features you choose for the space, and where on your property you'd like to build.
The average price homeowners will pay for an outdoor kitchen is around $15,000. However, outdoor kitchens can easily range from $5,000 for a 100-square-foot kitchen on a simple patio, all the way to around $50,000, for a luxury 400-square-foot covered space with every appliance and feature you could imagine.
The return on investment (ROI) for an outdoor kitchen in the Gainesville area can range from around 55% to 80%. It's also a big range for many of the same reasons. If the ROI is a concern, consult with a knowledgeable design-build team and a local Realtor to learn more about what home buyers are looking for in an outdoor kitchen. However, if yours is a forever home, create your outdoor kitchen to your own tastes and needs.
Benefits of an Outdoor Kitchen
Enhance Florida outdoor living with a custom summer kitchen for your Alachua County home. Need more convincing? Here are 12 reasons for building your own custom outdoor kitchen:
1. It's Absolutely Perfect for Entertaining
Outdoor kitchens are a lifestyle investment. They offer new opportunities for get-togethers, family celebrations, and just spending more time outdoors. In addition to an outdoor kitchen, many homeowners opt to include a dining area and a lounge area. Consider adding a firepit nearby or a bar built on the outside of the kitchen to keep conversations going while you're on the grill.
2. Keeps the Mess of Cooking Outside
By keeping the cooking and dining outdoors, your indoors will remain unscathed by all of the mess that comes with preparing a meal. If your outdoor kitchen includes a dishwasher, a fridge, and a separate set of cutlery and dishes, you can guarantee that your indoor kitchen will stay untouched, from start to finish. Spills and splatters indoors won't be a worry with an outdoor kitchen.
3. Level Up Your Cooking Game
Cooking outdoors means that you can experiment with cooking techniques and equipment you may not want to use indoors because of mess and lingering odors. Of course, using a grill isn't an option indoors, but your outdoor cooking appliances could also include a deep fryer, a hibachi grill, a pizza oven, and a smoker. Make excellent birria tacos, wood-fired margherita pizza, chicken wings, and other dishes that you'd think twice about making in your main kitchen.
4. Keep Odors Outside
We've all been there. You cook an amazing meal that everyone loves, but no one loves the smell that lingers in the upholstery for days afterward. Cooking outdoors alleviates any sacrifice you'll have to make in order to cook your favorite foods. Keep the smells of grilling, roasting, or frying outdoors, where they'll dissipate almost immediately.
5. Host More People
Have you ever planned a special occasion or a casual gathering of friends and family, only to have to cap your invite list based on space? With an outdoor living space, complete with a kitchen, you'll have the freedom to invite more of your crew over for outdoor hangouts. Having an outdoor space for entertaining expands your indoor space drastically, especially if you install sliding glass doors or a pair of French doors that lead directly into your living room or indoor kitchen.
6. Expand Your Living Space
Speaking of connecting your indoor space with your outdoor space, connecting the spaces really does make your home feel twice the size. To really make the most of having these spaces side-by-side, incorporate lots of large windows on the wall between your indoor and outdoor living spaces, and have your designer include a large entry point, like a pair of doors.
7. Increase Your Home's Value
Outdoor kitchens are becoming wildly popular and add something special to your home in the eyes of a potential buyer. The ROI of an outdoor kitchen addition is anywhere from 55% to 80%, depending on your design and amenities. If adding value is a major factor, keep in mind what the average buyer is looking for in an outdoor kitchen.
8. Increase Energy Efficiency Inside Your House
During the long, hot summer days in Central Florida, there are times when the idea of cooking a full meal in your kitchen and adding heat to your home's interior sounds less than ideal. Outdoor summer kitchens solve this problem by keeping the added heat out of your home. Without having to combat heat indoors, you'll save on utility costs by not overusing your central cooling on a 90-degree day in August.
9. Spend More Time Outdoors
Everyone knows that spending more time outdoors is healthier than staying inside all day. However, that's easier said than done when your backyard lacks activities that are worthwhile. The mental health benefits of simply being outside as well as getting fresh air is enough to add some enticing features in your backyard. Take your regular activities outdoors with an outdoor kitchen, a sitting area with a TV, a firepit to sit around and enjoy the night sky, and some space for yard games.
10. Feel More Connected
When you're working to prepare food in your kitchen, chances are everyone else is in the living room or already outside on the deck. By incorporating your own custom outdoor kitchen into your outdoor space, you'll feel more connected to your guests or family. Be a part of the activity and conversation while still getting your meal prepared.
11. Increase the Comfort of Cooking Outdoors
Chances are, you're already grilling outdoors, but are also exposed to the hot Florida sun. With a covered outdoor kitchen, complete with fans and an exhaust fan to absorb some of the heat from cooking, you'll be more comfortable doing something you already loved. No more suffering in the heat to enjoy a good barbecue. You could also outfit your kitchen with heating to extend the usefulness of the space into the cooler months.
12. Make Hosting More Comfortable
Let's face it: hosting guests indoors can be a little uncomfortable. Outdoor hosting is inviting and less stressful than making sure every room in your home is spotless, has enough seating, and offers everyone entertainment. With a Bluetooth sound system and a TV in your outdoor living space, you'll be able to keep your eyes on the food while socializing with neighbors and friends without all the pressure of hosting indoors.
Outdoor Kitchen Ideas
Now that you know all of the benefits of having your own custom outdoor kitchen, you may be wondering what you would include in the space. Here are a few popular ideas for your Florida outdoor kitchen:
Hibachi grill

Smoker

Dishwasher

Plenty of storage

Icemaker

Bar

Dining space for at least 8 people

Range

Surround sound for music or a television

Pizza oven

Teak, stone, or brick to frame and clad the kitchen
Take Life Outside in Alachua County
Outdoor kitchens are becoming a staple of outdoor living in Central Florida. These outdoor spaces provide versatility in living, cooking, and entertaining, expanding your opportunities to make the most out of your home in Gainesville.
Robinson Renovation & Custom Homes offers design-build services that can help you make a summer outdoor kitchen part of your lifestyle, whether you're in the process of constructing a new custom home or remodeling your current home to increase its value, function, and overall appeal. Contact us to learn about the process and share your ideas for your own outdoor living dreams.