These days, people are getting more and more interested in creating outdoor living spaces. There are at least two reasons for this. One, advanced materials and manufacturing techniques are making weatherproof, ruggedized furniture and appliances more and more practical.
For this, we may have computer technology to thank, which has been making leaps and bounds toward mobile and weatherproofing applications for at least 20 years. The second reason might be the myriad benefits of an outdoor space, which we will describe here. Over the last couple of years, outdoor living spaces have been skyrocketing in popularity, perhaps none more so than outdoor kitchens.
An outdoor kitchen is an outdoor living space that incorporates the appliances, workspaces, and functionality common to a kitchen. It makes cooking under the sun, moon, and stars a practical reality. It also extends your enjoyment of the more weather-friendly times of the year.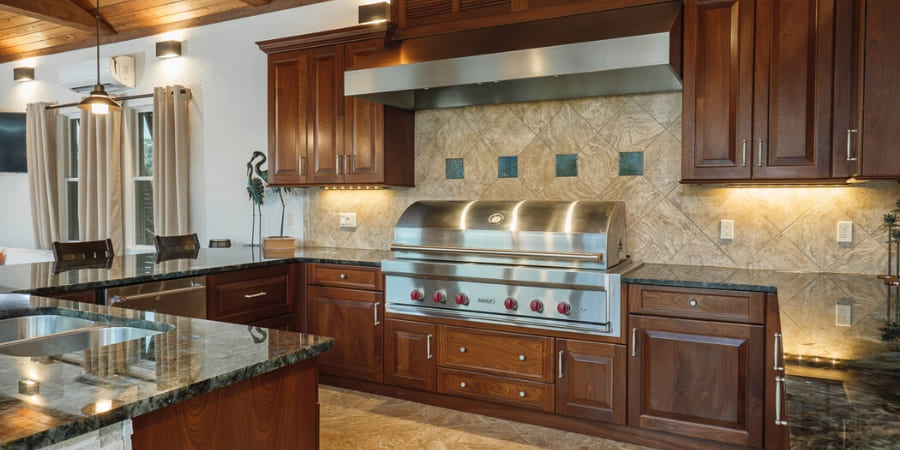 How Much Does an Outdoor Kitchen Cost?
The cost of an outdoor kitchen depends on several factors, such as the size of the structure, the materials you select, the appliances you want to be installed, and whether it will be constructed separately or expanding out from your home. In general, outdoor kitchens in Florida cost about $5,000 to $10,000 for a basic design—with a 6-foot counter, patio, refrigerator, small sink, and quality grill—to about $15,000 to $50,000 for luxury summer kitchens with upscale materials and a wide assortment of appliances and features, such as a fireplace, oven, ice machine, smoker, or flat-top grill.
Although outdoor summer kitchens come in all sizes and layouts, a small kitchen is typically 13 linear feet; a medium-sized kitchen runs about 16 linear feet, and a large kitchen is at least 20 feet or more to accommodate the various amenities. The perfect size, however, is entirely a matter of preference based on how you see the space being used in the future, as well as what your property will allow. Besides figuring out the different workstations and appliances you want to be incorporated into your outdoor kitchen design, you should also consider your needs in terms of storage, seating, and opportunities to expand.
What's the ROI on an Outdoor Kitchen?
Building any outdoor living space will add value to your home. Arguably, the biggest outdoor living space additions for the best return on investment are a kitchen, at 55% ROI, and a swimming pool, at 73% ROI. A less expensive outdoor project like a gazebo may have a higher return percentage, but fewer perks overall.
So an outdoor kitchen does have a high return on investment profile, but its current ROI is expected to grow. As this trend catches on, most home improvement and real estate professionals agree that it is far from a passing trend and will only grow in popularity and normality. Perhaps in the 2030s, a home will not be seen as complete until the outdoor kitchen is installed.
Benefits of an Outdoor Summer Kitchen
When it comes to enhancing Florida outdoor living, summer kitchens are one effective element for homeowners in Gainesville and the surrounding area. There are numerous reasons to consider designing and building an outdoor kitchen on your property, including:
1. Increasing Your Home Value
As outdoor kitchens continue growing in popularity, the amount of value they add to your home increases as well. Some sources claim there is a roughly 100% return on investment (ROI) for outdoor kitchen construction, although it depends heavily on the overall presentation of the space, the materials used, and the appliances included. A more conservative estimate puts the average ROI around 55%. Regardless, a deck with a kitchen area or a standalone space makes your home more valuable to your and your family now and to future buyers.
2. Creating Optimal Entertaining Space
Although they add monetary value to your home in Alachua County, summer kitchens are primarily considered lifestyle investments. They augment your quality of life and allow for new opportunities to enjoy your property. For example, if you're preparing food for family and friends, an outdoor kitchen enables you to do so while people are also outside socializing, eating, and playing games. You can be part of the group the whole time, rather than being stuck inside the kitchen while your guests are outside having fun and enjoying the weather. Additionally, if you're adding your summer kitchen onto your patio or porch, you substantially increase your entertaining space. The adults can be on the porch near the kitchen, talking and drinking cocktails, while keeping an eye on children as they play in the yard. There is room for everyone to enjoy themselves to the max.
3. Increase Energy Efficiency Inside Your House
During the long, hot summer days in Central Florida, there are times where the idea of cooking a full meal in your kitchen and adding heat to your home's interior sounds extremely unpleasant. Outdoor summer kitchens solve this problem. You can keep the heat out of your home and stay nice and cool under the shade of your outdoor space while still being able to prepare the food you desire. This also helps you save money on your utility bills by not having to run your air conditioner over time while using your stove and oven for several hours to cook on a 90-degree day in August.
4. Keeping Your House Clean
Every now and then you simply don't feel like getting your home dirty. Especially when you're hosting large groups, it's common to experience a little twinge at the thought of other families tromping around your indoor space. With an outdoor kitchen, you can keep the mess contained outside to a single area. Drinks and spills are not quite as big of a deal when they occur outdoors. After your event, you can simply sweep and hose off your deck to get it back in shape. Meanwhile, your interior remains untouched.
5. Increasing Your Property's Function
If you want to transform your backyard in Alachua County into a year-round living space, outdoor kitchens make that possible. They enable you and your family to carry out a majority of your daily activities in an open-air, all-season environment that connects you to nature while keeping you close to the conveniences of home. Additionally, the function of your overall property is improved, because you can be using both your indoor kitchen and outdoor kitchen at one time, which is especially helpful when hosting parties, family reunions, or other events. Even for smaller occasions, the presence of a summer kitchen allows some people to be outdoors cooking while others are prepping in the indoor kitchen.
6. Making Delicious Food
With an outdoor summer kitchen, you can have all sorts of fun choosing what different appliances you want and then using them in the future to make interesting, scrumptious food that isn't quite the same coming from your indoor kitchen. From your typical charcoal or gas grill—used to make grilled vegetables, hamburgers, and bratwurst—to a smoker, power burner, pizza oven, or Hibachi-style grill, food lovers can expand the variety and quality of meals prepared at home. A lot of grilled and roasted foods are also healthier for you, with flavor profiles achieved by marinades, seasonings, and the slow-cooking process rather than fat, so you get a balance of great taste and nutrition.
7. Extend Your Enjoyment of the Outdoors
One of the great benefits of outdoor living spaces is the ability to take forms of enjoyment normally partaken of indoors, out of doors. Thanks to modern innovations, this includes TV watching, reclining, and more. Adding shelter makes this all the more possible. A kitchen is no different. Like cooking? Why not do it in light, misting rain, or when the weather would otherwise be a bit too chilly? The warmth produced by stoves and ovens makes this even more practical, adding additional thermal shelter from the cold of autumn and winter.
8. Serve Larger Crowds
With the winter holidays on their way, families, and friends, are going to be planning big meals and bigger get-togethers. It may be too late to install an entire outdoor kitchen in time for this year's Thanksgiving, but not next year's. At any rate, once you've built your new and exciting outdoor kitchen, your house will be known as the place to go. We can assure you, once you install it, you'll be compelled to add auxiliary tables and chairs as well.
9. Keep Odors Outside
It's a subject that sometimes comes up in stand-up comedy routines, the fact that the smell of a family's cooking tends to sink into the fabric of the home, creating a permanent odor. If it's your cooking, you probably don't mind. But embedded cooking smells can be unappealing to others. They can also hinder your ability to resell your home. So, cooking outdoors gives you the chance to perform your most odoriferous cooking tasks in a place and in a way that makes their various aromas less, let's say, permanent.
10. Expand Your Living Space
One of the most important factors separating an objectively beautiful home from a mediocre one is elbow room. In drafting plans for a new home, it can be tough to strike a good balance between functionality and open space. It's important to feel unimpeded as you move toward and away from an appliance, window, bed, cabinet, or what have you. You should never underestimate the value of freedom of movement. Outdoor kitchens can open up more space, allowing you to move more freely.
11. Extend the Summer Cooking Season
People eagerly wait months and months for the summer grilling season. Arguably, it adds to the pleasure of it when it comes. But what if you could grill outdoors 6 months out of the year instead of just three or four? What if you could grill all year long? All of this is possible, depending on how you plan and construct your outdoor kitchen. It could also mean a welcome help for whoever does most of the cooking in your home.
12. Get Reacquainted With Your Neighbors
If you're reading this article in 2021, then you're aware of the effect the medical crisis that's been with us for the last year and a half has had. But as we all work to get back to normal life, it might help us to get reacquainted with the next-door neighbors if we had a nice outdoor kitchen to draw us outdoors naturally. Food brings people together after all. You might even inspire a new home improvement trend in your neighborhood.
A Rewarding Lifestyle in Alachua County
Exterior summer kitchens are becoming a staple of outdoor living in Central Florida. Installing one as part of your luxury home build or adding one onto your existing property is an effective way to increase the value and also to stay current and trendy. More importantly, these outdoor spaces provide versatility when it comes to living, cooking, and entertaining, which expands your opportunities to make the most out of your home in Gainesville. Robinson Renovation & Custom Homes offers design-build services that can help you make a summer outdoor kitchen part of your lifestyle, whether you're in the process of constructing a new custom home or remodeling your current home to increase its value, function, and overall appeal.