Some things are just better outdoors: grilled hamburgers, watching the sunset, and summer soirees with friends.
The desire to make cooking, eating and entertaining outside easier and more convenient has led to a burgeoning trend among Florida homeowners to incorporate summer kitchens into exterior living spaces. Ranging from cozy and minimalistic to large, fully outfitted structures that are equally functional to your indoor kitchen, these outdoor spaces can be tailored to your needs and preferences while maximizing the configuration of your property in Alachua County.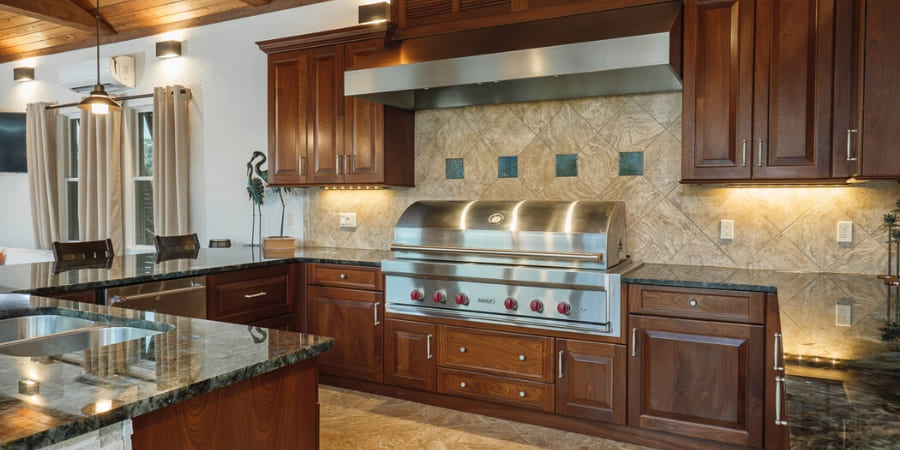 How Much Does an Outdoor Kitchen Cost?
The cost of an outdoor kitchen depends on several factors, such as the size of the structure, the materials you select, the appliances you want installed, and whether it will be constructed separately or expanding out from your home. In general, outdoor kitchens in Florida cost about $5,000 to $10,000 for a basic design—with a 6-foot counter, patio, refrigerator, small sink, and quality grill—to about $15,000 to $50,000 for luxury summer kitchens with upscale materials and a wide assortment of appliances and features, such as a fireplace, oven, ice machine, smoker, or flat-top grill.
Although outdoor summer kitchens come in all sizes and layouts, a small kitchen is typically 13 linear feet; a medium-sized kitchen runs about 16 linear feet; and a large kitchen is at least 20 feet or more to accommodate the various amenities. The perfect size, however, is entirely a matter of preference based on how you see the space being used in the future, as well as what your property will allow. Besides figuring out the different workstations and appliances you want incorporated into your outdoor kitchen design, you should also consider your needs in terms of storage, seating, and opportunities to expand.
Benefits of an Outdoor Summer Kitchen
When it comes to enhancing Florida outdoor living, summer kitchens are one effective elements for homeowners in Gainesville and the surrounding area. There are numerous reasons to consider designing and building an outdoor kitchen on your property, including:
1. Increasing Your Home Value
As outdoor kitchens continue growing in popularity, the amount of value they add to your home increases as well. Some sources claim there is a roughly 100% return on investment (ROI) for outdoor kitchen construction, although it depends heavily on the overall presentation of the space, the materials used, and the appliances included. A more conservative estimate puts the average ROI around 55%. Regardless, a Florida deck with a kitchen area or a standalone space makes your home more valuable to your and your family now and to future buyers.
2. Creating Optimal Entertaining Space
Although they add monetary value to your home in Alachua County, summer kitchens are primarily considered lifestyle investments. They augment your quality of life and allow for new opportunities to enjoy your property. For example, if you're preparing food for family and friends, an outdoor kitchen enables you to do so while people are also outside socializing, eating, and playing games. You can be part of the group the whole time, rather than being stuck inside the kitchen while your guests are outside having fun and enjoying the weather. Additionally, if you're adding your summer kitchen onto your patio or porch, you substantially increase your entertaining space. The adults can be on the porch near the kitchen, talking and drinking cocktails, while keeping an eye on children as they play in the yard. There is room for everyone to enjoy themselves to the max.
3. Increase Energy Efficiency Inside Your House
During the long, hot summer days in Central Florida, there are times where the idea of cooking a full meal in your kitchen and adding heat to your home's interior sounds extremely unpleasant. Outdoor summer kitchens solve this problem. You can keep the heat out of your home and stay nice and cool under the shade of your outdoor space while still being able to prepare the food you desire. This also helps you save money on your utility bills by not having to run your air conditioner overtime while using your stove and oven for several hours to cook on a 90-degree day in August.
4. Keeping Your House Clean
Every now and then you simply don't feel like getting your home dirty. Especially when you're hosting large groups, it's common to experience a little twinge at the thought of other families tromping around your indoor space. With an outdoor kitchen, you can keep the mess contained outside to a single area. Drinks and spills are not quite as big of a deal when they occur outdoors. After your event, you can simply sweep and hose off your deck to get it back in shape. Meanwhile, your interior remains untouched.
5. Increasing Your Property's Function
If you want to transform your backyard in Alachua County into a year-round living space, outdoor kitchens make that possible. They enable you and your family to carry out a majority of your daily activities in an open-air, all-season environment that connects you to nature while keeping you close to the conveniences of home. Additionally, the function of your overall property is improved, because you can be using both your indoor kitchen and outdoor kitchen at one time, which is especially helpful when hosting parties, family reunions, or other events. Even for smaller occasions, the presence of a summer kitchen allows some people to be outdoors cooking while others are prepping in the indoor kitchen.
6. Making Delicious Food
With an outdoor summer kitchen, you can have all sorts of fun choosing what different appliances you want and then using them in the future to make interesting, scrumptious food that isn't quite the same coming from your indoor kitchen. From your typical charcoal or gas grill—used to make grilled vegetables, hamburgers, and bratwurst—to a smoker, power burner, pizza oven, or Hibachi-style grill, food lovers can expand the variety and quality of meals prepared at home. A lot of grilled and roasted foods are also healthier for you, with flavor profiles achieved by marinades, seasonings and the slow-cooking process rather than fat, so you get a balance of great taste and nutrition.
A Rewarding Lifestyle in Alachua County
Exterior summer kitchens are becoming a staple of outdoor living in Central Florida. Installing one as part of your luxury home build or adding one onto your existing property is an effective way to increase the value. More importantly, these outdoor spaces provide versatility when it comes to living, cooking, and entertaining, which expands your opportunities to make the most out of your home in Gainesville. Robinson Renovation & Custom Homes offers design-build services that can help you make a summer outdoor kitchen part of your lifestyle, whether you're in the process of constructing a new custom home or remodeling your current home to increase its value, function, and overall appeal.